Grape Valley, Turpan
Ancient Turpan Grape Valley - paradisal oasis in the heart of "The Fire Land"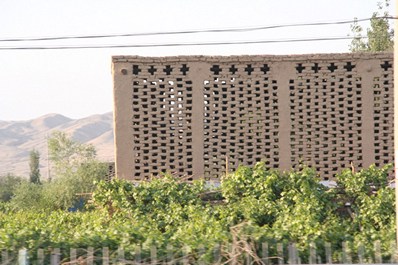 "The Fire Land" is the name given to Turpan by the locals. The air is very dry and hot there. Almost all the time it is blown with the desert winds which bring not a single drop of water, but it is this arid land where a beautiful oasis is found and in this oasis, there is the town of Turpan which the residents of Xinjiang call as "The Grape Capital" of China.
In spite of the fact that the climate in the Turpan Depression is one of the hottest and driest in the world, it is there, close to the famous Fire Mountains, 13 km from the city, where the best grape varieties of the Celestial Empire are grown. The Grape Valley has already existed for several hundred years. The huge 8 km-long plantation with grape and fruit orchards covering about 400 hectares seems at first a surprising mirage, since the landscape, surrounding the valley is far from paradisiacal. From one side the valley is surrounded by a scorched desert, and from the other there is an impregnable mountain range.
However, once you get in the valley, you will immediately find yourself in a green kingdom, where among orchards and vineyards, you can relax and enjoy the natural surroundings near the small ponds and waterfalls being a favorite place for both the local residents and numerous tourists, visiting Turpan every year.
The Grape Valley is also famous for its ancient irrigation system. During the melting of the glaciers, the water from the Tien Shan Mountains is collected in special wells-kiryaz, supplying the valley and Turpan with water by underground and surface canals.
Visiting the Grape Valley, you cannot but try the world-famous Tashgar Emerald, one of the sweetest grape varieties. Especially popular are Turpan raisins and famous Uyghur home-made wines, which you can taste in traditional restaurants and cafes. In addition, every August the vineyards host a grape festival. At that time, there is an atmosphere of joy and fun: you can not only enjoy the best grape varieties, but also participate in the traditional Uyghur holidays.