China Weather
Best time to visit China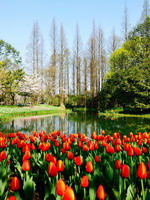 Spring (March-April) and autumn (September-October) are the best seasons for traveling to China. The day temperatures there vary between +20 and +30 degrees on Celsius, however the nights can be very cold.
Due to its diverse climate, the weather in different regions of China differs considerably. In spring, the air temperature in eastern China is relatively moderate; the weather is dry with predominance of cold wind, and occasional sand storm.
In summer, the air temperature in the east raises above +24 degrees on Celsius, while the maximum rainfall amount falls on summer period. Surprisingly enough, the first months of autumn are the sunniest, and the weather is extremely agreeable at that time. The air temperature averages around +15...+20 degrees on Celsius.
Winters in the east of China are cold enough. The air temperature falls below zero point, but still it is not as cold as in the west of the country in the Tien Shan region. The climate pattern there leaves much to be desired. In the coldest part on China – the Turpan Basin, winter air temperature varies from -10 to -50 degrees on Celsius.
Perhaps, April-May in spring, when the weather is +20...+30 degrees on Celsius, and September-October in autumn with the same air temperature, are the best time for trip to China's western regions. However even at these periods, no one is impervious to such surprises as dust storms and winds. In summer, the absolute heat in the afternoon and rather cold nights are common for the western regions of China, especially for Xinjiang, whose major part is occupied by the Takla-Makan desert.