Dmanisi, Georgia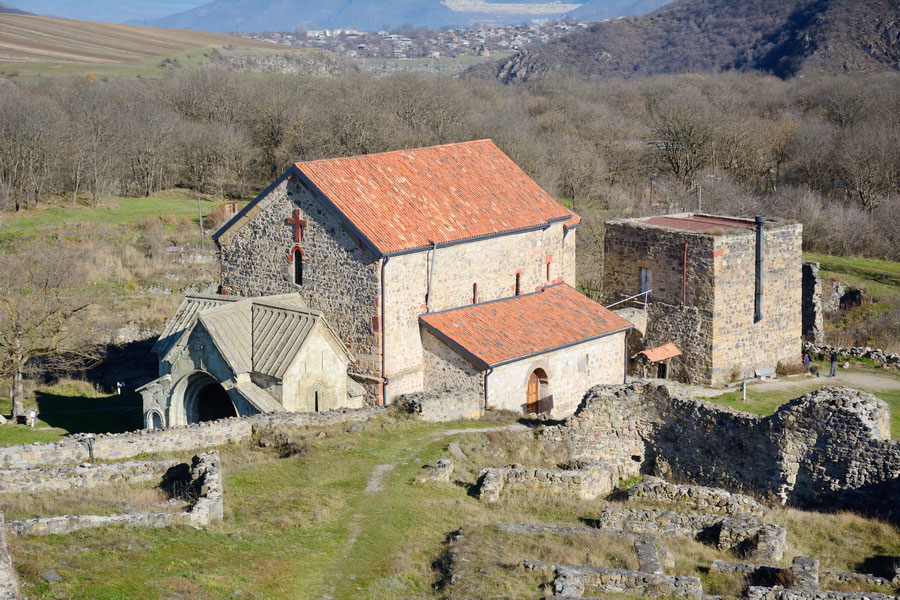 Church of Dmanisi Sioni
Tours, Attractions and Things To Do in Dmanisi
Dmanisi Travel Guide
Overview
Dmanisi is a village with a population 2700 in the southern region of Georgia known as Kvemo Kartli, approximately 90 km south of Tbilisi. It is perhaps Georgia's most well known archaeological site.
Dmanisi is located near the convergence of the Mashavera and Pinesaouri Rivers. It has been inhabited since the Early Bronze Age and was later an important stop on the Silk Road.The original name of the town was Bashkechit which is Azeri for "main route". Later, Dmanisi was renamed after the Arab Emirate Damanus for which it served as the commercial center.
Though once a thriving medieval trade center, a tumultuous series of invasion and occupation by Arabs, Seljuk Turks, Mongols and Turkomans left Dmanisi in a thwarted state of commercial stagnation by the 1700s.
In the 20th century, hominid remains were discovered in the outlying area. Further excavation unearthed then unprecedented fossil findings which date to 1.8 million years ago.
A flurry of archaeological interest in Dmanisi now attracts tourists year round. The excavated remains of Dmanisi's original fortification and the 7th century Church of Dmanisi Sioni are popular draws as well.
Dmanisi Attractions
The hominid fossils at Dmanisi were originally discovered amidst the ruins of a medieval fortress. Bronze Age and medieval artifacts were unearthed as early is the 1930s. Further studies in the 1960s revealed a wealth of prehistoric animal and human remains. With the discovery of stone tools in 1984, interest in Dmanisi increased.
From 1991 to 2005, Georgian anthropologist Dr. David Lordkipanidze conducted further excavation and discovered 1.8 million year old hominid remains which were initially classified as Homo georgicus but have since been reclassified as Homo erectus georgicus. The fossils indicate the divergence of Homo-erectus from its Australopithecus ancestor. These human remains are widely considered to be oldest found outside Africa, suggesting a previously uncharted migration model for Homo-erectus.
The excavation site is now a tourist friendly open-air museum which is open to the public from March until November. The museum features an exhibition of skeletal fossils as well some specimens of the now highly controversial collection of skulls recently discovered here at Dmanisi. Many of the fossils are exhibited temporarily worldwide. The permanent exhibition can be viewed at Simon Janashia Museum on Rustaveli Street on Tbilisi.
Dmanisi Castle was once part of a Georgian medieval fortress. The ruins are open for exploration all year.
Just a few meters away, Dmanisi Sioni Church is open to tourists and Orthodox Christian worshipers. The church was constructed in the 6th century CE and is replete with painted frescoes of beloved Georgian saints.
Getting There
The best way to visit Dmanisi is by car. The drive takes approximately 1 hour and 15 minutes from Tbilisi. Marshrutkas leave Tbilisi for Dmanisi once per day from Didube Station.