Gremi Fortress, Georgia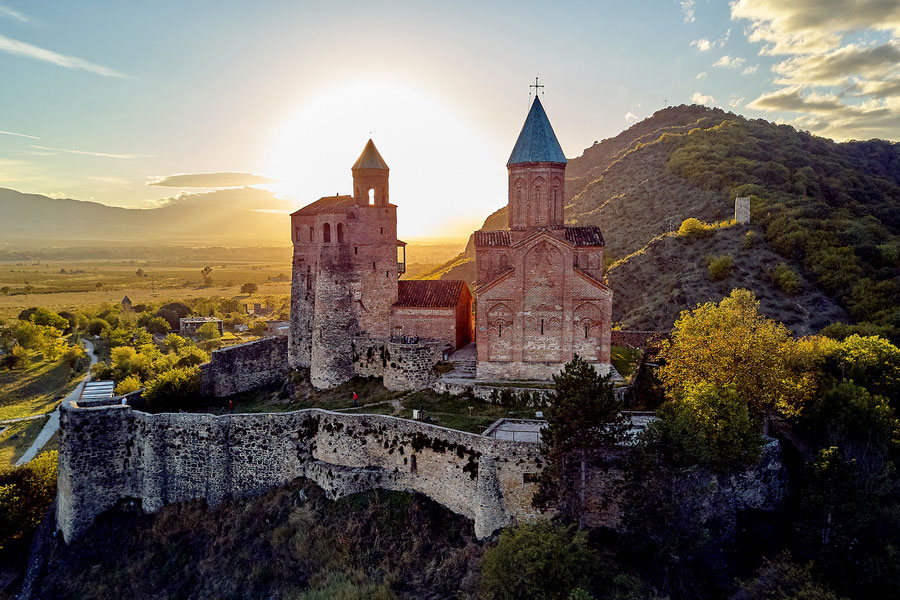 Opening hours: 10:00-17:00
No day off
Standing above the green valley of Alazan, Gremi attracts travelers whose road goes between Telavi and Kvareli. Gloomy and monumental, the castle is the one of the most visited tourist points in Georgia.
The architectural ensemble of Gremi in the look that it has up to present day was built in the 16th century in the times of King Levan of Kakheti, who announced Gremi the capital of the Kingdom of Kakheti.
By order of Levan, a castle and churches were constructed on a small mountain and a rich trading town appeared at the foot of the mountain with a population of over 100 000 people.
Levan's rule was peaceful, thus the Kingdom of Kakheti had reached economic growth and became stronger during his time. Some historic sources note that one branch of the legendary Silk Road was going through Gremi that more or less favoured the welfare growth.
Alas, Gremi lasted only one and half century. In the beginning of the 17th century it was razed to the ground by the armies of Shah Abbas I of Persia. The city could not fully recover and by the middle of the 17th century Kings of Kakheti moved the capital to Telavi.
It is moving to see the ruins of once glowing city where one can still depict outlines of a caravan-saray, a bath, merchant stalls, wine cellars, remnants of weapons and water pipes. There is an exposition of objects from everyday life of that period in the local museum.
Take a look at almost erased frescoes in the stone Church of the Archangels Michael and Gabriel. It was designed according to all rules of medieval Georgian architecture with local interpretation of the contemporary Iranian architectural taste. Levan of Kakheti was buried here, whose tomb has a fresco with his image on it. The bell-tower also houses a museum where several archaeological artifacts and the 16th-century cannon are displayed. A secret passage could lead you to the Intsoba.
It's also worth visiting the restored royal castle. There is a museum on the ground floor. The castle has three floors. Perhaps, what stirs curiosity most is a royal toilet.
Visitors can also go up to the top of the castle to get the panoramic view of the Alazan valley.