Samshvilde, Georgia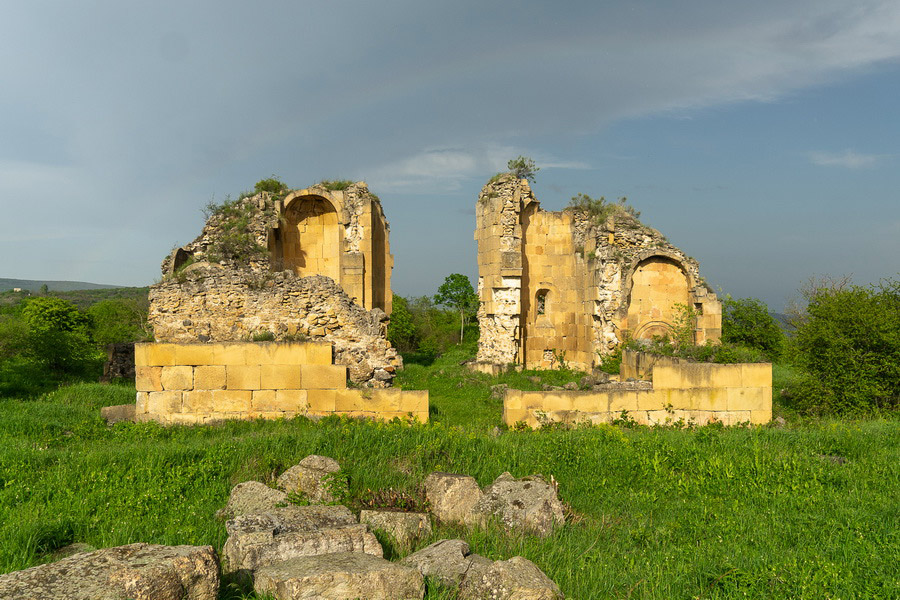 Samshvilde, dating back to the 3rd millennia B.C., is known as one of the most ancient towns in the Caucasus region. This abandoned medieval town, which includes the ruins of a citadel, the central Sioni Temple along with several minor churches, an ancient cemetery, water reservoir, bridge and numerous caves is situated in the Tetri Tskaro district, approximately 70 km from Tbilisi. The city has been built on the edge of a rocky river promontory, surrounded by the magnificent canyons of the Khrami and Chivchavi rivers.
Until 17th century, Samshvilde was a significant trade and strategic centre of the Georgian kingdom. Although a major part of the city was built in the Middle Ages, between the 5th and 9th centuries, according to historical sources the first settlements in Samshvilde date back to the 4th millennia B.C. The meaning of the word "Samshvilde" is "the place of the bow", which emphasizes its military function. Owing to its strategic location, Samshvilde was an object of attacks and sieges from various states or dynasties. Finally, Samshvilde was destroyed by the Iranian Shah Jehan in 1664 during the uprising of Orbeli. According to historical sources, after the capture of Samshvilde Shah Jehan built a tower from the heads of beheaded city dwellers.
Sioni Temple
The most important part of Samshvilde is the remains of the Sioni Temple, which was built by Georgian King Vakhtang Gorgasali in the 5th century. It is believed that before its destruction, Sioni Temple must have been a hall church. The ruins of the temple contain a unique ancient Georgian inscription, which is very important from a historical point of view because it provides notable information about the builders of the temple. The date of this inscription still remains unclear and the matter of academic debate. According to historians, the estimated date varies from 778 AD to 1313 AD. Another important part of Samshvilde is the cemetery, with its ancient gravestones in the shapes of domestic animals. For instance, the statue of horse means that the gravestone belongs to a warrior.
Nowadays, the remains of Samshvilde are abandoned and are the object of archaeological field works. There is not much tourist infrastructure around Samshvilde. Approximately 2 km of road from Tetri Tskaro to Samshvilde is not in good condition. The nearest restaurants and guest houses are in Tetri Tskaro. Moreover, the visitors should avoid snakes in the abandoned streets of Samshvilde during the summer time.