Advantour Team: Tbilisi Office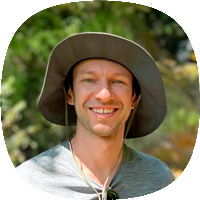 Yuriy Klyuev
Director
Yuriy graduated from the Riga Technical University and had worked for the Latvian Branch of the Company called 'International Travel Network' (USA). He speaks English and is learning German at the moment. He has been with Advantour since 2012 and he is responsible for processing tour requests all across Central Asia and Caucasus. Yuriy thinks that the only thing better than a mountain is lots of mountains, which is why his favorite places in Georgia are the mountains in Kazbegi, Khevsureti, Svaneti, and especially Tusheti, a real fairy-tale location that only opens itself up for true admirers. As for Georgian culture, Yuriy especially loves polyphonic choral music and dances, plus the fact that Georgians like to wake up later on Sunday mornings, so the streets are quiet and calm. Yuriy also likes to travel to Kakheti in September with a lively group of people to harvest grapes, especially because of the feasts in the evenings, called "supra".
His most memorable day is the first time he played his favourite song on a guitar and immediately wished to form a rock band. Yuriy plays guitar, the drums, and is learning to play the piano. He is a real bookworm who enjoys reading books in English. Yuriy collects fiction books in English, folk and jazz music CDs from different countries.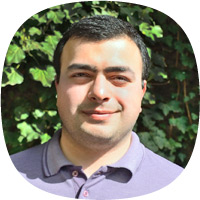 Avtandil Germanashvili
Travel Consultant
Avtandil graduated from Tbilisi State University, and practically immediately moved to Lithuania, where he worked in a youth center as a volunteer for a year. As Avtandil himself says, in his childhood, he was much more of an introvert, but working as a volunteer made him more open, because he found a comfortable and cozy atmosphere at the youth center. After returning to Georgia in 2017, Avtandil quickly found work at Advantour, where he continues to build his communication skills with new people.
Avtandil plays chess and listens to music from the 70s and 80s (he especially loves Vladimir Vysotsky, Goran Bregovich, and the Scorpions). He also loves to travel and hike to lakes and forests (but not in the evening, when there are lots of mosquitoes). Avtandil knows four languages: Georgian, Russian, English, and Lithuanian.
The most beautiful region in Georgia, according to Avtandil, is the Alazani Valley in autumn, when all the leaves have changed colors. Here you can feel at one with nature and recharge with a breathtaking view of the snowy Caucasus mountains. Avtandil also recommends all visitors in Georgia to visit the fortress in Ananuri, where they should climb up to the top of the tallest tower, which has a great view of the Zhinvali Reservoir and the surrounding mountains. For those who want to experience the culture of Georgia, Avtandil recommends trying wine from Khvanchkara, which is also called the true blood of grapes, and to listen to traditional Georgian choral music, which tells about the hospitality and pride of the Georgian people.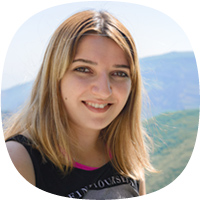 Ana Pataridze
Travel Consultant
Ana graduated from Caucasus University in Georgia. When she had the opportunity to participate in an exchange program at Fairleigh Dickinson University in the United States, she jumped at it. Through this program, Ana learned a lot about cross-cultural relations, the interconnectedness of the world, and the traditions and lifestyles of people from different cultural backgrounds. She speaks fluent English and Russian, and a bit of Spanish and Chinese.
Ana has always had a passion for travel and experiencing new things. Her interest in working in the travel industry developed while she was travelling in Asia. Since joining the Advantour team in April 2018, Ana has been working as a travel consultant. She designs tours for travellers who are keen to explore the pristine nature, historical sites, and numerous hidden gems of the South Caucasus.
When travelling, Ana loves learning about, and emerging herself in, different cultures; meeting amazing people; and tasting local food. Ana's favourite place in Georgia is Batumi. She particularly enjoys staying in the old part of the city, where most of the houses were built in the 19th century. Ana loves that visitors to Batumi can experience a mix of old and modern architecture, sea and mountains, and, above all, the hospitality of the Adjarian people.
Ana's message to future travellers is: "No one ever said 'I regret going travelling.' So, book the trip! We can't wait to see you in the South Caucasus!"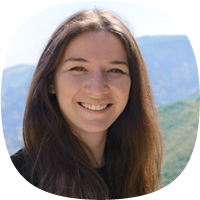 Ketevan Mikiashvili
Travel Consultant
Ketevan (Keti) graduated from Tbilisi State University with a degree in tourism. She started working in the tourism industry while still a student. Since joining the Advantour team in February 2018, Keti has been using her excellent communication skills and previous experience as a tour operator to help tourists from all around the world book accommodation, restaurants, and tours in the South Caucasus. Keti speaks fluent English and Russian, and a little bit of Turkish.
Keti's favourite place in Georgia is Racha, a highland area in the north. From time to time she loves to escape the chaos of the city to relax in Racha and enjoy its beautiful mountains. Keti hopes that, with recent infrastructure investments, Racha will become a more popular tourist destination and that one day she will welcome foreign guests to her family's guesthouse.
Keti practices yoga and believes that this is the best way to reduce stress and improve quality of life. In her spare time, she also tries to maintain an active lifestyle. Keti loves hiking and cycling, and has recently started skiing. Lucky for her, Georgia offers many places for such activities throughout the year.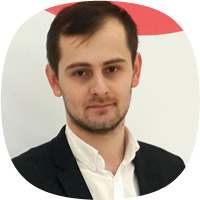 Davit Machitidze
Travel Consultant
Davit graduated from Tbilisi State University with a degree in business administration. After working in the bank for over two years, he decided to hone his skills in the tourism industry. He worked for several prominent international hotel chains in Georgia before joining Advantour in April 2018. He is responsible for booking transport and guides for tours. Davit is fluent in English and Russian in addition to Georgian and possesses excellent mathematical skills and Eidetic memory.
Davit's favorite place in Georgia is Gergeti Trinity Church, built at the hill top with an absolute breathtaking view! He often goes there to gaze at the nearby Caucasus Mountains.
Davit is a big fan of sports and music. He likes to play basketball and football with colleagues or friends in his free time and believes that being physically active helps people to be more productive at work. Listening to music also helps him to relax. His favorite rock group is Pink Floyd. He prefers listening to 70s and 80s music rather than new albums.
His life goal is to see as many countries as possible.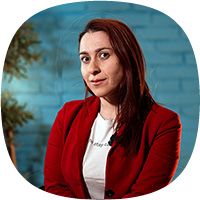 Mari Khukhunaishvili
Travel Consultant
Mari graduated from Tbilisi State University with a degree in law. While a student, she took part in various training courses, conferences, and student competitions, which gave her the chance to meet people of many different nationalities. She also worked for a university newspaper and as a volunteer for the Red Cross.
Before joining Advantour in April 2019, Mari gained invaluable experience in a wide range of industries. She worked as a Russian- and English-speaking tour guide, a manager in a large mobile phone company, and an English teacher for refugee children from South Ossetia. While living in China for 6 months teaching English, she made the most of the opportunity to travel around China and neighbouring countries.
Mari loves contemporary art, jazz, reading, and listening to audio books while taking long walks. She also has a passion for foreign languages—she already speaks English, Russian, and Spanish and is learning Portuguese. She wants to go and spend some time in Portugal to immerse herself in the country's language and culture. One day soon Mari would also love to hike to the K2 base camp.
Mari loves Georgia's nature and advises all visitors to her country to go hiking in the snowy mountains of Svaneti and then spend some time on Batumi's Black Sea beaches.