Taldykorgan near Almaty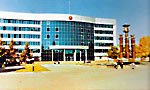 On 22 September 2001 the capital of Almaty region was transferred to Taldykorgan city, and this date really became the beginning of a revival of the city.
Today building up of Taldykorgan city is conducted with rapid strides. It is transfigured every day, as people say, big "euro repair" is conducted in the city. The city as if gets new respiration.
117,7 thousand people live in Taldykorgan representing 70 nationalities. It is located in a geographical center of Semirechye and has a special geopolitical value for the country. Due to a tree-structured network of highways of a nation-wide and regional value it has roads toward Almaty, Ust Kamenogorsk, Ushtobe, and also to the republics of Central Asia, Russia and China.
The airport has its own air fleet, may accept and serve planes of III and IV classes with take-off weight up to 70 tons. Flights are carried out from here more than to 10 cities of Kazakhstan and Russia. The railway station has an outlet to Central Kazakhstan, Central Asia, Russia, Baltic and China.

The economy of Taldykorgan is based on an industrial production, fostered by favourable transport - geographical position. There are totally 24 basic industrial enterprises in the city, 5 of the enterprises are processing. Besides, there are 48 mini - factories. The livestock of all kinds of cattle and bird has increased. Production of grain and industrial crops, sugar beet, a potato and vegetables has increased.
There are 4 main enterprises of a truck transport in the city, 6 of them are passenger ones. 12 automatic telephone stations, and an electronic international - intercity station represent City telecommunication. The mounted capacity makes up 38 thousand telephone numbers, out of which 25 thousand are activated. An automatic telegraphic station "Miroglav" enables to connect to the international network "Telex". The residents of Taldykorgan have Internet access.
A university, two institutes, 7 special educational institutions, 3 technical training colleges, 23 comprehensive schools, 10 kindergartens form an educational system. The network of public health services totally counts 27 treatment- prophylactic establishments.
There are a dram theatre, 2 amusement parks, libraries and cinemas in the city. A stadium with 5 thousand places, a sport complex, 5 pools, more than 30 sports halls at the enterprises and in the educational institutions work for a physical and sport training.
Many new splendid buildings have appeared. A sport complex "Orken" with swimming pools and sports halls, a stadium "Zhetysu", a cinema "Atameken" has been completely repaired.
Every day new shops, cafe, disco and business - clubs, enterprises in service sphere are appeared, which provide the population and its visitors with all necessities.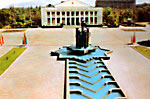 Monuments, arches, steles and billboards are appeared and are changed. Lamps - fireworks illuminate streets and buildings. Green park regions are extended, trees are planted in the city, the transport communication is improved.
The quay of Karatal River became the decoration of the city. In the evening lanterns illuminate it, and sweethearts appoint their meetings on the bridge under a wonderful arch. Taldykorgan becomes beautiful and loved by the townspeople.
But, certainly, there are still much necessary things to do. "Ramstor" shop, small town "Disneyland" are being constructed in "Zhastar" and "Pobeda" parks, an aqua park in the area of city pool, and technical park "Fantaziya" are under construction.
The population cheered up. As all regional centers, Taldykorgan is a rapidly developing city.