Atyrau Travel Guide
Atyrau - a city on the border between Europe and Asia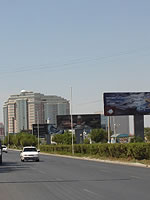 Atyrau (former Guriev) is the port on Caspian Sea and the pier on the Ural river (former Guriev). Fishermen founded it as fishing settlement in the mouth of Ural in 1615. In 1992 it was renamed in Atyrau. At the beginning of XX century the fishing was the only branch of economy in the provincial yuezd town Guriev. Then the railway, which was situated not far from the place of Ural's flowing into Caspian Sea, had a big influence on development of the town. The town is situated in two parts of the world Samarskaya side (the right bank of the Ural River) is in Europe, and Bukharskaya (the left bank) is in Asia. The employer Mikhail Guriev founded it in 1615 having asked the tsar Mikhail Fedorovich a decree for monopoly right to fish sturgeons in the mouth of Ural, but he was bound to build the town-fortification for defense from raids and to deliver red caviar to tsar. In 1668 Stepan Rasin owned Guriev. The population is about 140000 people. The town was built on the Seashore, but now it recedes into the distance of 25-30km. The first oil refineries and the plant of oil equipment were built here and the largest fish tinned plant in the Republic was also built here. Today Atyrau became the center of the oil industry of Ural- Embensky region. The grave of the Kazakh people's composer Kurmangazy Sagyrbayev (1806-1879) is located in Atyrau; the town Saraidzhuk (XVI-XVII), not far from where the ways from Europe and Asia were crossed, is situated in 50km north of the town.
Atyrau - Pictures
Atyrau Internet Resources
Aksaicultura - Association promoting the cultural exchange between Italy and Kazakhstan. It is a non profit-making organization. The headquarter is in Lodi and office in Atyrau.