Charyn Canyon, Kazakhstan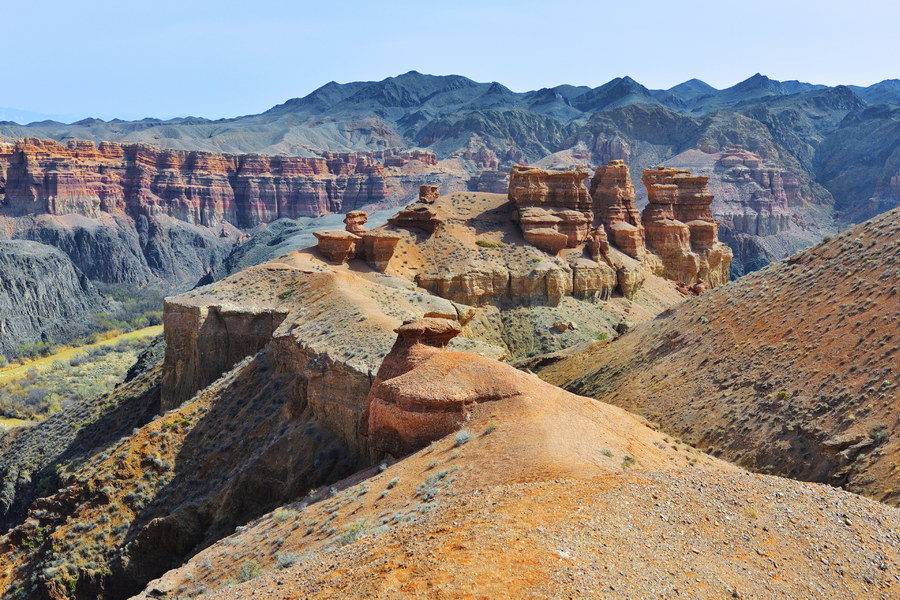 Charyn Canyon is situated in the territory of the Charyn National Park which was laid out with the purpose to preserve natural and geological objects. The National park was founded on 23 February 2004. The Park territory is inhabited with a great number of rare and endangered animal species entered in the Red Book.
In Sarytogai natural boundary of the Park territory, there are protected forests are growing with one of the most unique trees - Sogdian ash existed as far back as the Palaeogene epoch. The aspen grove is unique, the second analogue grove is found in North America. The aspen grove, a monument of nature is especially protected under aegis of UNESCO. Its age is about 5 million years.
But the most famous area of unique interest in the Park is certainly Charyn Canyon. This picturesque indigenous locality impresses with its heavenly landscapes The Canyon depth is 200m. The height of the bluff mountains of the Canyon reaches 150-300m. The Canyon itself represents a monument of nature formed with sedimentary rocks aged more then 12 million years. The landscapes are virtually miraculous there. Charyn Canyon is getting scarlet, pink and orange colors at sunset when the sun is disappearing behind the horizon. There is quietude around, and the Charyn river bobbles washing against the cliffs can only be heard from below. This sight will leave nobody indifferent.
The so-called "The Valley of Castles" is thought to be one of the attractions of the Canyon – these rock deposits resembling a tower by its form seemed to be created by unforeknowable giants. The Valley of Castles is over 2 km in length and its width reaches from 20 to 80 m at some places.
The landscape variety of Charyn Canyon accounts for a flora and fauna diversity. Over 1500 plant species, 17 out of which are entered in the Red Book of Kazakhstan, 62 mammal, 103 nesting bird and 25 reptile species are found there.
All conditions for a pleasant rest are created there for tourists. The Park staff will take them around and narrate about the canyon history in detail.