National Emblem of Kyrgyzstan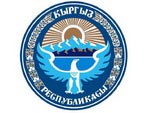 National Emblem of Kyrgyzstan was approved on January, 14 1994 and ever since it is an official national symbol of the republic. The coat of arms represents an image of a falcon, Ak-Shumkar, "Manas with extended wings, which symbolizes the freedom of the state, the generosity and vigilance, the height of thoughts of the Kyrgyz people living in the country of mountains.
In addition, Issyk-Kul Lake, the most precious treasure of Kyrgyzstan is depicted on the flag, surrounded by high rocky ridges of the Ala-Too. Water smooth surface of the lake symbolises beauty of nature, the source of life and energy. The mountains, illuminated by the sun, resemble Kyrgyz national hat "kalpak".