Turkmen Cuisine - Fish Dishes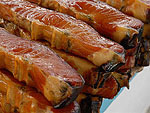 Fish dishes are popular among Turkmen living on the shores of the Caspian Sea. They mainly use sturgeon, beluga, herring, stellate sturgeon and as well as sea and river pike perch, catfish, mullet, sazan and kutum. Even pilav there is cooked with fish.

The basic condition for cooking Turkmen fish dishes is the availability of absolutely fresh just-caught fish. A fish is roasted on a roasting-jack, fried in cauldrons, dried, stewed, boiled. Fish is normally served with sweet-sour sauce and spices.

Salmon in Turkmen cuisine is often used for cooking shashlicks ("balyk shara") and for "govurdak".Fish is cooked in the same way as meat. For "balyk shara" marinated pieces of fish are put on a roasting-jack alternating with onion rings and roasted on heated coals. For "balyk gavurdak" (as well as for ordinary "gavurdak") small bones-free pieces of fish are fried in own grease in a cauldron. Sometimes a little amount of sesame oil is used. Other fish dishes - "gaplama", "chyome", "balyk berek", "balykly yanakhly ash" - are much more complex. Some of them remind cooking of pilav and manty which are normally cooked from meat; others are similar to none.