Ancient Settlement of Gebekly near Mary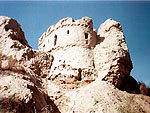 The ancient settlement of Gebekly is related to the early Parthian period. It is located 32 km from Gyaur-Kala. This small ancient town "grew" near an abandoned village of Margians behind the fortifications of Antiochus (Gyaur-Kala).
Gebekly was surrounded by a square fortress having the only entrance in the form of a ramp. There the archaeologists found fragments of pottery and some jewelry which testify about the developed crafts.