Mount Ararat, Armenia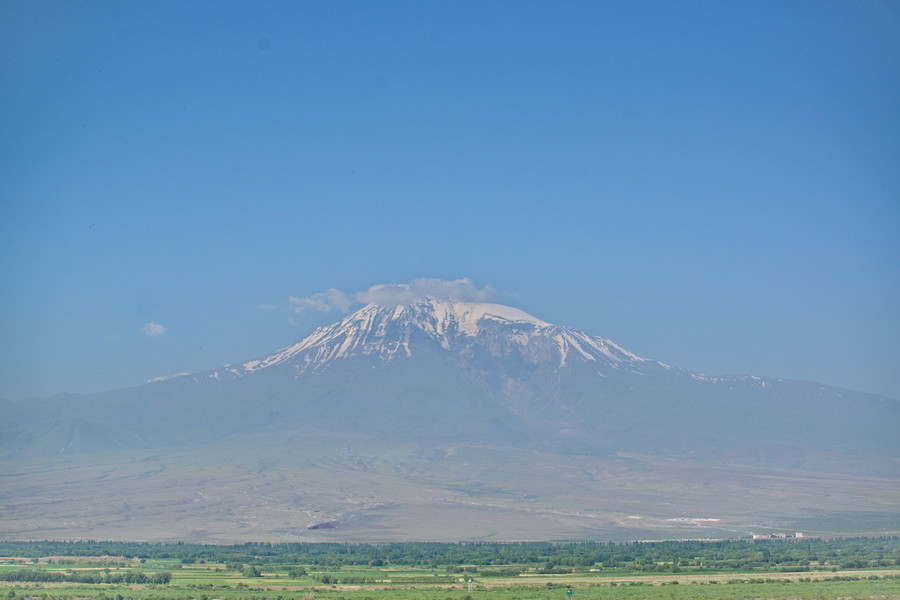 Mount Ararat, known locally as Agra-Dag, is the highest point in Turkey. The popular peak is famous not only for its beauty but also for the many stories and legends associated with it, most notably the widely-held theory that it was on Mount Ararat that Noah's Ark landed after the Flood.
Where is mount Ararat located?
Mount Ararat is located in eastern Turkey on the coast of the Araks River, 16 kilometers from Iran and 32 kilometers from Armenia. It is actually a volcano, and science suggests that it was active as early as the 3rd millennium BC. The last eruption of Mount Ararat occurred in the mid-19th century, causing a strong earthquake which destroyed St. Jacob Monastery and the small village of Arguri. Today it is listed as a dormant volcano.
Mount Ararat actually consists of two mountains which are merged at the base: Masis and Sis, also known as Big Ararat (5137 meters) and Small Ararat (3927 meters). Both peaks, which are only 11 kilometers apart from each other, are composed of basalt and are located in an area called Sardarul-Bulaki Valley.
Big Ararat is the highest mountain in Turkey. Its slopes are covered year-round with snow and glaciers beginning at the 4200 meter mark, while its caves, which were used as homes by some of the early Anatolian Christians, are located at approximately 2100 meters. Visitors can still see images of crosses and other religious symbols on the cave walls.
Small Ararat is located to the east of Big Ararat. There is little vegetation on its slopes due to a thick layer of ash, lava and tephra deposits. Nearby is a national park covering more than 88 thousand hectares, where researchers are still trying to find the remains of Noah's Ark. Mount Ararat itself remains a popular trekking destination in Turkey.
Origins of Name
Mount Ararat is known and recognized around the world, yet few people are aware of the origins of its name. Biblical Hebrew, Assyrian and Babylonian texts all provide insights into its meaning. In the Bible, Mount Ararat was first referenced in the 7th century as the place where Noah's Ark came to rest after the Flood. Link to "Meaning of Mount Ararat" page.
History
Mount Ararat has always been one of the main symbols of Armenia, for historically it was located on the territory of the Armenian Highlands. In 1923, a peace treaty drafted between Turkey and the Soviet Union allotted this land to Turkey. The Republic of Armenia, which was created after the collapse of the USSR in 1991, has not yet recognized this agreement. It regards Mount Ararat as historically and legally a part of its territory, and even Armenia's coat of arms bears a depiction of the beloved mountain. In Armenia, Mount Ararat is still considered a sacred place by many people.
Legends
Legends of Mount Ararat have held a mysterious sway on the Armenian people since ancient times. The mountain has long been honored, worshipped and believed to house the souls of brave individuals who protected it from invading armies. Due to the religious significance of Mount Ararat, for centuries Armenians were convinced that it was sacred and that mere mortals could not climb to its peak. Link to "Legends of Mount Ararat" page.
Mount Ararat continues to be a source of inspiration for many, including the Armenian people. Its snowy slopes offer wonderful views of Turkey, Iran and Armenia, while its fame and history continue to attract interest from around the world.