Khor Virap Monastery, Armenia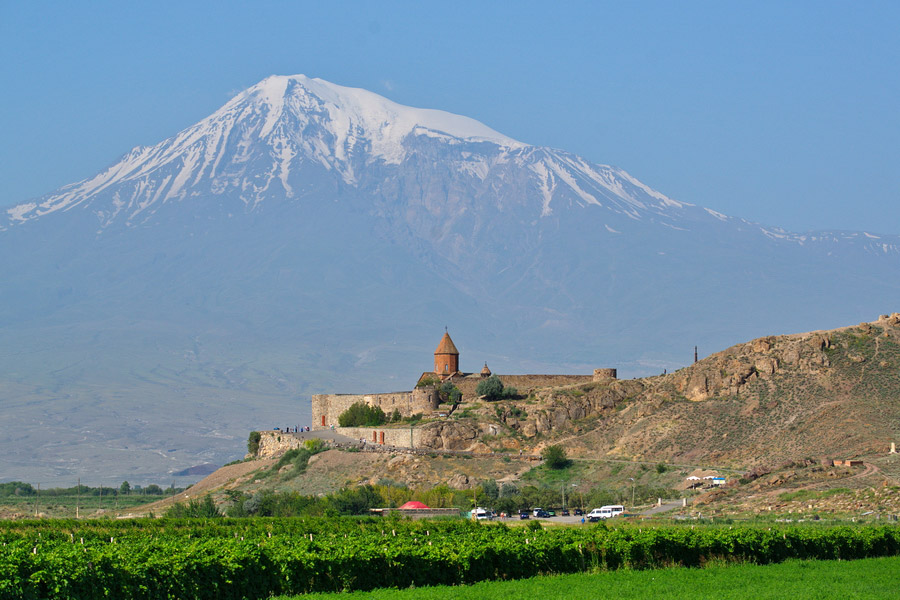 Every Armenian has heard about this unique architectural monument, which nowadays has become one of the main attractions of Ararat Province. This fortified monastery is a place of pilgrimage and a holy site for the Armenian Apostolic Church.
The history of the site dates back to a pagan temple that stood here for centuries before Christ's birth. An important visit happened at Khor Virap, between Gregory, son of Parthian nobles, and King Trdat III, of Armenia. Parthia and Armenia had been fighting for generations, and Gregory and Trdat were finally meeting after their fathers had been involved in a deadly battle. Trdat wanted to lay flowers at the pagan temple, and Gregory was forced to confess that he was Christian. Trdat threw Gregory in a deep pit and kept him there for 13 years. As the years went on, Trdat started to feel ill. His wife, who had already converted to Christianity, told him that he would feel better after he released Gregory, and she turned out to be right. After being cured, Trdat converted to Christianity in 301, making Armenia the first official Christian country in the world. Gregory became St. Gregory the Illuminator, revered for converting Armenia to Christianity.
In 642 Catholicos Nerses built a white limestone chapel above the dungeon. It looked like Zvartnots Temple, which had been destroyed by an earthquake. The chapel was destroyed later, though, and then rebuilt. The site was used for construction of the existing St. Astvatsatsin Church in 1662, with the belfry on it western side. The pit is still open for people to climb down, though it's a quite a steep descent down a ladder. In fact, the name Khor Virap means "deep pit", named after the prison where St. Gregory the Illuminator was held.
The monastery is located close to the border between Armenia and Turkey, on a hill near the village of Pokr Vedi. Long ago it was the site where Artashat, the ancient Armenian capital, was located.
The pit dungeon is 4.4 m in diameter and 6 m deep. Tourists can descend down using a narrow ladder in order to experience the atmosphere, which is mostly quite dark. Khor Virap Monastery also hosts a theological seminary and a residence of the Armenian Catholicos. There is also the most beautiful view of Mount Ararat and entire Ararat Valley from the monastery.