Noraduz Cemetery, Armenia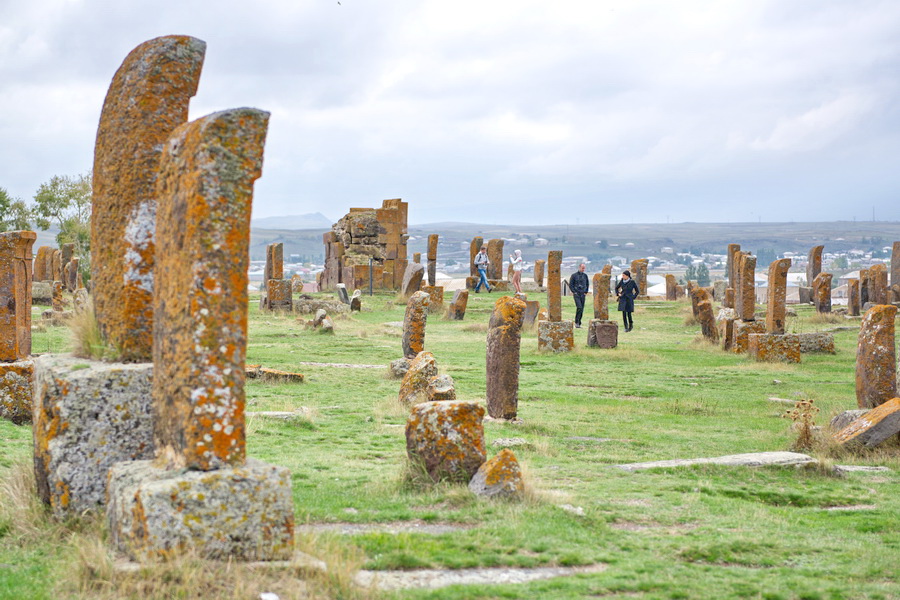 In the ancient Armenian village of Noraduz (Noratus), is located the largest and most ancient cemetery of khachkars. The word "khach" means a cross, and "kar" means a stone. The main part of the composition of khachkars is a cross, usually framed by numerous patterns and ornaments. In Noratus, you can see more than a thousand khachkars, located on a huge field covering 7 hectares.
Khachkars began to appear in Noraduz in the 5th century AD. Sadly, over the centuries, many of them were covered with moss. In the cemetery, you can ancient tombstones and relatively recently installed khachkars. All of them are unique, with individual patterns, ornaments, and sketches from everyday life, making each of them one of a kind.
The predecessors of khachkars back in the days of the kingdom of Urartu were called "vishaps". They were stone steles, which depicted monsters frozen in stone. Vishaps were supposed to protect the lands from invaders.
The most valuable khachkars on the territory of Noraduz were created by a medieval master named Kiram. In some of the khachkars, can be seen the influence of Muslim culture, since in the Middle Ages Armenia was under the rule of the Safavid dynasty for a long time.
There is an interesting legend about Noratus and its cemetery of khachkars. According to it, when Tamerlane invaded the Caucasus, the inhabitants of Noratus "dressed up" stone sculptures and put swords nearby so that from afar they resembled brave warriors ready to attack. Seeing broad-shouldered figures from afar, Tamerlane's army retreated.
The cemetery of Noraduz (Noratus) will be a great place to visit for all admirers of the history and culture of Armenia.