Gobustan Mud Volcanoes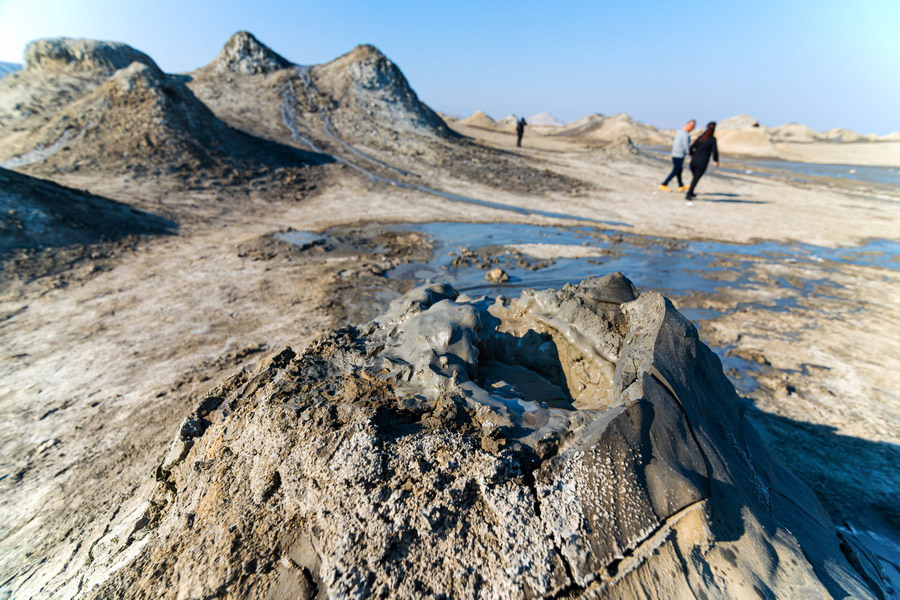 Azerbaijan's landscape is abundant with unique and rare natural wonders that pique the curiosity of travelers. In addition to spontaneous natural gas sources, the country is renowned for hosting the world's largest mud volcanoes. These remarkable cone-shaped formations feature flat craters that conceal reserves of oil and hot gas condensate. Scientists estimate these mud mounds to be up to 25 million years old! Peering inside these volcanoes reveals large bubbles forming and bursting instantaneously on the surface of the mud-like slurry – a truly captivating sight! Gas pockets emerge near the crater floor and penetrate deep into the ground, extending tens of meters.
Out of the eight hundred mud volcanoes found across the globe, approximately half of them are situated in Azerbaijan. Some of these natural formations are quite massive, reaching several hundred meters in height. The volcanoes are dispersed throughout the rocky deserts of the Gobustan Reserve, located 60 kilometers from Baku.
Venturing towards the Gobustan mud volcanoes feels like stepping onto another planet. Barren soil creates peculiar patterns underfoot, while light gray low hills stretch out in the distance, and no trees, bushes, or grass can be found nearby. It's easy to peer into the meter-high volcanoes and capture stunning photos of gas bubbles as they hiss and gurgle. For taller volcanoes, you can climb their sloping sides to reach extinct craters.
Mud volcanoes and their byproducts serve various scientific and industrial purposes. For instance, scientists can use them to monitor processes occurring beneath the Earth's crust. Additionally, fluids erupting from individual volcano craters are employed in construction and chemical industries. The volcanic mud also offers health benefits; bathing in cool natural pools can alleviate symptoms associated with musculoskeletal and cardiovascular diseases.
Gobustan's Most Renowned Volcanoes
Toragay is one of the world's largest mud volcanoes, having remained dormant for the past few years and displaying no signs of activity. Its form has settled into the shape we can observe today. This mud colossus stands at 400 meters high, with a crater measuring 150 meters in diameter.
Ayranteken is another sizable volcano that, at certain points in its history, reached heights of up to 500 meters above sea level. This volcano periodically erupts, spewing thick gray mud over the surrounding area. The mud soon solidifies, transforming the landscape anew.
Goturdag, situated 3 kilometers from Ayranteken, is characterized by an unusual eruption style. Mud surges upward, forming a column of dense "lava" that solidifies and subsequently slides down the outer walls of the hill. This process results in the volcano's unique shape.
Getting There
To reach the famed Gobustan mud volcanoes, you can use public transportation: Bus number 195 runs from the center of Baku to the entrance of the reserve. From there, you can either walk or hire a taxi to take you closer to the volcanoes. A round trip from the Azerbaijani capital will take approximately 7-8 hours. In addition to the volcanoes, you can visit ancient caves adorned with petroglyphs, which are just as memorable as the stunning Gobustan volcanoes. Advantour offers a one-day tour from Baku that includes visits to the mud volcanoes and Gobustan petroglyphs.
The extraordinary natural phenomena concealed within Azerbaijan's hidden landscapes offer a truly unique experience for those seeking to venture off the typical tourist path. Here, you will discover untouched terrains that were shaped millions of years ago. The Gobustan mud volcanoes are among Azerbaijan's most remarkable treasures, and they are definitely worth exploring!