Baku, Azerbaijan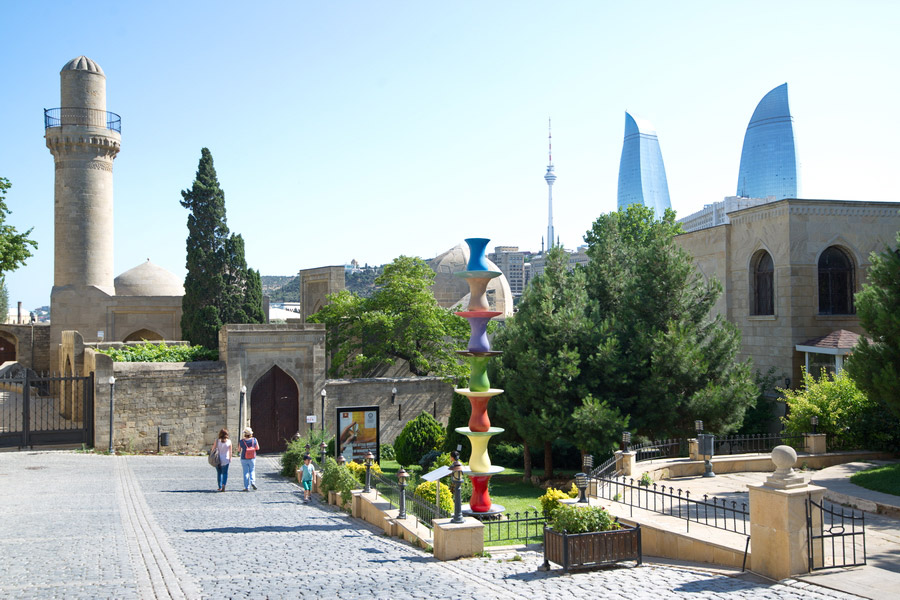 Tours, Attractions and Things To Do in Baku
Baku Travel Guide
Baku, far more than just the capital of Azerbaijan, sits as the historical, cultural and business center of this West Asian country. Aptly nicknamed the City of Winds, Baku's location on the western shore of the Caspian Sea subjects it to strong winds throughout the year while also gracing the city with gorgeous seaside views. With a population of over 2 million people, Baku is the largest city on the Caspian Sea and in the entire Caucasus region.
Baku offers attractions for everybody: Sunny beaches provide a prime spot to unwind, while elegant theaters and quirky museums will satisfy the cultured tourist. Modern architecture creates an otherworldly contrast with Old City quarters, while beautifully designed parks provide the perfect place to unwind in a serene environ. Trendy cafes and nights clubs attract young people, and delicious cuisine will satisfy taste buds of every type. The city offers dozens of pedestrian-friendly streets and entertainment centers for the comfort of its residents and visitors. No matter your age or sphere of interest, Baku's diversity and festive vibe are hard to resist.
Come encounter this city of wind and flames, where eastern and western culture melds into one, with our Baku Travel Guide.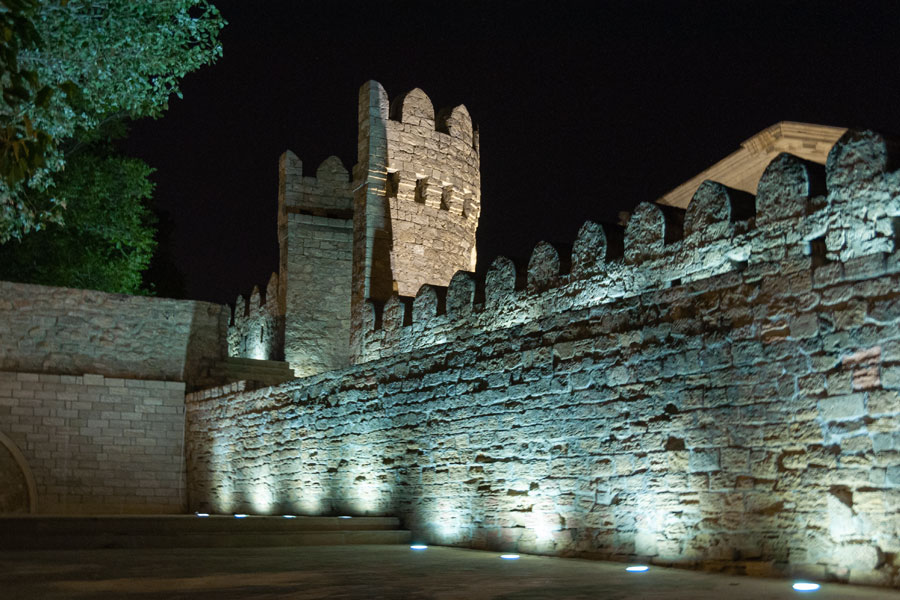 The earliest records of the city of Baku date back to the early Middle Ages. Baku means "the city of God" or "the place of God" and was founded by the 5th century AD. The region's early settlements were located along the crossroads of migration and trade routes along the Great Silk Road. The city was severely damaged during the Mongol invasion in the 1400s, but its economy was revived in the following century.
In the 16th century, Baku became part of the Safavid Dynasty and was governed by the Iranian shahs until being conquered soon afterwards by the Ottoman Empire. At the beginning of the 17th century the Persians were able to regain power, which they retained until the Russian Empire conquered the land at the beginning of the 19th century. In 1920 Baku, along with the whole of Azerbaijan, was annexed into the USSR, where it remained until gaining full independence in 1991.
Today, Baku is the leading economic and cultural center in Transcaucasia.
Baku Highlights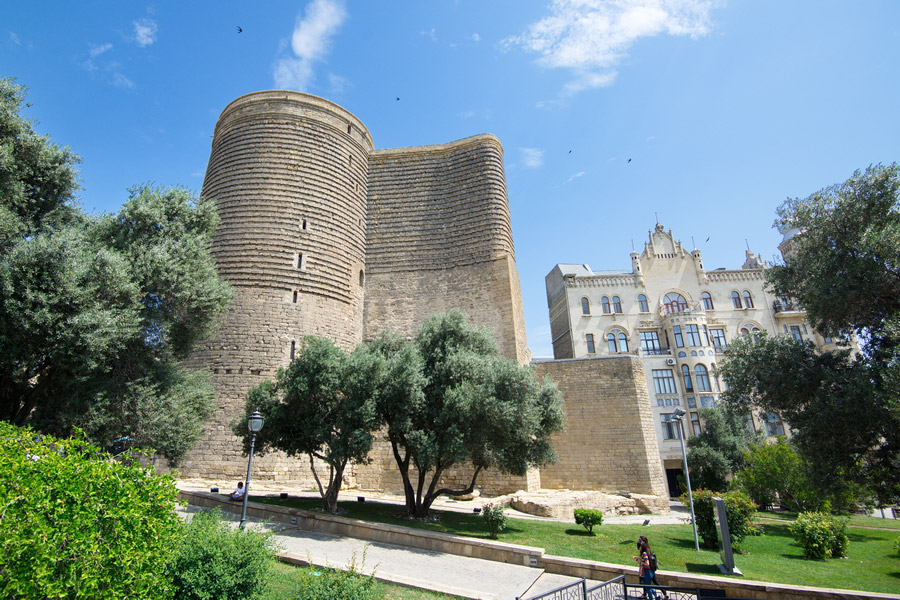 Baku offers an enticing variety of attractions to satisfy travellers of every type:
Stroll down Baku Boulevard, a famous seaside avenue along the shore of the Caspian Sea and a must-see for first-time visitors to Baku. The huge embankment stretches over 25 kilometres and amazes visitors with its impressive displays of original architecture. (Baku dress code tip: No matter the time of year, have a jacket handy, as Baku Boulevard will put to rest any doubts in your mind as to why the capital is called the City of Winds!)
Get lost in the cobblestone labyrinth of Old Town, rich in history and Old World charm.
Feel like royalty at Shirvanshahs Palace, Baku's medieval government headquarters where the famous Soviet movie "The Diamond Arm" was shot.
Climb Maiden's Tower, a symbol of the city and one of the most mysterious buildings in the capital that provides a tangible history lesson and an amazing city view.
Chill out at Nagorny Park as you enjoy gorgeous views of Baku and the Caspian Sea from the highest point in the city.
Weave your way through the Carpet Museum, which tells the stories of Azerbaijan through the beautiful ornamentation and interwoven colors of traditional local carpets.
Increase your cultural IQ at the Heydar Aliyev Center, sure to impress lovers of modern and contemporary art with its unique architecture and informative exhibitions. Be sure to stick around to appreciate the sparkling illumination of the center after sunset.
Baku's surrounding vicinities offer additional opportunities for adventure: Immerse yourself in the beauty of ancient cave paintings at the Gobustan Museum of Petroglyphs, uncover the mystery of the ever-burning fire of Yanardag or travel back in time with a visit to Ateshgah Temple, an object of pilgrimage for Zoroastrians for hundreds of years.
Baku can be experienced on foot or by metro, taxi or public bus. If you're looking to visit as many places as possible in a short amount of time, renting a bicycle at Baku Boulevard is another fun alternative. See the section on Public Transport in Baku below for further information on how to get around the city.
Baku Museums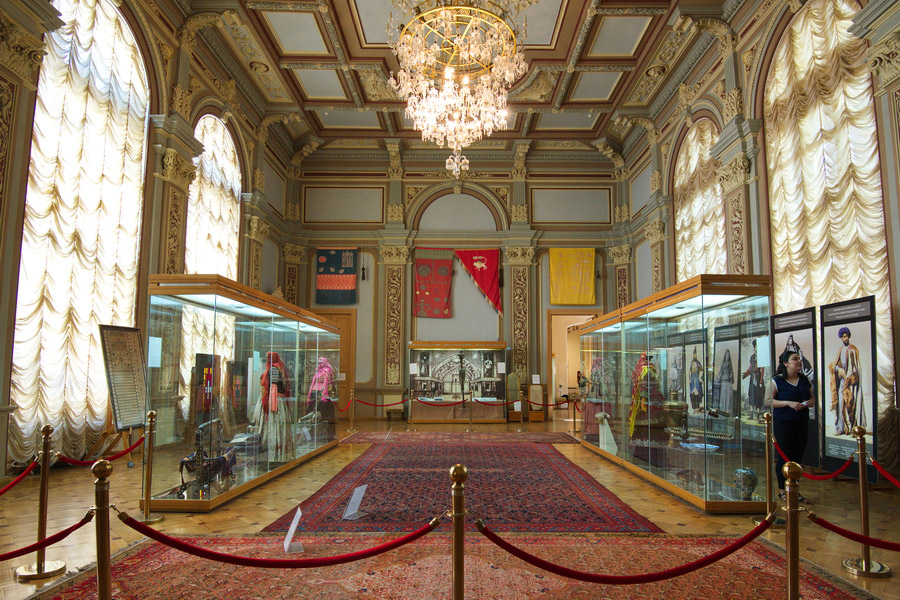 Baku is the historical, business and cultural center of the country, and travelers can find dozens of museums and art galleries here. The National Museum of the History of Azerbaijan, Gala Open-Air Museum and the well-known Museum of Archaeology and Ethnography are the most popular destinations for those who want to immerse themselves in the history and traditions of Azerbaijan.
For those looking for something more unusual, take a trip to the Baku Museum of Miniature Books, which includes the three smallest books in the world, or the Azerbaijan Carpet Museum, housed in a building designed to resemble a rolled-up carpet.
Theatres of Baku
Travel in Baku will bring you face-to-face with a diverse selection of concerts and plays that are sure to satisfy young and old alike. Among its most acclaimed cultural centers are the Azerbaijan State Philharmonic Hall, which holds regular classical and traditional concerts in a spectacular early-20th century rotunda, and the Azerbaijan Drama Theater, where the country's finest plays and performances are held. One of the oldest theaters in Baku is the Russian Drama Theater, which opened in 1920 and is well worth a visit. The Russian Drama Theater continues to amaze spectators with performances of classic Russian and Soviet literature, in addition to entertaining children's plays.
If you're looking to combine the outdoors with a unique cultural experience, the Baku Open-Air Cinema has summer showings of classic and modern films against the scenic backdrop of the Caspian Sea.
Parks of Baku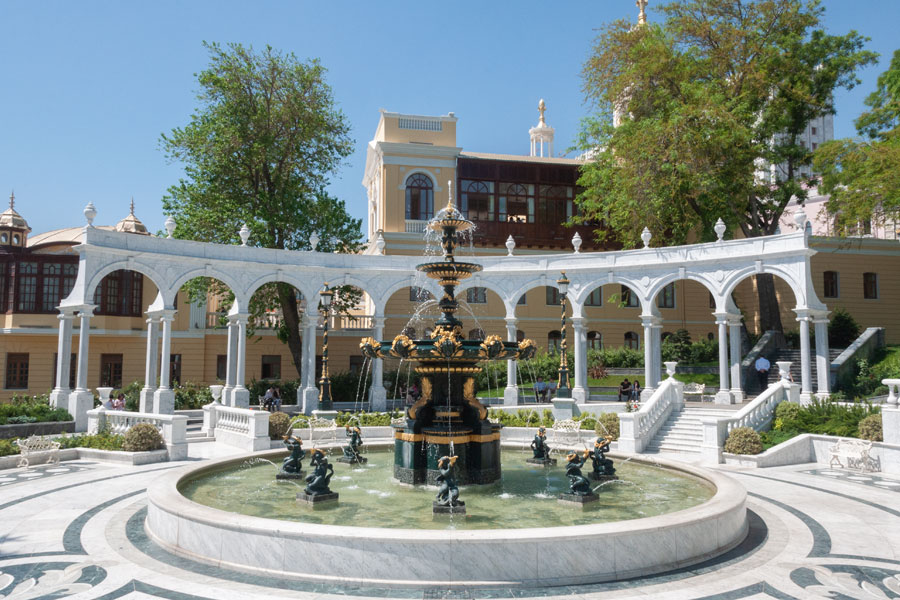 While it may be a large megapolis, you can still enjoy nature in the many lovely parks of Baku. City dwellers and visitors alike find respite among the fountains, benches and shady pathways of Baku's well-kept gardens and parks.
In Officer Park you'll find yourself immersed in a green oasis complete with charming footpaths and graceful poplars entwined with ivy. Cute statues and figurines of frolicking children, a photographer, a chess player, flower vendors and a master teahouse add to the park's endearing atmosphere.
Escaping the rays of the sun on a hot summer day is also possible in Central Botanical Garden, which contains a collection of more than 2000 species of trees, shrubs and flowering plants.
Another beautiful, shady green getaway is Nizami Park in Old Town. One of the oldest public parks in Baku, Nizami Park offers a chance to unwind and escape the bustle of the big, windy city.
Shopping in Baku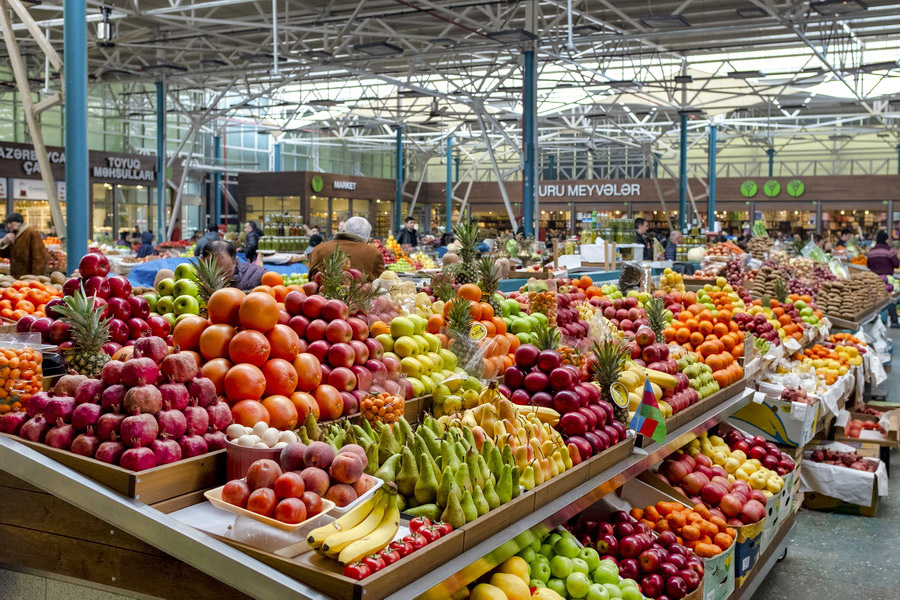 Like most modern capitals, Baku boasts of seemingly endless opportunities for shopping. For those wondering if Baku is expensive, rest assured that there are shopping opportunities to accommodate every type of budget.
One of most popular shopping areas among both locals and tourists is Green Market (Yasil Bazaar), which is filled with seductive aromas and a huge assortment of brightly colored clothing, spices and souvenirs. Far more than just shopping, Yasil Bazaar is an experience in itself, a chance to learn about the long-held traditions and lifestyle of local Azerbaijanis. As you shop for seafood, meat, spices, nuts, cheese, fruit and vegetables (all at affordable prices), you can chat directly with local merchants, learn about the variety and types of products available and hone your bargaining skills.
If you're looking for brand name clothes, shoes, accessories or jewelry, head to one of Baku's many shopping malls. Each mall houses countless stores, satisfactory food courts and amusement venues sure to provide hours of entertainment for the whole family. The most popular ones are Port Baku Mall, Ganjlik Mall and 28 Mall. Equipped with spacious walkways, shops stocked with world-famous brand clothing and indoor comforts, Baku's shopping centers are just the remedy for anyone wishing to return to the 21st century after a few days of historical sightseeing.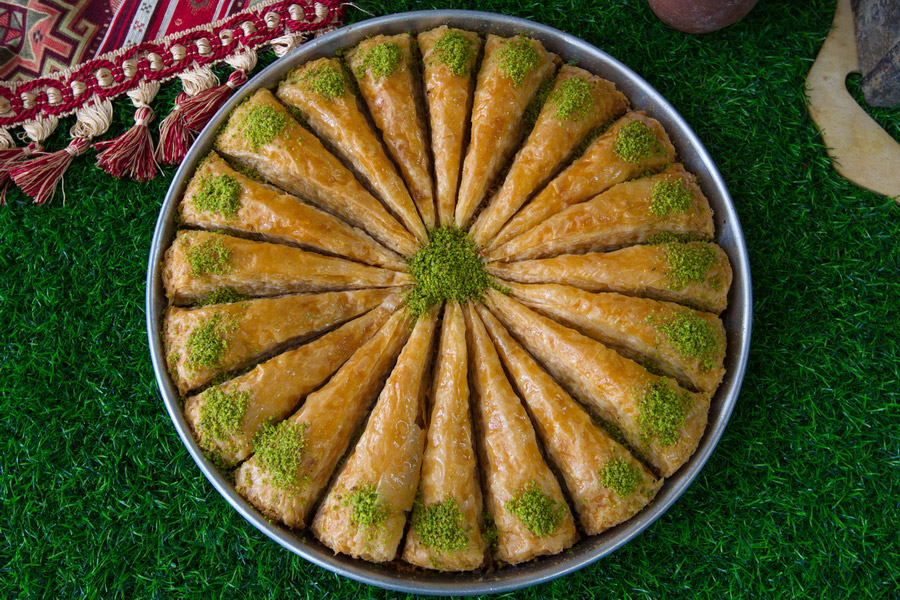 No Baku travel guide would be complete without mentioning the city's delectable cuisine! For tasty and unforgettable memories of Azerbaijan, look no farther than the fresh local cuisine. The rich taste of Azerbaijan's food, prepared according to old traditional recipes, is sure to delight your taste buds and impress you with its vibrant flavors, delicate combination of ingredients and fragrant Azerbaijani spices.
Staple ingredients of Baku culinary specialties include lamb, beef, poultry and fish, plus locally grown fruits and vegetables. Fresh greens act as an integral component, enriching and infusing each dish with a light and natural taste. Once in Baku, be sure to try bozbash minced meatballs served in broth, dovga sour-milk soup, mouth-watering Baku baklava and shah-pilaf, a flavoured rice dish cooked in a paper-thin flatbread. The peculiar Azerbaijani qutab, a flatbread stuffed with cheese, herbs, pumpkin or meat, is a cheap and tasty snack that will revolutionize your idea of fast food.
Learn more about Azerbaijan cuisine here.
Vegetarian Restaurants
Baku has a few exclusively vegetarian restaurants, plus a selection of European and Indian cafes, pizzerias and upscale restaurants that can provide customers with a wide selection of vegetarian and vegan dishes. Although local cuisine tends to be meat-heavy, options such as fresh salads, vegetarian qutab and dovga are good options for vegetarian travellers wishing to experience the authentic tastes of Baku.
Coffee Shops in Baku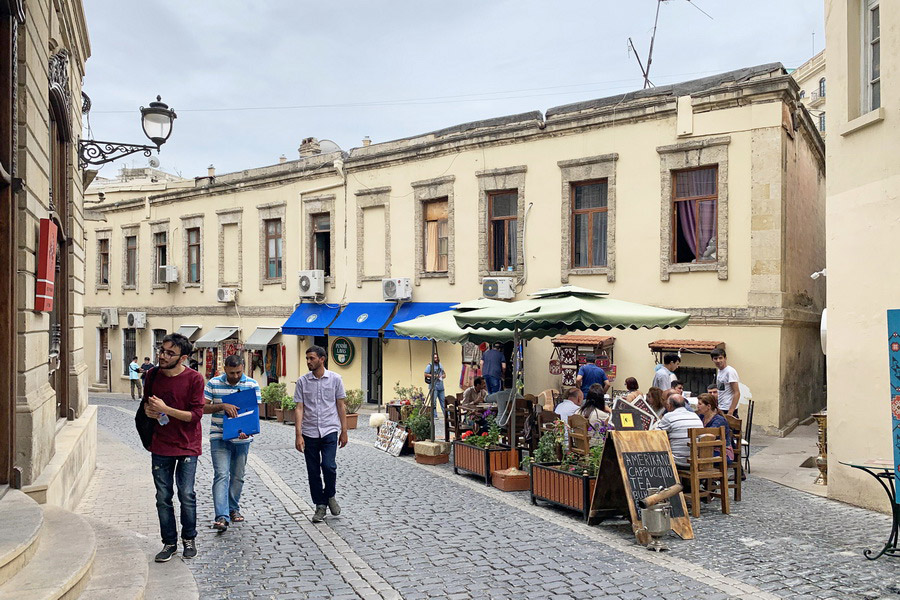 In central Baku are many cozy cafes and teahouses serving up famous Azeri tea, various types of coffee and irresistible pastries. Many teahouses are quite affordable so that even budget travelers can enjoy a cup of freshly brewed coffee or fragrant tea in the cozy atmosphere of central Baku. Starbucks and other world-famous coffee shops can also be readily found.
Public Transport in Baku
Travel in Baku has never been easier, as the capital offers several types of affordable and highly developed public transportation that make it possible to move from point A to point B in a quick and comfortable manner.
Buses
Buses in Baku run from 06:00 to 20:00. On average, expect to wait for your bus for 5-15 minutes. Bus travel in downtown Baku costs only 0.2 manat (0.12USD), and you can travel to the outskirts of the capital for 0.35 manat (0.21USD). Older types of public transport, including minibuses, were substituted with modern, comfortable buses in 2009, and the city continues to provide advanced public transport for city commuters.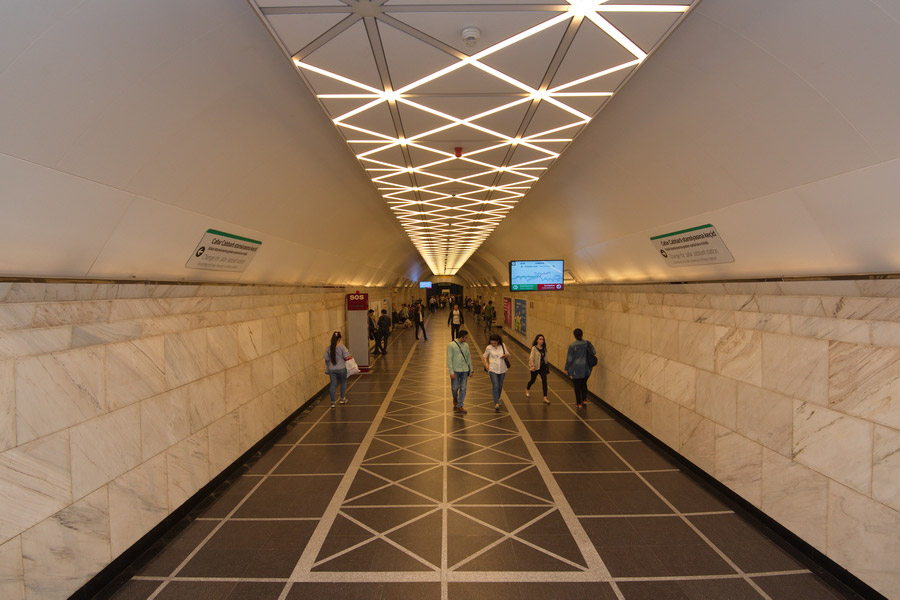 The Baku Metro includes 26 stations divided into the red, purple, yellow and green lines. You will need to purchase a special card to use the metro – a one-use metro card can be used for a single ride, while a reusable plastic pass can be refilled as needed and used repeatedly. The plastic card costs 2 manat (roughly 1.2USD) and may be used for the bus as well. Regardless of the length of the trip, each time you swipe to get on the subway, 0.3 Manat (0.18USD) is deducted.
Taxi
Baku travel has never been easier thanks to the city's well-developed taxi system, with dozens of different taxi companies operating in the city. You can easily order a taxi with a quick phone call or an app on your phone. Keep in mind that in bad weather or during rush hour, fares may increase. Most apps or taxi call centres also offer services in English.
Car Rental Services
Many local and foreign companies offer car rental services for those who prefer to explore the city in a private car, and who are brave enough to figure out Baku's traffic regulations!
You'll need a valid driver's license and insurance in order to rent a car in Baku. Please note that it is not necessary to have an international driver's license; one issued in your home country will be sufficient. The rental price depends on the make and model of the car. Payment is accepted in cash or by credit card.
Cycling
A highly developed network of bicycle rentals makes Baku accessible on two wheels and is a particularly convenient option if you wish to explore the 25-kilometer-long Baku Boulevard. Often the rental price includes a bike lock so that you can easily leave it on the street if you decide to head indoors. Active development of bike paths and the installation of bicycle parking spots began in Baku in 2019.
How Do You Get to Baku?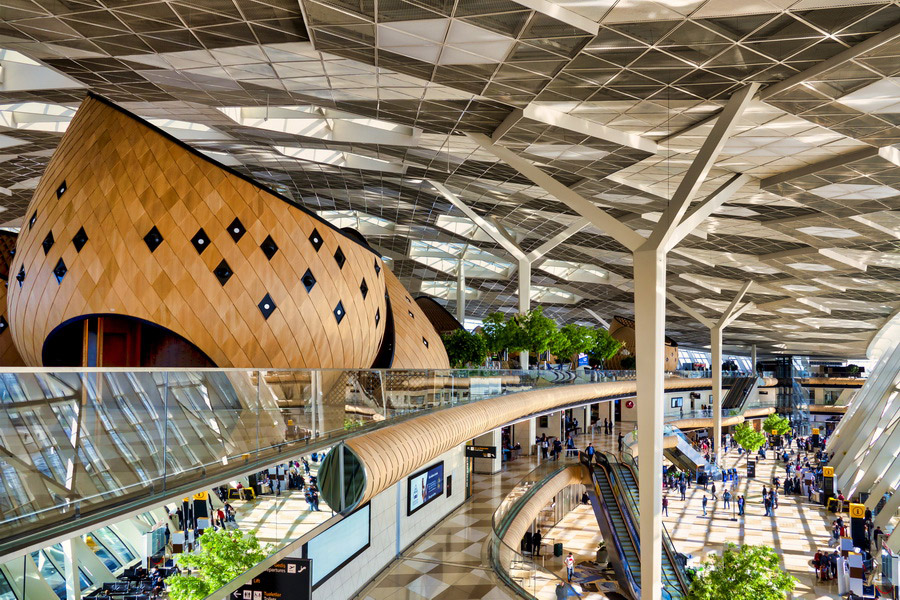 The fastest and most convenient way to get to Baku is by plane. Heydar Aliyev International Airport receives aircrafts from all over the world, and the planes of Aeroflot, UIA, S7, AirBaltic, Air France and other large airline companies regularly land in Baku. In 2015 the airport terminal received an honorary 4-star category. The airport provides free Wi-Fi, luggage lockers, cafeterias, waiting areas and a VIP room, a pharmacy, first-aid post, mother-and-child room and a Duty Free zone, in addition to many other services. You can get from the airport to the city either by taxi or by a comfortable bus that runs frequently.
You can also get to Baku by land using buses or long-distance trains. It is very convenient to travel to the capital of Azerbaijan from Tbilisi, the capital of neighboring Georgia. The distance between Baku and Tbilisi is covered in 15-16 hours, including time spent at border control.
Spoken Languages in Baku
The official language of Azerbaijan is Azerbaijani, a Turkic language which you will hear widely spoken on the streets. However, since citizens of many CIS countries also reside in Baku, it's not uncommon to come across speakers of Russian, Ukrainian and other languages. Since Azerbaijan was part of the Soviet Union, most of the older population can also speak fluent Russian.
In restaurants and cafes, particularly in downtown Baku, the menus are almost always in English. Many waiters and servers are usually proficient in English, as well. Likewise, you'll be able to easily communicate in English in the city's large shopping complexes, offices and firms.
The national currency of Azerbaijan is the Azerbaijani Manat, which maintains a solid rate against the US dollar at approximately 1.7 AZN to 1 USD. Manat is represented by 7 denominations of banknotes and 6 denominations of coins, called kapiks. You can easily exchange money at local banks, as well as at small exchange offices located on the territory of the airport, bus stations, railway stations and in the city centre. Keep in mind that credit cards are not accepted in small shops and cafes, so it's advisable to keep some cash on hand (preferably smaller notes) to avoid the hassle of needing to find an ATM at the last minute.
Is Baku Safe?
Baku may be a large, modern metropolis, but the government maintains strict public order and seeks to maintain necessary safety measures to ensure that Baku is safe for visitors. The city is known to be calm and peaceful. Azerbaijanis are famous for their hospitality, which extends to tourists, who are respected and protected as very important guests.
As a precautionary measure, simply keep an eye on your valuables while in crowded places, only ride in certified taxis and be aware of your surroundings after dark. We also recommend that you don't drink the tap water in Baku if you're only traveling in the city for a short time. Nonetheless, travelers the world over report feeling safe and comfortable while in Baku.
To learn more about the city attractions you've discovered in the Baku Travel Guide, read on for further information!