Kala Settlement near Baku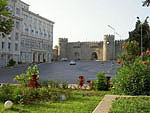 The name Kala means "fortress" and originates from the 14th century citadel located on upland there. The citadel's tower is almost completely destroyed, only the ruins of fortifications and a medieval Djuma-mosque adjoining to them have survived.
The interior of Djuma-mosque is covered by curved arches. The entrance into the mosque underground gallery is still there.
Kala has structures characteristic for Absheron building school of the 18th century: gapless fences made of large monolithic stone blocks, with square foundations and dome-shaped roofs. On the settlement's territory there were a few baths, wells and water reservoirs which were used for collection of underground water. The most ancient well on the territory of the cemetery is dated 1665.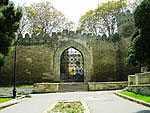 But the most interesting is the ancient cemetery of Kala. There one can see absolutely unique tombs in the form of crypts, covered by hipped domes, big stone slabs. There are no inscriptions on the tombs. Therefore it is difficult to tell who is buried there: noblemen or clergymen. But not all tombs are oriented to Mecca as is required by Muslim tradition. There are tombs with stone chests ornate with carved ornaments and Arabic inscriptions.
The cemetery has two ancient mausoleums: Mohammed's mausoleum (1624-1625) and the mausoleum of the 18th century.