Tuba-Shakhi Mosque, Baku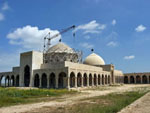 Tuba-Shakhi Mosque in Mardakjan village was constructed in the 15th century by the order of some Tuba-Shakhi and was named after her. This cult structure has survived in good condition is an example of classical architecture of medieval Azerbaijan.
The mosque's walls were made from smooth dressed stone; the rectangular windows are decorated with geometrical patterns of stone lattices. The facade top is decorated with the carved cornice. The portal entrance juts out a little. It looks quite modest as it is not distinguished by decoration. Above the portal there is the indication of the year of its construction (1481-1482).
The mosque rooms are connected with one another and the main hall by the curved arched. In the center of the hall stands a low faceted drum with a peaked dome towering above it. Mikhrab is in the southern wall. Tuba-Shakhi Mosque interior expressiveness is achieved by the fine ratio of harmony creating volumes.