Handicrafts in Azerbaijan
Handicrafts in Azerbaijan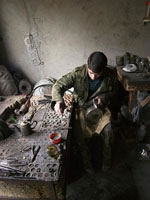 Nearly every city of present-day Azerbaijan can be called a "city of craftsmen". In the past each of them had a reputation far beyond the country's borders as a center of famous craftsmen: carpet weavers, jewelers, armorers, weavers an embroiders, stone carvers etc.
Today the samples of medieval masterpieces of national craftsmen of Azerbaijan are kept in museums all over the world: from the Louvre to the Hermitage as well as in local treasuries of folk arts.
Now the glorious traditions of Azerbaijani craftsmen live on in contemporary forms craftsmanship: remarkable souvenirs, household utensils, hand-made jewelry.
Metal Craft in Azerbaijan
Azerbaijani Embroidery
Azerbaijani Carpets