Handicrafts in Azerbaijan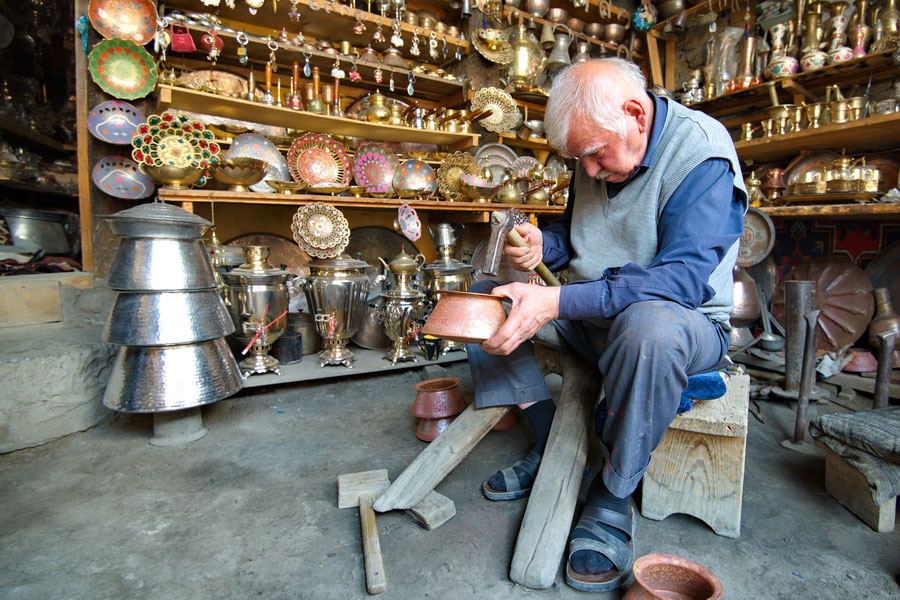 Nearly every city in Azerbaijan could be called a city of craftsmen. In the past, each city was a center for artisans and masters, with weavers, jewelers, blacksmiths, carvers and embroiderers setting up shop and developing their crafts. Azerbaijan was in the perfect location for artisans, with travelers and merchants coming from far and wide. Azerbaijan was right on the Silk Road, between Russia and Iran, so there was a rich trade and plenty of movement. Azerbaijan's artisans and craftsmen could learn new techniques from their neighbors and trade for new materials.
Even though professional artisans took Azerbaijani handicrafts to new heights, many products were originally made at home. Carpet designs, embroidery patterns, and metalworking techniques were first learned at home. Different regions developed their own patterns and styles, which were then passed down through generations. Daughters often learned how to make carpets and other textiles from their mothers, and from a young age they would start making items for their new homes, whereas sons would receive carpets made by their mothers after their wedding. Homes would be richly decorated with carpets and embroideries, which would not only make them more comfortable but would keep rooms warm during the winter. Azerbaijan's carpets and textiles are full of so much history and culture that they have been designated a Masterpiece of Intangible Heritage by UNESCO.
Though many Azerbaijani handicraft traditions were lost in the Soviet era, they are being brought back in the modern day. Places like the Quba Carpet Workshop have revived techniques used to make traditional carpets, plus designs that were used centuries ago and lost to time. Lahij is once again filled with the hammering of copper masters, as it was during the height of the Silk Road. Many traditional handicrafts also make good souvenirs, since they feature so many unique colors and patterns, and souvenir shops around the country are full of Azerbaijani handicrafts.