Metal Craft in Azerbaijan
Metal Handicraft in Azerbaijan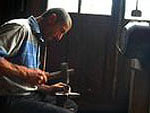 The objects found as a result of excavations on the territory of Azerbaijan testify that as far back as 2,000 B.C ancestors of Azerbaijanis used objects made of bronze, daggers, axes, waist belts, gold ornaments, etc. in their everyday lives.
As time went the metal craft on the territory of Azerbaijan was being perfected. The Middle Ages are thought to be the peak of this craft development. During this period the craftsmen forged various kinds of metal armor and household objects: utensils, chests, ware (Azerbaijanis have a habit of cooking in copper ware), amazing jewelry and other samples of skilful workmanship many of which have survived up to now.
All this is confirmed by the craft samples found during archeological excavations in these places: bronze figures of humans, animals and birds, jugs, cauldrons etc. Later the craftsmen started making head-dresses and waist belts from precious metals decorated with engraved ornaments. Some ornaments on engraved objects were often combined with Arabic language inscriptions. Arabic characters supplemented the ornaments and made them even more beautiful. Azerbaijani copper craftsmen using hot forging could shape their goods any way they liked: more than 80 kinds of copper items are known now. Today a lot of samples of such finds are kept famous museums of the world.
The basic manufacturing techniques were: engraving, embossing, harasavad, shebeke, khatem karlyg and glazing.
Engraving is one of ancient techniques. In comparison with other crafts it is the easiest. To make an engraving you need sharp eye-sight and high skill. Craftsmen use a hammer and a sharp cutter.
During embossing gold, silver or other metal parts are put on the patterned moulds beaten with a wooden hammer. Thus, precious metal acquires the desirable shape. This method was used for making waist belts, buttons, bracelets etc.
Harasavad basically was applied for silver since black chrome provides more distinct white lines on this metal. On the beaten off smooth silver surface the drawing was made by means of scratching. Then the space around the drawing was coated with black substance. This techniques was mostly used for manufacturing valuable articles (waist belts, daggers, pistols, powder flasks, etc.).
Shebeke means making drawings and patterns from thin lacy wire. Shebeke is of two kinds: the first creates the object's base from gold or silver threads; the second covers the surface of object.
Khatamkarlyg legacy in the jeweler art of Azerbaijan is huge. In order to decorate a dagger, a sword or other craft samples by this technique the surface of these articles is slightly "bored". Then gold, silver or color metal nails are driven into resulted pattern forming holes. After the process is completed the surface of nails heads is leveled resulting in a beautiful mosaic. This technique requires genuine taste and skill. Azerbaijani craftsmen have achieved wide recognition in this.
Glazing has allowed toestablish jeweler art of Azerbaijan as an unsurpassed skill. Glazing consists of filling a drawing or a pattern with glazing mixture. For this purpose a drawing or an ornament is embossed the surface of gold, silver and other metal. Then the grooves are filled with glazing mixture. Azerbaijani glazing is distinguished by light pink, green, light-blue, black and red colors. Each paint poured in the grooves had its distinguishing feature - after being heated it formed a thin film preventing the paint from flowing. Magic colors of Azerbaijani glazing, the harmony of its shades are captivating and admirable.