Khanega on the Pirsagat river, Lankaran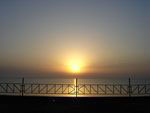 Nearby Lankaran, on the ancient way from Shamakhi to Iran, on the banks of the Pirsagat river stands Khanega - the cult Islamic structure of an Islam hidden by the quadrangle of fortifications with semi-towers and loopholes. It is in a very good condition. As a rule, Khanega was a complex of buildings for religious purposes - mosques, mausoleums.
Pilgrims used to make their ways there; therefore, the complex included a caravanserai where the believers wishing to touch the relic could stay. Khanega on the Pirsagat river is a monument of medieval architecture famous for its magnificent decorating of gyazha engraving, ceramic ornaments, masterly stone engraving. Basic structures of Khannega are dated the 12th - 14th centuries although it was completed and reconstructed later.
Even severe Mongols were impressed with the beauty of Khanega. They did not destroy the building and even returned all treasures stolen from there. Being under impression of its greatness and riches, in 1318 Uzbek khan from Golden Horde paid a visit to Khanega and presented rich gifts (ingots of the gold, precious furs).
Behind Khanegs fortifications one can find the ruins of caravanserai with stone hitching posts.