Nature of Azerbaijan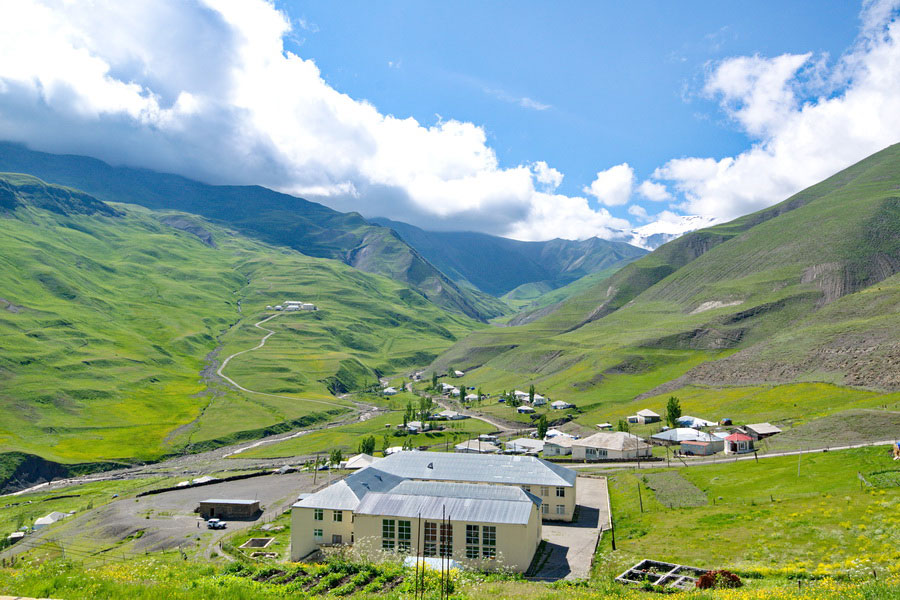 Azerbaijan's geography covers a diverse collection of landscapes, from wetlands to high mountains, deserts to fertile valleys. The center of the country is taken up by a broad valley, centered around the Kura River. This valley is bordered to the north by the Greater Caucasus Mountains, and to the south by the Lesser Caucasus Mountains, and opens in the east to the Caspian Sea. The highest point in Azerbaijan is Bazarduzu Dagi, at 4,467 m (14,656 ft), and the lowest point is - 28 m (-92 ft), in the Caspian Sea.
The Caspian Sea is home to many species of fish, and the shores hold important wetlands, where numerous species of birds live. Even though the Caspian Sea is called a sea, it's actually the largest lake in the world. Long ago, it was connected to other seas (like the Mediterranean), though plate tectonics separated it about 5 million years ago. Now, the Caspian Sea is fed by great rivers, including the Kura, which flows through Turkey, Georgia and Azerbaijan. This keeps water flowing in, though the only way for water to leave is by evaporation. When the water evaporates, it leaves behind any salts or minerals, which is why the Caspian Sea is salty (though it's not as salty as the oceans). The Caspian Sea is also located below sea level, making Azerbaijan's lowest point 28 meters (92 ft) below sea level. There are beaches and resorts on the shores that are especially popular in the summer, as people come to swim and escape the summer heat. The Caspian Sea is also home to large oil reserves, and the first offshore oil wells in the world were built near Baku.
Heading west from the Caspian Sea, the easiest route follows the Kura River. This river starts in the mountains of Turkey, then crosses Georgia, gains water from rivers in Armenia (without ever crossing into the country), before crossing Azerbaijan to flow into the Caspian Sea. There is a dam near Mingachevir, creating the Mingachevir Reservoir, the largest lake in Azerbaijan. The land around the Kura River is irrigated and relatively fertile, though there are also large semi-desert areas in the flatter parts of Azerbaijan.
The geography in Azerbaijan is dominated by the mountains. With the Greater Caucasus in the northern part of the country, and the Lesser Caucasus in the southern part, there are a variety of mountain landscapes. The Caucasus Mountains are part of a larger system that spans from Europe to Asia, and indeed the watershed of the Caucasus Mountains forms the official border between Europe and Asia. Lots of snow and rain falls in the Caucasus Mountains, with this precipitation being the source of much of the drinking water in the region. The lower slopes are home to richer deciduous forests (with oak, maple and ash trees), and higher slopes are home to more pine forests, and glaciers and open areas at the highest of elevations.