Lake Goygol/Lake Göygöl, Azerbaijan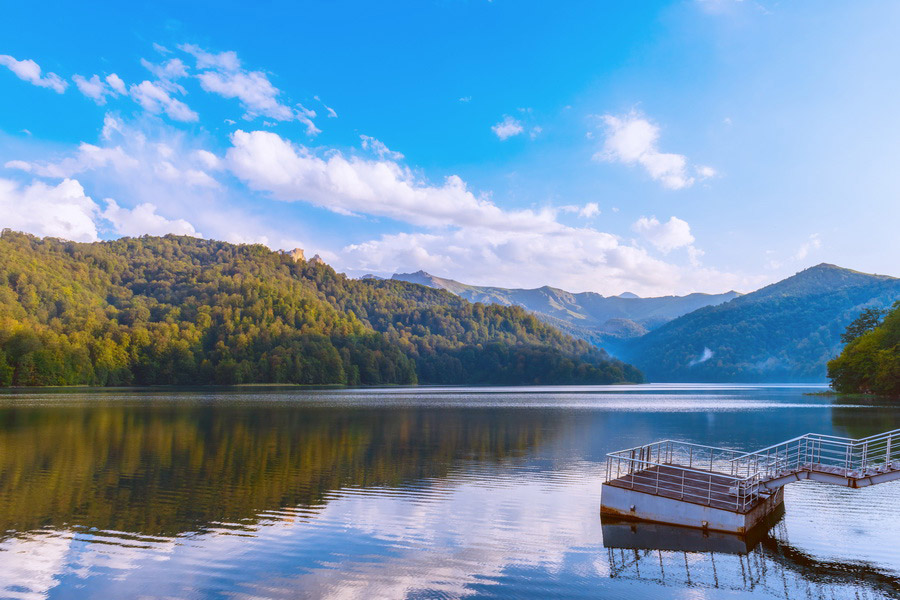 In the west of Azerbaijan, in the middle of the dense forests of the Goygol National Park, you can find a picturesque Lake Goygol. Its name is translated as "blue lake" from the Azeri. The color of the water shimmers from dark green to emerald. The lake is located in a picturesque area, in the middle of the mountains of the Murovdag Range.
History of Formation of Lake
The history of the emergence of Lake Goygol is very interesting and unusual. The exact date of its formation is September 30, 1139. On this day, one of the largest earthquakes in the history of Azerbaijan occurred in Ganja, which claimed the lives of more than 230 thousand people. During powerful tremors, a huge piece broke off from Mount Kapaz, which fell into the Akhsu River and blocked its channel. Gradually, the dam became a picturesque lake. The earthquake created seven more full-flowing lakes near Lake Goygol.
Flora and Fauna
There is only one type of fish in the lake, trout. Professional and amateur fishing is prohibited here. Only sport fishing can be practiced at times.
In the forests near the Goygol National Park, live numerous animals, including about 30 species of mammals. Wild cats, lynxes, mountain goats, foxes, wild boars, bears, wolves, deer, roe deer, jackals, porcupines, badgers, and many other representatives of the fauna are found here. There are more than 400 species of trees and shrubs in the reserve itself. Locals make a special tea from the healing herbs that grow near the lake.
Infrastructure
On the northern edge of the lake, there is a mountain health resort of the same name. You can come here to recover from pulmonary and cardiovascular diseases, as well as diseases of the nervous system. There is a small restaurant on the shore where you can eat while admiring the incredible views. In 2017, a good asphalt road was laid to the lake, and parking was organized, so now it is not difficult to get there.