Ordubad, Azerbaijan
Tours, Attractions and Things To Do in Ordubad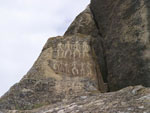 Ordubad is the second most significant city of Nakhchivan area. It stretches in the form of amphitheater on the slopes of Ordubadchai Gorge.
It is one of the most beautiful and ancient Azerbaijani cities. Ordubad has been known since the 12th century.
Being rather small in size it consists of several quarters. Each of them has its square with a mosque and a spring. In the city center stands Djuma mosque (12th century) - a medieval structure with arch niches on the facade. The architectural monuments of Ordubad are incorporated in historical -architectural reserve (since 1977).
The architectural monuments, centuries-old plane trees, silk and picturesque orchards have brought the worldwide popularity to Ordubad.