Diri-Baba Mausoleum-Mosque near Shamakhi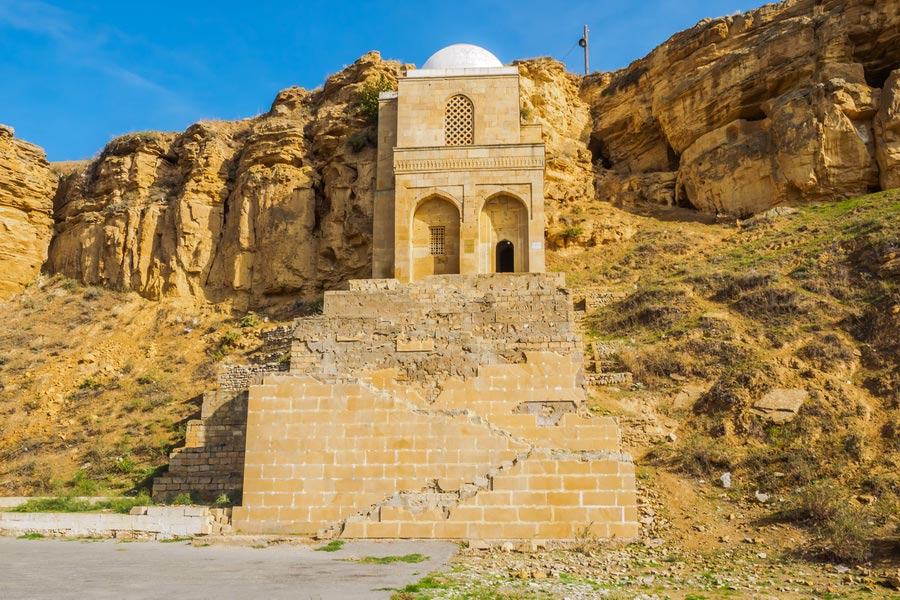 On the way from Baku to Shamakhi there is Maraza village known for its unique monument - two-storied mausoleum-mosque of the 15th century called Diri-Baba, located across from the old cemetery. For a long time the local residents have kept the legend that there imperishable Saint Diri-Baba had been buried. However, many other legends and mystical details are connected with this landmark. Therefore, since the 17th century it attracts pilgrims and simply curious visitors. The originality of this structure is that the architect "built" the tomb into the rock. The impression is that the tomb is suspended in the air.
The tomb impresses with its severity of architecture, purity of lines on the background of the rough dark rock. The light and smooth surface of its walls looks solemn. It is remarkable that the main floor of this structure is the second one. In front of the main hall there is an ante room covered with an octahedral.
There the visitors took off their hoes. From the ante room you get to semi-dark staircase leading to the second floor of the tomb. The 15 sq m hall is covered with a spherical dome. On the wall cut in stone is the memorial mentioning Sheikh Ibragim I. The levels are separated by a decorative storey with an inscription which looks like a belt around the building. The mausoleum directly adjoins the rock with a grotto. This is where the actual saint's burial place is. You can get there through the narrow passage in the northern wall.
The architecture of Diri-Baba is in harmony with the picturesque environment - the landscape of rocks and green trees. The building of the mausoleum is a masterpiece of Shirvan architecture school, the beautiful creation of ancient craftsmen. The monument is under protection of the state.
Diri-Baba tomb does not bear the complete name of the architect; there is only a piece of stone with a part of the inscription "… the son of master Gaji " and the date of the tomb construction - 1402.