Azerbaijan Trip Planner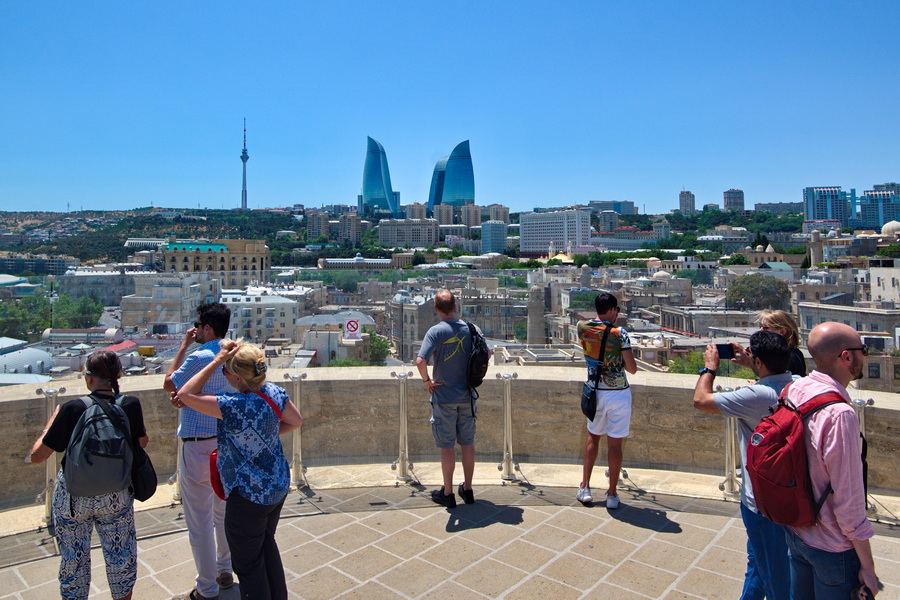 Azerbaijan Trip Planner | Panoramic view of Baku from the observation deck
What do you need to know before your trip to Azerbaijan
Azerbaijan attracts travelers with its Zoroastrian temples, numerous historical monuments and of course, its uniqueness. But before heading to the Country of Fire for adventures and impressions, make sure you familiarize yourself with useful Azerbaijan travel tips.
How to get to Azerbaijan
The easiest way to plan your trip to Azerbaijan is by plane. Direct flights to Azerbaijan are carried out by such companies as Azerbaijan Airlines, Aeroflot, UTair, S7 Airlines, Qatar Airways, airBaltic, Turkish Airlines, Air Astana and others. Regarding traveling by train, Azerbaijan has direct railway connections with Russia and Georgia (Tbilisi) only.
NOTE: Border between Azerbaijan and Armenia is closed. Please note that if you have visited Armenia, you may be asked for the reason of your visit to Armenia at the entry point to Azerbaijan. Any tourist who has visited Nagorny Karabakh without permission of the Republic of Azerbaijan will not be allowed to enter the country.
Import and Export of Goods
Travelers can import personal items and valuables up to a certain amount without filling out a customs declaration. Travelers can import up to $10,000 USD or the equivalent, 3 litres of alcohol, 600 cigarettes, and 20 grams of gold or jewelry without filling out a declaration. For amounts larger than this (including up to $50,000 USD), travelers should fill out a customs declaration. Medication for personal use can be brought into Azerbaijan without a declaration.
Weapons (except special cases for hunting rifles), narcotics (list can be found here), fresh fruits and vegetables, and live animals cannot be imported into Azerbaijan.
Customs Declarations
Visitors arriving through the Red Corridor at border crossings should fill out a customs declaration form. Customs forms can be filled out at border crossings or ahead of time using the electronic customs services. There are also kiosks at border crossing areas with more information about customs regulations and a place to fill out a declaration.
Souvenirs and Personal Items
Azerbaijan has restrictions put in place by the Ministry of Culture and Tourism that do not allow for the export of culturally-significant items and antiques. If the item was made before 1960, it may be taxed upon export. In order to ensure that souvenirs and items that you buy in Azerbaijan make it safely home with you, it's best to ask for a certificate from sellers that confirms that the item is not an antique or significant item. These certificates can take several days to be processed, but will reduce any complications you may encounter.
Registration
All visitors staying in Azerbaijan for longer than 10 days must register, no matter where they are staying or how many times they move. Registration is free, and can be completed through the State Migration Service website or in person at ASAN Service Centers located throughout the country. Registration is valid as long as your visa is valid, or for 90 days in the case of those who arrived under a visa-free regime. If you change the place where you are staying, you should register again at your new address.
Please note that registration in Azerbaijan can take several days whether it is done in person or online. It's best to start the process for registration immediately after arriving in Azerbaijan, to be sure that it is completed before you leave. Failing to register before leaving Azerbaijan can result in fines and major complications.
Items related to Armenia or Nagorno-Karabakh may be confiscated at the border when crossing into Azerbaijan. These items may include maps (especially those that show Nagorno-Karabakh as part of Armenia), alcohol, souvenirs with Armenian symbols, and more.
Money
Official currency of Azerbaijan is manat (AZN). It is preferable to take USD or Euro to Azerbaijan.
Banks and exchange offices
It is possible to exchange foreign currency in banks, hotels and exchange offices in Azerbaijan. The latter is easily found both in Baku and many other big cities, as well as in the airports and some shops that have currency exchange points. Most of the exchange offices work 24hours. It may be harder to exchange foreign currency in smaller cities.
Banks in Baku work from 09.00 or 09.30 to 17.30, though some of them are open till late evening.
Payment by credit card is possible only in big supermarkets of Baku, banks and international hotels; they are not in use in provincial cities.