Buddhist Bingling caves
Buddhist complex Bingling - the famous "Thousand Buddha Caves"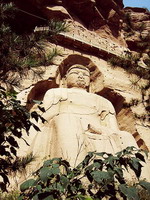 China is known for its numerous caves, housing the Buddhist shrines, temples, with four cave complex standing out among them. The Bingling caves (or Binglin), located 70 km south-east from Lanzhou, are another landmarks. Translated from the Tibetan language, Bingling means "Caves of the Thousand Buddhas", but in reality they are only 183. They house about 700 statues made of stone and 80 statues of clay. The largest statue of Buddha, found in the Bingling caves, is 27 meters in height.
The construction of the cave complex, which was gradually expanded over 9 centuries, began in the V century BC. The complex being developed over centuries may be divided figuratively into three parts: the Upper Temple, Lower Temple, and crevices with caves. The Upper Temple, the oldest one in the Bingling complex, consists of the largest caves.
Some caves carved out of the rock feature statues of Buddha, while others are notable for pagodas and the rest ones are decorated with various bar-relieves and frescoes. Most of the Buddhas are made in seated position while there are also reclining statues. All figures are made with the elegance inherent to the Chinese people.
Special attention should also be given to murals, which include a variety of texts and pictures impressed on. They display the development of Tibetan Buddhism, present images of Buddha, trees and even an illustrated legend of the Monkey King, who saved all the apes from extinction. The frescoes, as well as statues in the Bingling caves, are made with a special grace, and are of great artistic value. By the way, the total area of frescoes is 900 square meters.