Waterwheel Garden in Lanzhou
Waterwheel Garden - a tribute to the symbol of the city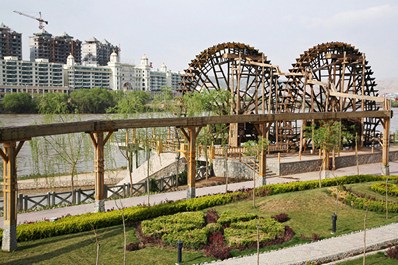 Once upon a time, a Chinese inventor Duan Xu modified irrigation machinery of Yunnan Province and invented his water wheel. His design was of 20 meters in diameter, able to lift water to a height of 15 meters, which was fed then by pipes and canals to irrigate nearby fields. Since then, Lanzhou became known as the "City of Water Wheels." For example, nearly 250 waterwheels were used on the Hwang Ho riverbank near the city up to the mid XX century.
The irrigation era ended with the advent of electrification and invention of pumps, and so the need for a water wheel has gone - they were dismantled. But in order to give dues to the symbol and answer the title of "City of Waterwheels," Lanzhou opened the Waterwheel Garden, conveniently located on the south of the Hwang Ho riverbank. Opened in 1994, the park covers the area of 1.5 hectares. Of course, the main attractions are the two huge water wheels, designed after medieval samples.
A cozy tea house called "Water Wheel" perfectly fits in-between these wheels. This place has become popular not only among the citizens but also the tourists. The garden also houses shops, photo studios and even a sculpture made of the bushes, imitating a family of elephants. To make impressions of the city complete when visiting Lanzhou you should take a walk in the Waterwheel Garden.