Hukou Waterfall, Shaanxi
Hukou Waterfall – the Flask Mouth Waterfall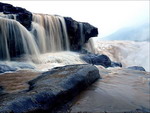 One of the most picturesque places, located 400 km from Xi'an is the Hukou Waterfall. The waterfall is found on the Yellow River, i.e. on the border between Shanxi and Shaanxi Provinces. On both sides, the waterfall is surrounded by mountains. Its water flow can be as wide as 300 meters and as narrow as 50 meters, so the water erupts with a whistling sound like that of a huge boiled pot. That's why the Chinese call it Hukou, translated as "a teapot spout" from Chinese.
The Hukou Waterfall is China's second largest waterfall and a state-level natural attraction. In the year 1991 the Hukou joined the list of the "40 Best" national scenic spots in China.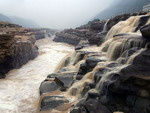 The waterfall produces an incredible impression in summer, when its water falling from the height of 20 meters changes the color from yellow to gray and then to blue. The Chinese call this poetic spectacle as the "smoke coming from the water". Above the waterfall in the sun there appears a rainbow. Even more surprising, the Hukou is in winter, when a part of the stream freezes to form fantastic cliffs of snow and ice with a magnificent waterfall breaking away in-between.
Down the stream there is an odd stone – "guishi", which moves up and down depending on the water level, at the same time, being always in the purview.
The best time to visit the waterfall is the period from April to May and from September to November. You can reach it by bus from Yinchuan and Yanani or Xian. It is better to choose morning time to visit it. The admission fee is from 37 to 91 Yuan, depending on the season. Each year, Hukou Waterfall is visited by more than 100,000 tourists from all over the world.