Southern Pastures in the vicinities of Urumqi
Southern Pastures of Urumqi - a real resort for all comers
Urumqi is located in the Tien Shan foothills and, though it is quite a modern city it is still surrounded by numerous pastures, inhabited by nomadic cattle breeders. That is why in the Middle Ages the city was called "the beautiful pasture".
Not far from Urumqi at the Karawuquntag foothills there is perhaps the best-known Southern Pastures. It is a favorite resting place for the people of Urumqi and its surrounding area, as well as for many tourists. The pasture area is about 120 km2 of green valleys and hills covered with pinewoods. It is crossed by crystal clear rivers, originated in the mountain peaks covered with glaciers. Here and there you can see grazing sheep and horses, and at a distance - settlements of nomadic herders.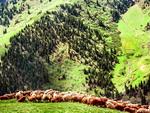 In the summer, the Southern Pastures turn into a real resort where you can relax and spend a few days in a yurt of the locals. Also, you can take a fascinating journey into one of the most beautiful waterfalls, located 2 km away from the pastures in Bayyangou ravine.
The Bayyangou or the Silver Poplar Ravine strikes with its pristine beauty and a huge 40-m high waterfall. It can be reached by foot, but better to take a fascinating horse ride walk.
The Southern Pastures are not historical attractions, but this is the place where you can enjoy the whole natural beauty of Urumqi and its surrounding area, as well as get to know the culture, traditions and way of life of the locals and nomads.