Adjara Seaside Resorts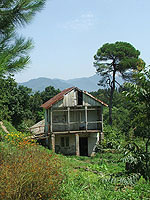 To the northeast from Batumi stretching for 35 km along the coastline there is a group of Adjara seaside resorts: Kobuleti, Makhindzhauri, Cape Green and Tsikhisdziri.
Seaside resorts of Adjara are famous not only for their fabulous nature; well-equipped beaches surrounded by citron plantations, palm and eucalypt groves but also for their great curative effect. The basic orientation of Adjara resorts is treatment of blood and respiratory diseases, cardiology problems, full recovery without the use of medication. Doctors say that there are only two places on the globe where people with respiratory problems feel themselves well – Italy and Adjara. Besides, relaxing and treatment season in Adjara lasts all year round.
Kobuleti
24 km from Batumi there is the second largest Adjarian city - Kobuleti, one of the best Caucasian resorts famous for curative mineral waters. Kobuleti is located along the Black Sea coast on the wide strip of sandy and fine-pebble beach. The resort's climate is subtropical with lots of heat and humidity. Read more...
Cape Green
The wonderful Cape Green is one of the most popular vacation spots both for visitors and local residents. It is 9 km to the northeast from Batumi. The name Cape Green originated thanks to its all-the-year-round green blanket. The climate there is subtropical with plenty of heat and humidity. Read more...
Makhindzhauri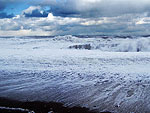 Makhindzhauri is a seaside climatic and balneal Black Sea resort of indescribable beauty only 6 km from Batumi. Makhindzhauri is known as a medical resort and is especially famous for its well-known sulfuric baths which are used for treatment of vascular and gynecologic diseases.
Tsikhisdziri
Tsikhisdziri climatic health resort is located 19 km to the north of Batumi on the elevation bearing the same name 60-70m above the sea level.
The resort beaches are divided into two parts - Southern and Northern. Southern large-pebble beaches differ from the northern ones for their deep waters, which makes them attractive for scuba-divers. Northern beaches are not so steep which is good for swimming and consequently are more popular. The resort is also known as a health-improving centre. The maritime air and saline baths are perfect for curing respiratory, cardiovascular diseases and nervous system problems.