Cape Green, Adjara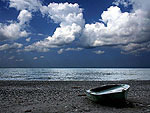 The wonderful Cape Green is one of the most popular vacation spots both for tourists and local residents. It is 9 km to the northeast from Batumi. The name Cape Green originated thanks to its all-the-year-round green blanket. The climate there is subtropical with plentiful of heat and humidity. The hot summer promotes to great tanning and air baths as well as treatment of respiratory diseases (bronchial asthma and so forth).
The place beautification started in the Tsar's regime, in the end of the 19th century. In 1881 the most beautiful slopes of Cape Green were covered with the vegetation of Batumi Botanical Garden of the world significance. Here you can see rare tropical and subtropical plants. The garden, which annually accepts thousands holiday makers and visitors (see Batumi Landmarks for details), was opened in 1912.
Modern hotels, restaurants, cafes and bars are located in Cape Green. The waterfront is fabulously picturesque. Fine-pebble beaches are always full of holiday makers including those who prefer activity holidays (diving and surfing). For extreme activities fans there are wild rocky beaches.