Batumi Archaeological Museum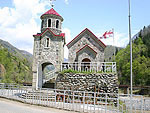 The Batumi Archeological Museum is one of the oldest Georgian museums. Though it has a centenary history it was opened for visitors as late as in 1994. This is one of the best archeological museums both in Batumi and in whole Georgia. The Museum has collected the monuments of material culture of different epochs. Its collection includes 22800 exhibits, the majority of which are finds from the excavations carried out in the territory of Adjaria.
In spite of the fact that the Museum collection is numerous, the building itself is small of two-storey. It is situated in Chavchavadze street. Along with the exposition there is a restoration laboratory where the exhibits held in the Museum funds are registered by means of graphics and photography. The Museum has also a photo archive and scientific library where one can receive information on all the collection exhibits.
The Museum represents a two-storey large hall which houses the whole collection. It is necessary to start studying the exposition from the first floor, because it is the place where the exhibits belonging to the Stone and Iron Ages are located. The items aged of several ten thousand years can be found there. The majority of the Iron Age collection is represented by the items of Colchis tribal culture. The Museum has a rich collection of the monuments of this period.
The ground floor of the Museum houses exhibits which belong to the antique period, early and late Middle Ages. Many of these exhibits were found in the course of excavations carried out in ancient and medieval Adjarian fortresses. The Greek and Roman dishware as well as Greek and Roman coins of the antique epoch are widely presented there.
Among the items of the antique and medieval period the Museum has the finds from the excavations carried out in the Gonio-Apsaros fortress. In particular, they are the items found during the digs of so-called "Gonio buried treasure" discovered by archeologists near one of the walls of the Gonio fortress. In addition, different imageries of the Romans and imageries of Hellenic God Serapis, glass and bronze dishware and Roman jewelries are also belong to it.
The Museum exposition also comprises a buried treasure from Khelvachauri, confirming the Adjaria's contacts with the Arab world in the early Middle Ages. The Museum also holds the showpieces which dated back to the late Middle Ages, when Adjaria got under control of the Ottoman Empire.
The Museum exposition is rich and variable. Unique finds from the whole territory of Adjaria are presented there: coins, earthenware, glassware, gold and bronze plates of different historical periods, Roman statues, hammered cons, crosses, relief images of St. George from ancient orthodox temples, Greek rings-signets with the images of Hermes, Aphrodite and Eros, manufactured in the best workshops of Greece, and so on.