State Art Museum of Adjara, Batumi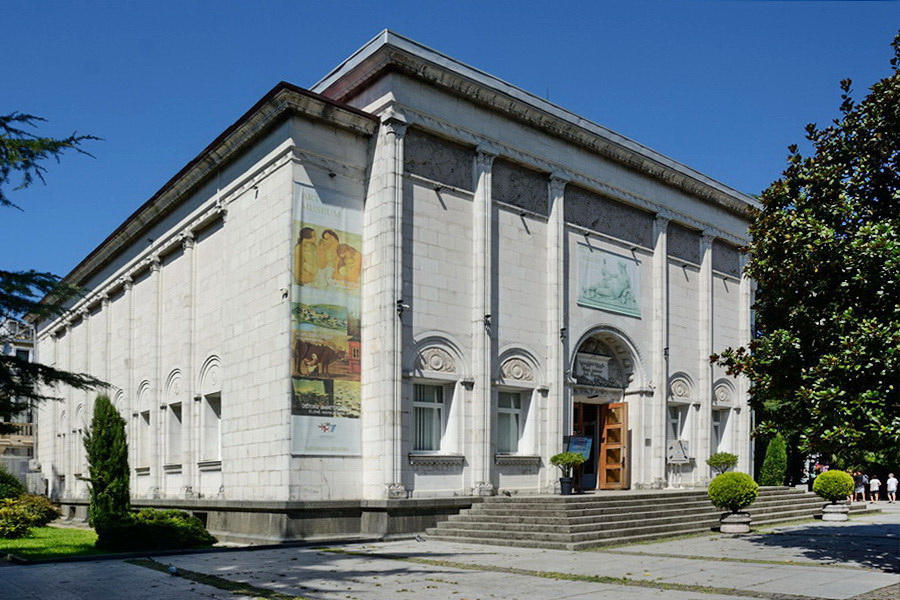 State Art Museum of Adjara is one of the main exhibition halls in Batumi, Georgia, for it provides a space to appreciate modern paintings by talented masters who helped to bring Georgian art to worldwide fame. Since opening in December 1998, the museum has housed a solid collection of late 19th - early 21st century Georgian artwork which allows viewers to trace the development of local art through each era.
The museum is located in a historical building which was designed in 1949 by famous Georgian architect Kakha Javakhishvili. Designated as an Immovable Monument of Cultural Heritage, the building is noted for its sophisticated design and relief frieze, created by prominent sculptor Tamar Abakelia in 1951-52.
Today there are approximately 500 exhibits in Adjara Art Museum. The first floor is dedicated to temporary exhibits of Georgian and international artists and to various educational projects. On the second floor are permanent exhibitions which showcase the works of Niko Pirosmani, Gigo Gabashvili, Davit Kakabadze, Lado Gudiashvili, Elene Akhvlediani and other Georgian masters. In the left wing is a small hall where the works of young artists are rotated regularly.
Adjara Art Museum often hosts the works of world-famous artists and artistic depictions of the country by talented painters. Highlights have included exhibitions of Pablo Picasso, Knut Hamsun's "Journey to Georgia", samples of Georgian textiles and decorative art, unique graphics and more.
State Art Museum of Adjara has an extensive cultural program. Individual and group classes, retrospective exhibitions, musical evenings, theatrical performances and other initiatives are regularly organized at the museum. The gallery also hosts art educational programs according to age, offering classes for children, lectures for students and free consultations to the public.