Batumi Europe Square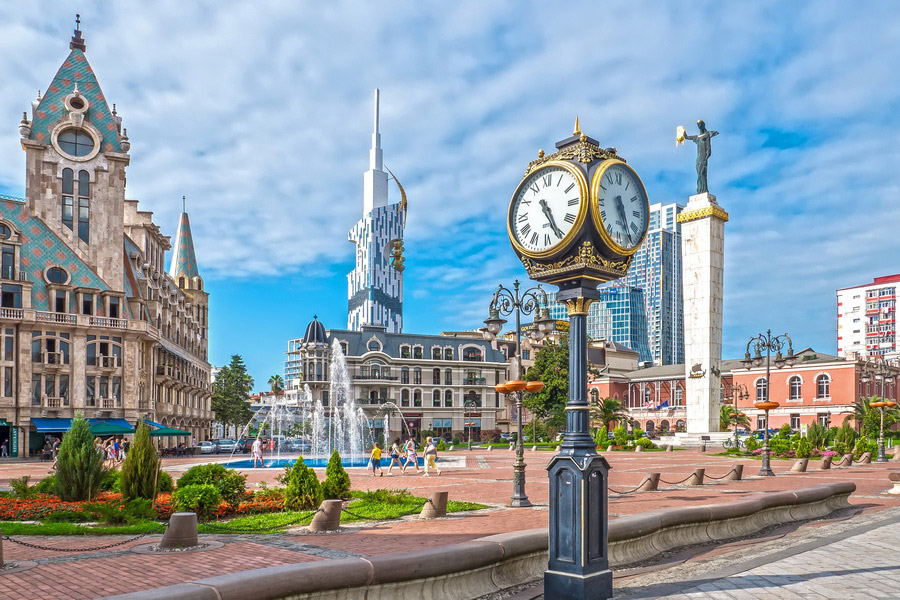 Batumi Europe Square is one of the most popular and entertaining spots in seaside Batumi, Georgia. Located along central Memed Abashidze Avenue, the plaza's unusual name was chosen to reflect the desire of the Georgian people to follow in the steps of their Western neighbors. Yet the attractions found along this lively square also creatively link the city to its colorful heritage from the distant and recent past.
The Kingdom of Colchis, an actual locale made famous through Greek mythology, is believed to have been located in present-day Adjara. Legend has it that Medea, daughter of King Aeeta of Colchis, fell in love with Jason the leader of the Argonauts. After helping him to steal the Golden Fleece, they escaped together on the famous ship Argo. The Golden Fleece is now a symbol of the prosperity and glory of Georgia, and so it is only fitting that in the center of Europe Square stands Medea Monument. The sculpture portrays Medea proudly clutching the Golden Fleece, a depiction of Argo etched on her gigantic pedestal. Created by Georgian sculptor David Khmaladze, the statue was unveiled in 2007 by President Mikheil Saakashvili and is now a must-see during your Batumi travels.
Jumping ahead to more recent history, visitors to Batumi Europe Square will appreciate its conglomerate of elegant 19th -20th century architecture and smattering of 21st-century additions. A perfect mix of old and new, it reflects the nature of a city which straddles past and present. A variety of restaurants, shops and hotels likewise attract a regular stream of residents and tourists. Children in particular will be delighted with the dancing fountain in the middle of the square in which they can splash about on hot summer days.
Many popular things to do in Batumi are located just a five-minute walk away, including Old Boulevard, Batumi Circus, Piazza Square, Statue of Neptune and the Black Sea. One of the most fascinating buildings along the square is Astronomical Clock Tower, created in 2010 in Germany before being transferred to Batumi. The astronomical clock shows not only the time but up-to-date cosmological facts, including the location of the sun and moon, the current moon phase and the time of sunrise and sunset.
Europe Square is also known for hosting an array of Batumi events, including lavish New Year celebrations, colorful Christmas markets, international concerts and Batumoba (Batumi Day) festivals.