Batumi Piazza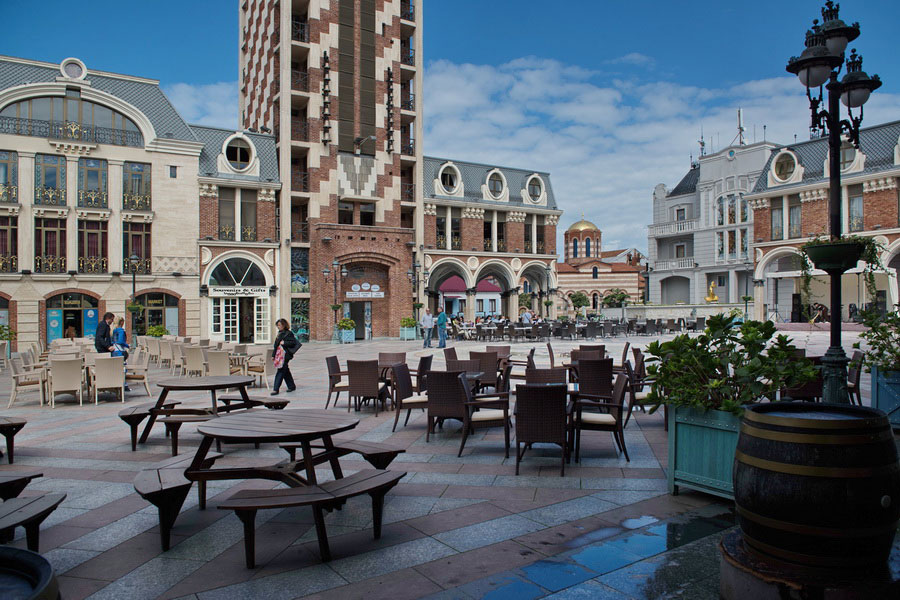 Batumi Piazza is one of the most recognizable symbols of Batumi, Georgia which attracts with its decorative stained-glass windows and mosaics. Since opening in 2010, the plaza has gained a reputation for having some of the best bars, restaurants and clubs in town and is now the largest venue for cultural and entertainment events in Batumi.
Located in the very heart of Old Batumi, the plaza covers a total of 5700 square meters and was designed by architect Vazha Orbeladze, who received inspiration for his work from Venetian architecture. The colorful stained-glass windows were created by artist Dolores Hoffman, while the figurative marble mosaic, the largest of its kind in Europe, was designed by Natalia Amirejibi de Pita. Regarded as the crowning feature of Piazza Square, the mosaic was designed in Abu Dhabi before being transported to Batumi in pieces. In the mosaic are eight decorated circles which reflect the calm surface of the sea. In the middle of the circles are five water deities wrapped in cloths of red, blue, violet, pink and green, with a small mermaid depicted in their center. The mosaic symbolizes the connection between the sea and eternal movement, the force of water and rapid changes in everyday life, and is a fitting image for this seaside town.
Complementing the artistic imagery of Piazza Square are several luxury and boutique hotels, diverse restaurants, captivating architecture and a famous clock tower. Rated among the top things to do in Batumi, the plaza is an enjoyable destination at any time of day or night.
Head to the square in the morning to grab a hot cup of coffee, followed by shopping and sightseeing. Enjoy the cuisine of your choice for lunch or relax in the evening over a glass of Georgian wine and live music at one of the many Piazza Batumi restaurants. Night clubs located on and near the square help to keep the party going long after the sun has set. The plaza is also a convenient five-minute walk from Batumi Europe Square, Batumi Boulevard and the seaside.
To date, the plaza has hosted concerts by world-famous musicians such as Placido Domingo, Chris Botti, Sting, Macy Gray and Michel Legrand, and this list is sure to expand in the near future.
Whether you are a solo traveler or visiting with friends or family, Batumi Piazza is sure to add pizazz to your Georgia travels.