Atskuri Fortress near Borjomi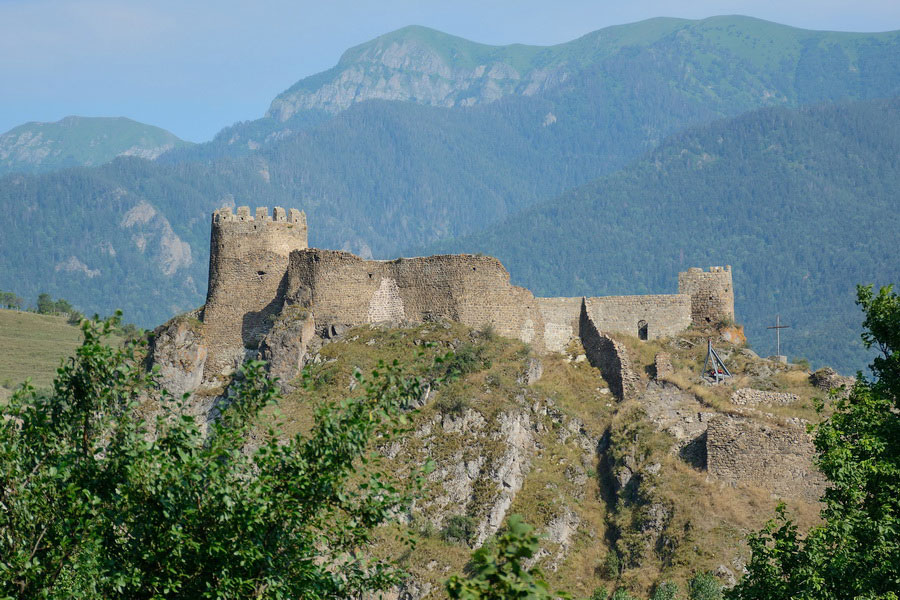 Atskuri Fortress is a feudal bastion in the heart of Georgia. The fortress is a remote yet noteworthy landmark, located on the banks of the Mtkvari River near the village of Atskuri, just 30 kilometers from Borjomi.
Atskuri Fortress was first mentioned in historical annals in the mid-11th century. It long held military and strategic significance as southern protector of the Borjomi Gorge, for if Atskuri fell into the hands of the enemy, all of southern Georgia would become vulnerable to invasions.
In the latter half of the 16th century, the Ottomans gained control of the fortress. In 1770 the joint Russian-Georgian army tried and failed to free it from their grasp, and it was only in 1829, under the Treaty of Adrianople, that it was liberated from Ottoman rule.
The masterminds behind Atskuri Fortress intentionally constructed it on high and hard-to-reach rocky terrain such that the stronghold could only be entered through a narrow tunnel carved into the rock. The citadel itself was built in a complex fashion, with the internal quarters so difficult to access that even if the enemy were to successfully siege the tunnel, the fortress could not be easily subdued.
Atskuri was renovated multiple times after its original construction, and today various layers attributed to different periods in history can be observed at the site, making it difficult to restore the structure's original look. On November 7, 2006, Georgian President Mikheil Saakashvili declared Atskuri Fortress to be an Immovable Cultural Monument of National Significance of Georgia. On August 19, 2009, the fortress collapsed, and although restoration work was carried out in 2013, Atskuri sadly remains on the brink of ruin.
Today, while Atskuri Fortress is easily visible from a distance, reaching the site is quite challenging and involves climbing up a steep surface. While only the ruins of this magnificent site have been preserved, it is nonetheless a great destination for tourists wishing to get off the beaten path in Georgia. Along with the fortress, the nearby historical village that it proudly guards is a site of interest for many travelers who prefer exploring non-touristic destinations in Georgia.