Borjomi, Georgia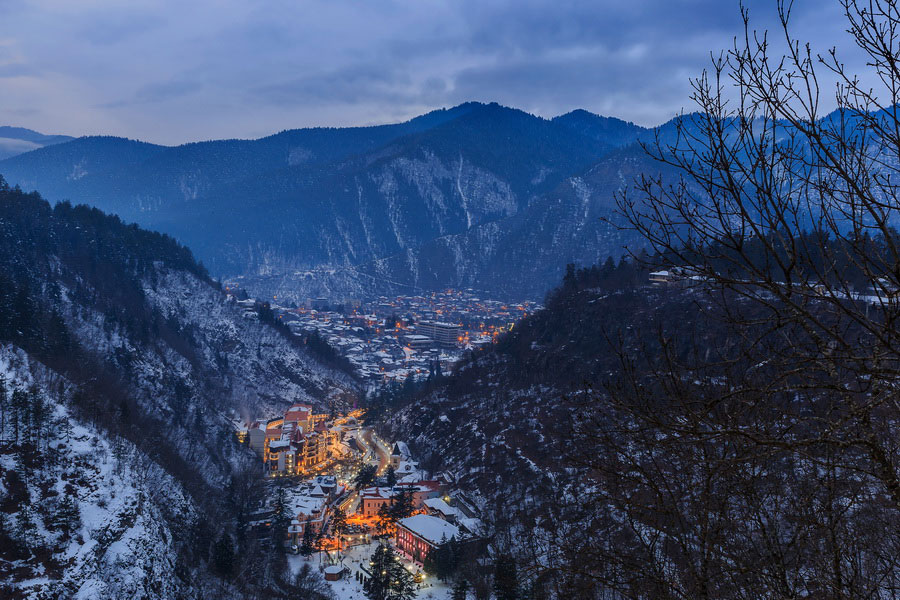 Tours, Attractions and Things To Do in Borjomi
Borjomi Travel Guide
Borjomi is a hydrothermal health spa resort in the southern region of Samskhe-Javakheti in Georgia. This picturesque valley of 10,500 residents lies within the Agura River gorge at an altitude of 800 m. Borjomi has an international reputation for its geothermal spring mineral water resources. Its accessible location in the beautiful Lesser Caucasus Mountains attracts tourists in search of nature, escape and enlightenment tourism opportunities year round.
Borjomi's mineral waters were first mentioned as early as the 15th century but gained wider notoriety when the daughter of Evgeny Golovin, viceroy of the Russian Czar in the Caucasus, was cured there. The Yekaterinsky spring and the Yevgeniyevsky springs are named after them, respectively.
Borjomi mineral water has become a well known brand and a calling card for Georgia. The sulfuric water's healing properties are proven to be directly beneficial to the digestive system and metabolism. Today, Borjomi mineral water is sold in over 30 countries. Samples and history of the brand can be found in the Museum of Local Lore. The primary water source is found in Borjomi Central Park.
There are dozens of mineral spring health spas, recreation complexes, and rest houses in Borjomi. All of which are located within the vicinity of the Central Park.
The tourist information center in central Borjomi provides maps and information pertaining to popular attractions in the park, hiking routes and walking tours. The center will also recommend accommodation according to your preferences.
Modern Borjomi is perfect for ecotourism activities and family rest. According to local statistics, most tourists are from CIS countries, Israel, Poland and Germany. Bird watching, amateur botany and geological interests are among the many nature based activities which draw visitors.
Must See Attractions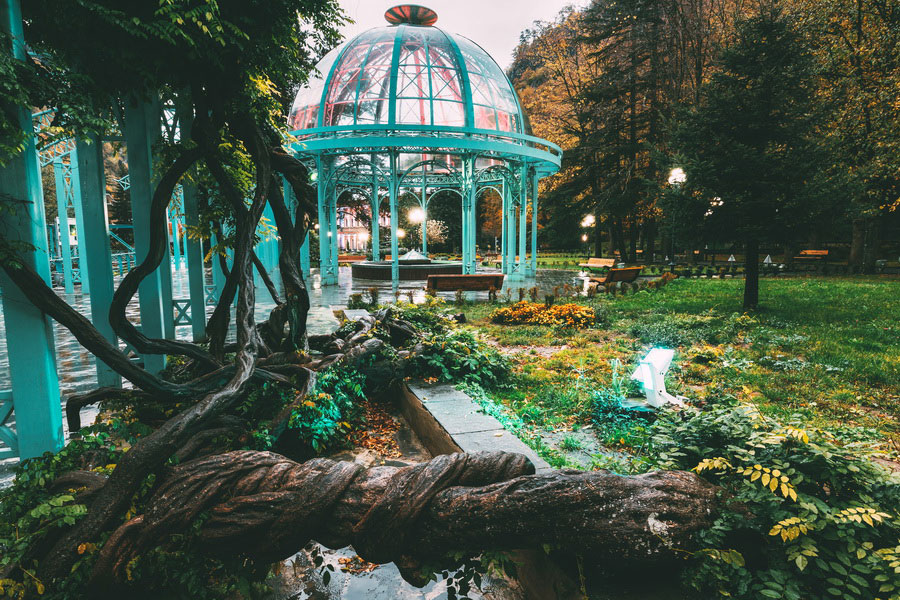 Borjomi Central Park was renovated and reopened in 2005. The park has an ecological theme and features children's amusement rides, a swimming pool and cinema. There is also a cable car leading up to a scenic overlook.
Another attraction in the park is the peculiar statue of Prometheus which stands at the base of a small waterfall. Onlookers are often amused, if not perplexed, by this seemingly syncretic representation of the titan deviant.
Borjomi gorge is rich in architectural places of interest. Monuments of Christian culture, several centuries old, are located here such as Saint George Monastery and Saint Spiridon of Trimythus Monastery (X century). The church of St. George, built in 1333, is located in the small village of Daba. The church is decorated with Georgian ornamentation and stone friezes.
There is also the Church of the Assumption of the Holy Virgin (12th century) in Timotesubani located in Borjomi gorge. It is visited annually by numerous Christian pilgrims on 28 of August.
Sali Fortress, Peter Fortress and George Fortress are equally impressive. The forts were of strategic military importance and excavations have unearthed medieval artifacts.
You can learn more about the history and culture of Borjomi by visiting the Borjomi Museum of Local Lore. The museum has collected over 40,000 items and exhibits spanning several centuries.
The citizens of Borjomi celebrate Borjomoba, feast of the city, in late September. The sprawling outdoor festival is a great way to sample regional Georgian cuisine, Georgian crafts and art, music and traditional folk dances.
Excursions to Akhaltsikhe, Aspindza, and the cave city of Vardzia are possible via marshrutka or through organized tours.
Akhlatsikhe and Aspindza are exemplary of Georgia's multi-cultural heritage. Both feature Ottoman, Arab and Persian architectural influences.
Nearby, Vardzia is a spectacular monastic complex carved out of the side of a steep cliff face, still inhabited by monks. The complex dates from the 12th century.
Nature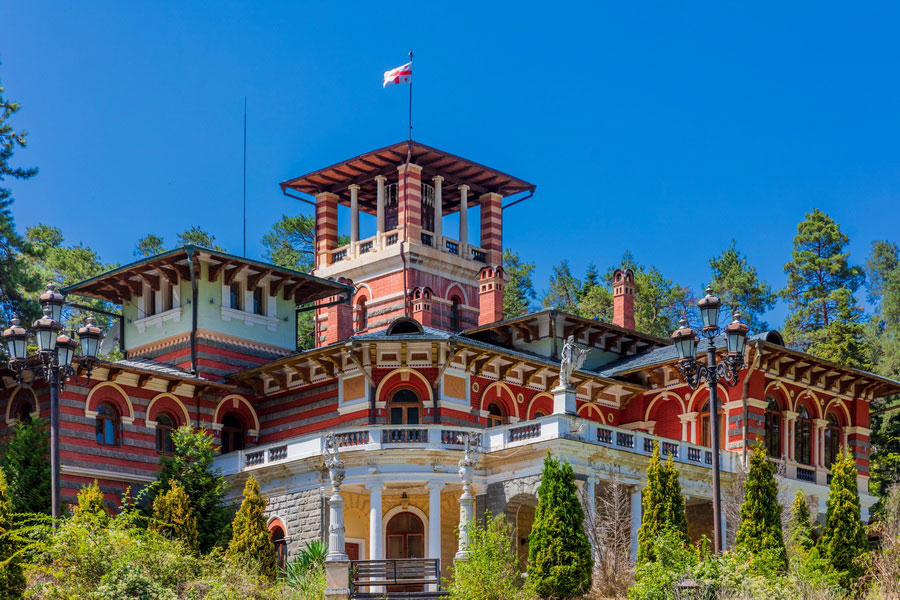 Borjomi-Kharagauli National Park is located on the edge of Borjomi proper and extends to the village of Kharagauli. This massive expanse of coniferous forest takes up roughly 1% of Georgia's total land area. The park is divided into 6 areas, each with well kept trails through pristine forest containing endemic flora and fauna and unique ecosystem diversity. Camping facilities are well developed with minimal lean-tos big enough to accommodate families.
Kakhisi Lake is a popular day excursion located a short drive from Borjomi. The lake is warm enough in summer for swimming and the shores are open for camping. Hikers enjoy the trek up from the village of Chobiskhevi which offers intriguing vantages of abandoned soviet relics, ancient pagan monoliths and chamber tombs.
Many hotels in Borjomi offer full spa services and treatment with sulfur and mineral baths. The cost of a night often includes full board with access to pool, fitness hall, billiards and other services.
Regional variations of popular Georgian dishes are found in many restaurants in Borjomi. Items such as tolma (stuffed cabbage), shashlik & kebab, string cheese, and lavash bread are indicative of the heavy Armenian influence due to Borjomi's proximity to the Armenian border.
Getting in & around
Borjomi's convenient layout permits easy travel afoot. Taxi's are easily hailed and are quite affordable street side but can be secured via phone for slightly less. Bicycle rental has become more popular in recent years and kiosks are found on the main thoroughfares and in Borjomi Central Park.
The most popular means of transport in and out of Borjomi is by train. Georgian Railways offers service from Tbilisi which arrives in Borjomi in the morning and returns in the evening daily.
Marshrutkas (minibus) from Batumi, Kutaisi, Zugdidi and Tbilisi have multiple daily routes into and around Borjomi from 7 am until 10pm. Overnight marshrutkas are available departing at Didube station in Tbilisi and at the train station in Batumi.