Mtsvane Monastery (Green Monastery) near Borjomi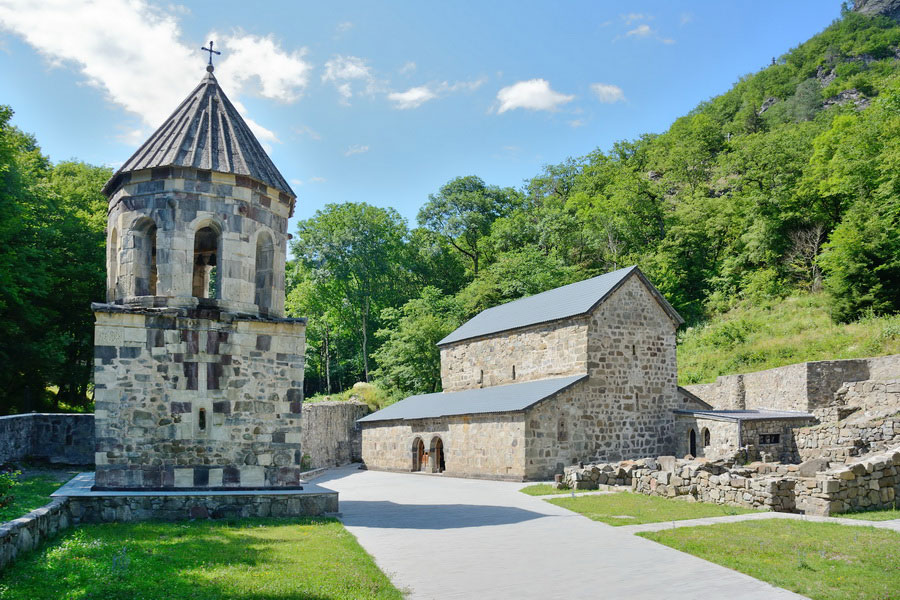 Mtsvane Monastery (Green Monastery) near Borjomi
Mtsvane Monastery (Green Monastery), officially known as Chitakhevi St. George Monastery, is a small hermitage located 11 kilometers from Borjomi in Georgia's Samtskhe-Javakheti Region. Due to its tragic history and serene surroundings, Mtsvane Monastery is an esteemed site for many Eastern Orthodox Christians.
The monastery was named Mtsvane (Green) by local residents. Some attribute this reference to the surrounding foliage, for Mtsvane Monastery is hidden deep in the woods, while others claim it was inspired by the green-hued stones with which the church was built.
History
Ambiguity surrounds the origins of Green Monastery, yet from early times its formation has been credited to Christopher and Theodore, disciples of an 8th-9th century monk named Grigol Khandzteli. Grigol founded several monasteries in Georgia's Tao-Klarjeti Region, and after his death his disciples continued to strengthen Christianity in the region through the establishment of additional monasteries and churches.
Green Monastery consists of a church and a two-story belfry. The modest style of the unadorned church is reflective of late 9th- 10th century architecture, while the belfry was likely erected in the 15th -16th centuries. On the first floor of the bell tower is a small chapel, while the second level is defined by beautiful carvings and a relief depicting St. George slaying a dragon.
Unfortunately, information regarding Mtsvane Monastery is scarce. Many human remains have been unearthed on the territory, and evidence indicates that the monastery was once a large lavra-style cloister. In 2012, an antefix with an inscription referencing St. George was found on the premises. The inscription was written in the early Asomtavruli script and has led experts to believe that the church was originally dedicated to St. George.
Mstvane Monastery was destroyed several times by invaders, most notably by the troops of Shah Tahmasp I in the 1550s. During the assault, dozens of monks were tortured and killed, while others managed to escaped by hiding in the forest. The reddish hue of some of the stones near Chitakhevi River are attributed to this massacre and serve as a haunting reminder of the monastery's turbulent past. Many believe that the tinted stones hold supernatural power, and as a result Orthodox pilgrims will sometimes visit the region to pray and pay their regards to the martyred monks.
In the 18th century, the monastery was shuttered and remained closed for more than two hundred years. Restoration work began in the 1980s, and in 2002 monastic life was finally revived at Mtsvane Monastery.
Green Monastery today is popular with tourists and religious pilgrims. If you are passing through Borjomi and looking for some respite from urban life, the peaceful woods, gently flowing river and air of mystery engulfing Green Monastery will not disappoint.