Stalin Memorial House-Museum, Gori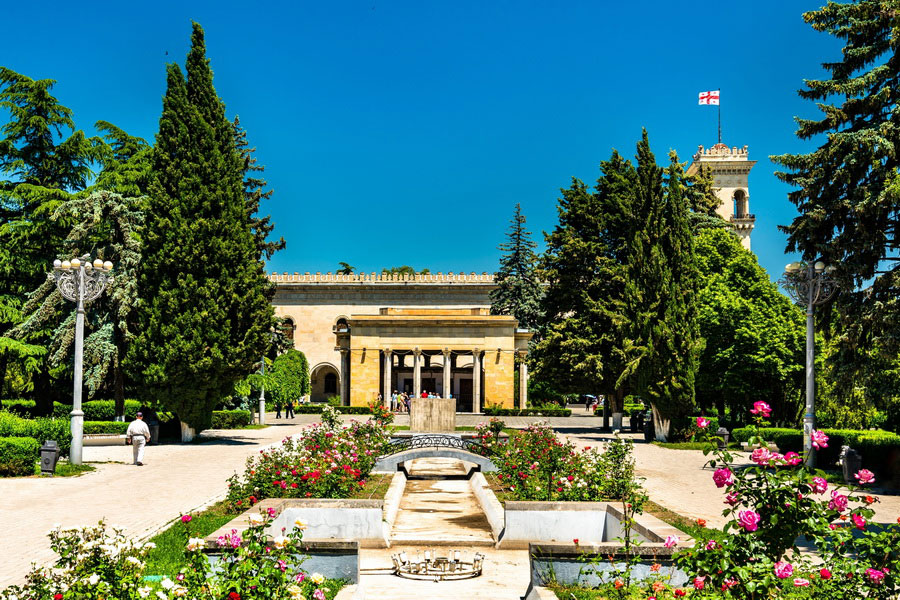 Opening hours: 10:00-18:00
No day off
In the very center of the town like a bright spot n the background of old structure stands a huge palace built in the original Gothic style. This is Stalin Memorial Museum which was constructed in the 1950s.
The Museum stands around the house where on December 21, 1879 the great "Kremlin Highlander" was born into the family of shoemaker Vissarion Dzhugashvili. The house as a part of the Museum complex is a high-ceilinged stone structure.
Back then this house stood in Gori outskirt; the first floor was occupied by the family, and on the ground floor was the shoe workshop where Stalin's father worked. Joseph had lived in this small house until he was four.
Stalin Museum is dedicated to all aspects of the well-known leader's life. It consists of three sections displaying rare exhibits: the originals of letters and notes, photos, military annals, maps, schemes of battles, Stalin's personal things - photos of his sons Jacob and Vasily, letters, the generalissimo's uniform, the death mask.
There are also the archives of the chief with his childhood and teenage verses. The separate hall has the collection of gifts to Stalin. Everywhere stand stone, wooden and plaster Stalin's busts.
The special showpiece is Stalin's personal armored railroad carriage with splendid for that times interior, which displays Venetian glass mirrors, carved furniture.
The carriage has been recently placed next to the museum as transferred from North-Caucasian railway in 1985. Wagon remained practically in the same form as Stalin used during trips to the Yalta and the Tehran Conference. The car interior has been neither altered nor restored.
Everything is as it was during Stalin's lifetime an office with a table, phone and sofa, a bathroom and guardians coupe.