Tsugrugasheni Church near Bolnisi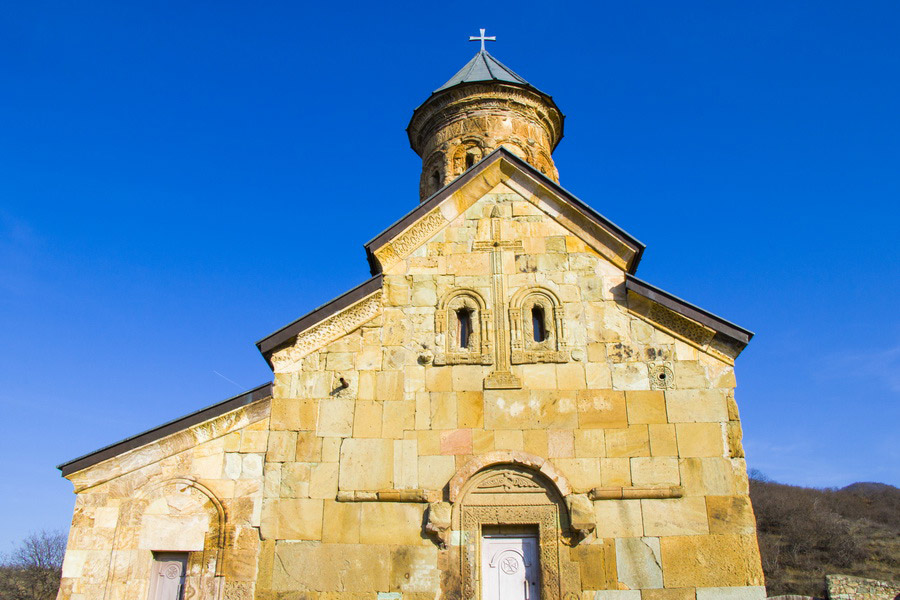 70 km away to the south-west of Tbilisi, not too far from the Bolnisi district, one can find a monument of the Georgian architecture of the Golden age – Tsugrugasheni church. It consists of a church and few other constructions. Tsugrugasheni is mostly called a temple. It is located 620m above the sea level, above a small river Bolnisitskali (Poladauri) where the last part of the path to the main sight lies through a dirt road.
Tsugrugasheni church was built in the period of King George IV rule of the Bagrationi Dynasty, in the 1212-1222s. The place was deserted at those times and to present not much has changed. Bolnisi district is situated 2 km away from the church; there is a more beloved tourist destination of Bolnisi Sioni basilica.
The monastery is surrounded by a small stone fence and has two entrances: new south gates and more fascinating old west gates with the bells above it. All monastery buildings are hidden behind the church. The church itself invokes the main interest: it is adorned with rich Georgian ornaments. However, the interior style and ornaments as well as some details of the dome lead to the thought that it could have been restored later. Church interior is very modest with few wall-paintings and two small icons.
It hasn't changed much for the last centuries: it is still quiet and solitary. Tsugrugasheni church is far from the mundane life, here one stays alone with his self and his thoughts.