Tbilisi Sulfuric Baths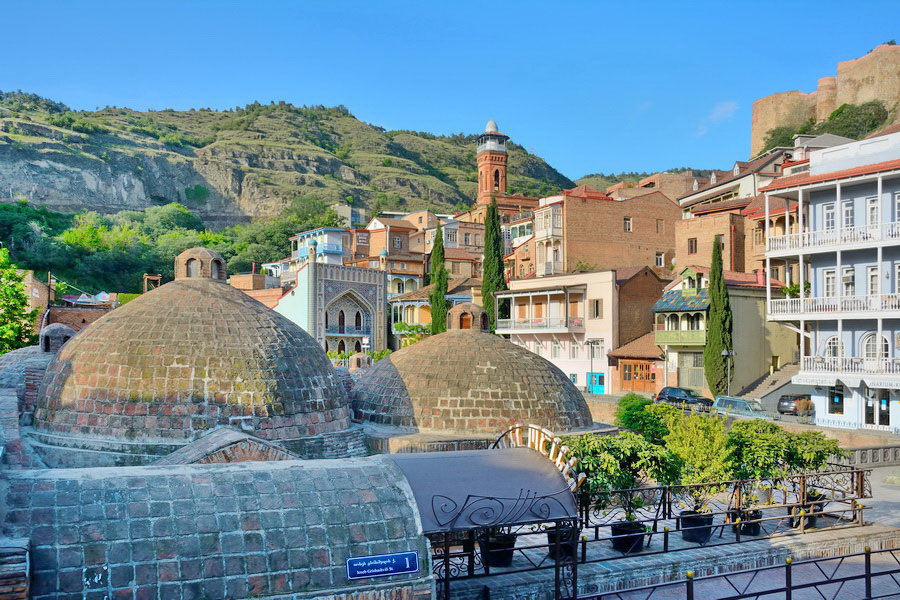 In the old part of the city you can visit the well-known Tbilisi sulfuric baths or the baths of tsar Rostom. They are located in Grishashvili Street near the Kura embankment. The emergence of the baths was promoted by the abundance of hot sulfuric springs in the area. All of them were built I different times - approximately it the 17 th – 19 th centuries. The oldest of them is the Irakli bath which was an object of ownership arguments between the imperial family and Georgian princes in the 16 th century.
The most beautiful is the Orbeliani bath. From both sides it is decorated with minarets and its lancet facade is lines with blue tiles. Most people call it the Blue bath. The bath interior is very clean and beautiful; the walls are adorned with the mosaic of green and white ceramic tiles. There are also Bebutov, State, Sumbatov, and Zubalov baths. All baths in Tbilisi are named after their former owners.
Long time ago the people not only washed themselves there but also socialized sometimes until dawn; and the city matchmakers arranged presentation of marriageable girls on special days. In the baths they threw parties, made deals.
Alexander Dumas, who visited the baths during his Caucasian trip, was excited about them; Alexander Pushkin wrote in 1829: "Never before have I seen neither in Russia nor in Turkey anything that can surpass magnificent Tiflis baths". The poet described them in details in his "Journey to Arzrum".
Baths are built in classic oriental style. They are low stocky buildings covered from above by semicircular domes with glass apertures in the centre which served as windows lighting the interiors because the baths themselves are below the ground level.
Tbilisi baths were destroyed and restored many times. These baths exist now with small architectural changes made in the 19 th century.
Today Tbilisi sulfuric baths are very popular not only with tourists but also local residents since they produce great healing effect. The baths consist of separate booths with individual small pool filled with hydrosulfuric water. Just sit in such water - and all diseases will be gone. And after the special massage you will feel like you are born again.