Tbilisi - Capital of Georgia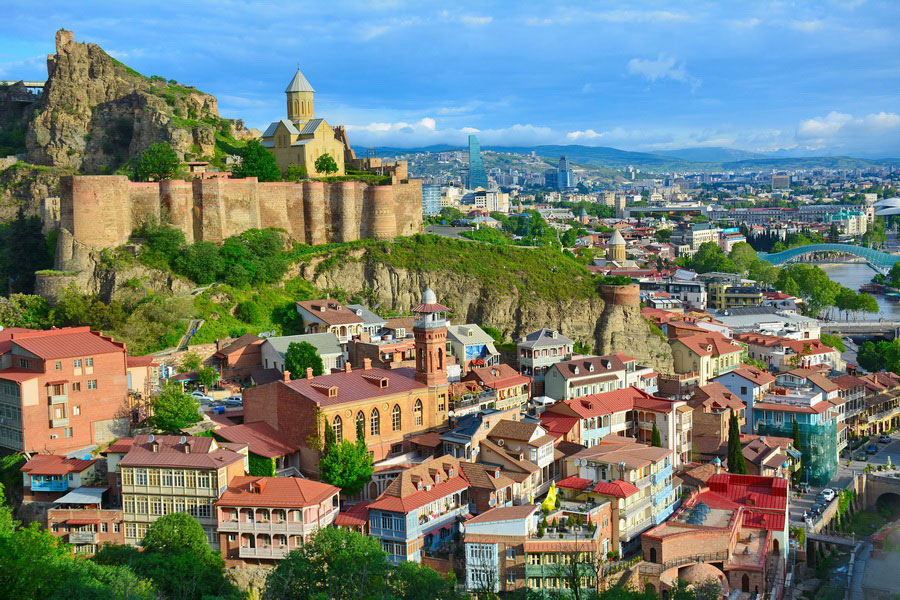 Tours, Attractions and Things To Do in Tbilisi
Tbilisi Travel Guide
Nestled in the heart of the Caucasus is the warm and hospitable metropolis of Tbilisi. The city, nearly as old as the snow-capped beauties that surround it, never fails to impress visitors with its auspicious and unmistakable charm.
With more than 1.5 million inhabitants, Tbilisi is the largest city in Georgia, evidenced by its fervent construction efforts: rapidly developing residential complexes, shopping malls and entertainment centers have burst upon the scene and now intermingle with the city's enduring architecture of old. Tbilisi hotels now cater to every type of budget as the city continues to attract a growing number of foreign investors, businessmen and tourists.
Expect to be greeted by warm-hearted, exuberant citizens who stand ready to welcome guests with a friendly handshake and a glass of wine. Be it Old World history, cultural delights, authentic and long-preserved traditions or outdoor recreation, Tbilisi will prove the ideal backdrop for a vacation of unforgettable memories.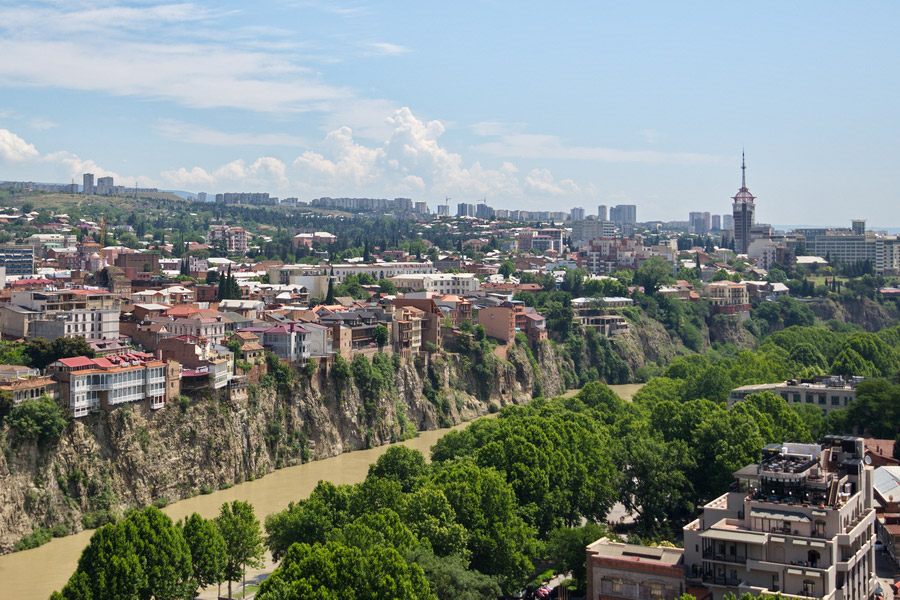 Our Tbilisi Travel Guide will give you a peek into this openhearted city full of color, laughter and beauty.
Brief History of Tbilisi
According to archeological studies, the territory of Tbilisi was settled as early as the 4th century BC. The city itself is over 1500 years old, having been founded in the 5th century AD by King Vakhtang Gorgasali. Colourful legends about Tbilisi's inception abound and are often associated with its sulfuric hot springs that spew from the ground to this day. According to one tale, King Vakhtang was hunting for pheasants among the dense forest groves near Mtkvari River. The King's falcon wounded a pheasant, which fell defeated into a hot lake. The healing properties of the water, however, revived the dying bird. The king was so impressed with this discovery that he decided to build a city on the spot and give it the name Tbilisi, meaning 'Warm'. Shortly thereafter, Georgia's capital was moved from Mtskheta to Tbilisi.
During its long history the city saw numerous conquests and survived centuries-long occupations and devastating invasions. In the 7th century, Arabs came and established the so-called Tbilisi Emirate, which lasted about four centuries. Wars with the Seljuk Turks, and later with the Persians, periodically led to the complete destruction of the city, including the loss of countless architectural masterpieces and material goods. Tbilisi, however, continued to rise from the ashes after each conquest. The last devastating invasion was carried out in 1795 by the Iranian shah Aga-Magamed Khan, who nearly obliterated Tblisi off the map. In the 19th century, the city fell under the control of the Russian Empire and soon after, along with the whole of Georgia, was annexed into the Soviet Union. Around this time the city's resurrection began with vigorous reconstruction efforts and today, Tbilisi is counted among the most attractive, remarkable cities in the region.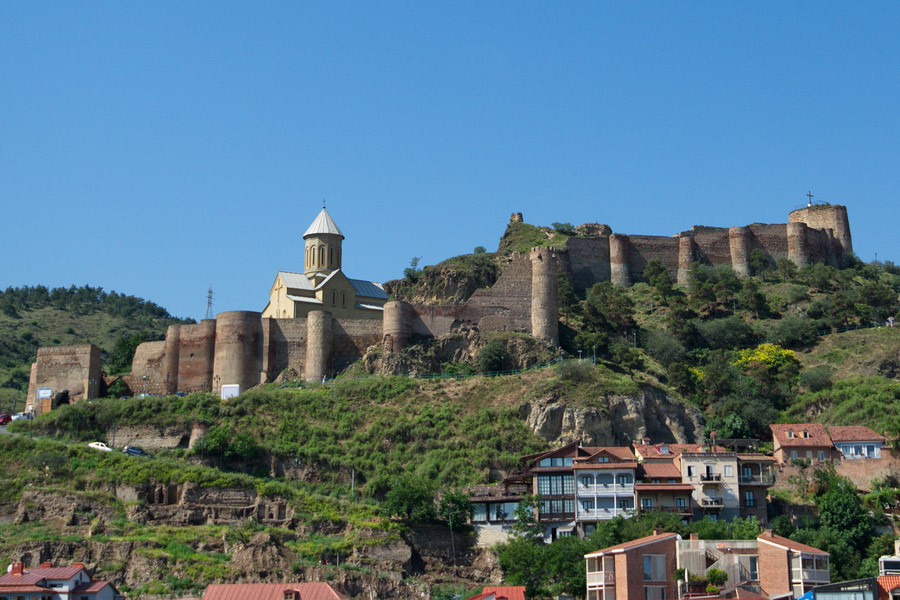 Use our Tbilisi Travel Guide to uncover the best attractions in the city. From fortresses to parks, theatres to museums, souvenir shopping to fine dining, Tbilisi is a city that won't disappoint!
Old Town Tbilisi
Old Town Tbilisi is a neighborhood flavored with hospitality and warmth, offering the simple delights of narrow cobblestone streets, medieval fortresses and caravanserais, not to mention the aroma of freshly baked Georgian shotis puri bread. Besides, where else could you find an Orthodox, Armenian Apostolic and Catholic church, a Jewish synagogue and a mosque for both Sunnis and Shiites all located within a five minutes' walk from each other?
Narikala Fortress is the ultimate symbol of Old Town Tbilisi. This 4th-century fortress, perched atop a hill, was the guardian of the city for centuries, having survived many invasions and attacks. Narikala was rebuilt and restored several times and has existed in its current condition since the 17th century, when King Rostam restored it after the Turco-Persian Wars.
When you tire from walking, why not enjoy Tbilisi while suspended in mid-air in a cable car? The ride costs only a few Georgian lari and provides a truly unique perspective of the city (when Tbilisi weather allows) from its glass-bottomed cars that connect Narikala Fortress with Rike Park.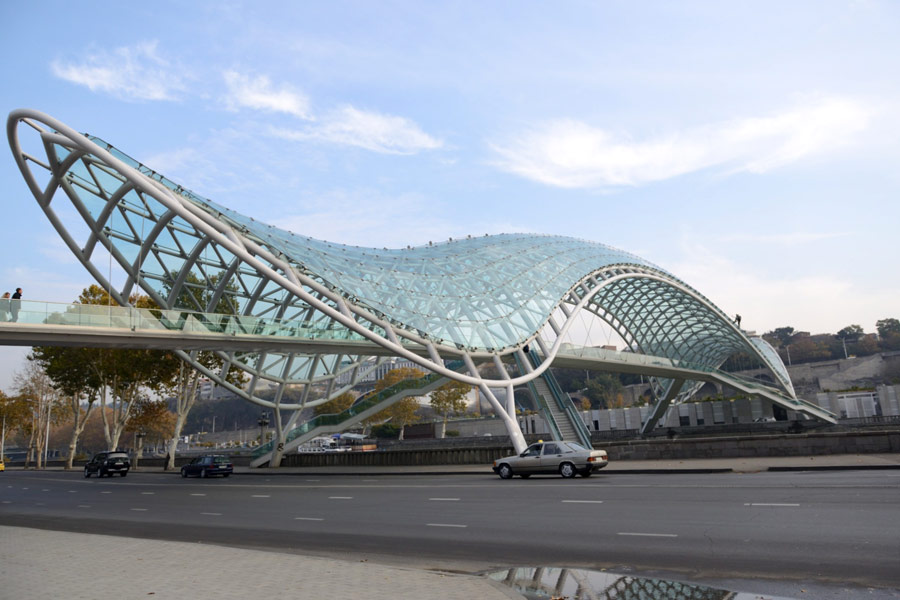 Don't miss a visit to Abanotubani, Old Town's longstanding district whose streets are lined with antique homes adorned with intricately carved balconies. The neighborhood is also famous for its sulfur bath houses, whose spring are credited with the city's birth. For a truly authentic experience you can bathe in a gender-segregated public room, while gorgeously decorated private rooms are available for more bashful patrons.
Close to Abanotubani is one of the busiest boulevards in Tbilisi – Shardeni Street, packed with cafes, restaurants, clubs and souvenir shops. Dine and window-shop your way up the promenade until you reach the Bridge of Peace, which also happens to span the gulf between Old Town and contemporary Tbilisi. After crossing the bridge, you'll find yourself back in the 21st century near Rustaveli Avenue and Freedom Square.
Tbilisi Museums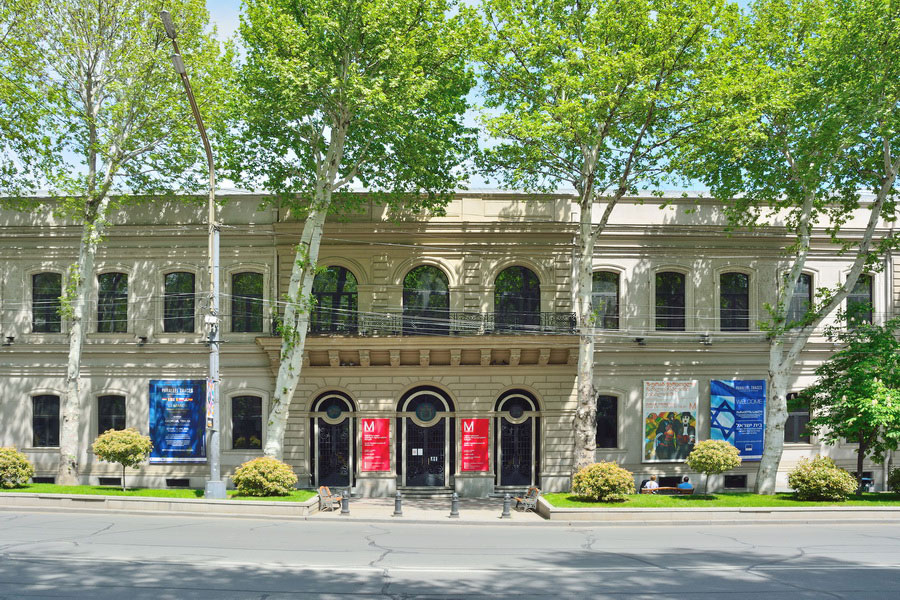 Plunge into the history, lifestyle and traditions of Georgia at one of its many worthwhile Tbilisi museums:
The Simon Janashia Museum of Georgia holds the nation's most impressive archaeological findings, which chronologically follow the development of Georgia from the Bronze Age up to the 20th century. Of special note are a permanent treasury exhibition of Georgian gold, coins and jewelry, and skull fossils discovered at the archaeological site in Dmanisi.
Both the Museum of Modern Art (MOMA Tbilisi) and the National Gallery of Georgia will delight the artsy tourist with fabulous masterpieces from world-renowned Georgian and foreign painters.
The Open-Air Museum of Ethnography provides models of traditional homes from each region of Georgia, plus interesting hands-on exhibits. A great option in good weather, it provides learning in a gorgeous outdoor environment.
Tbilisi Theatres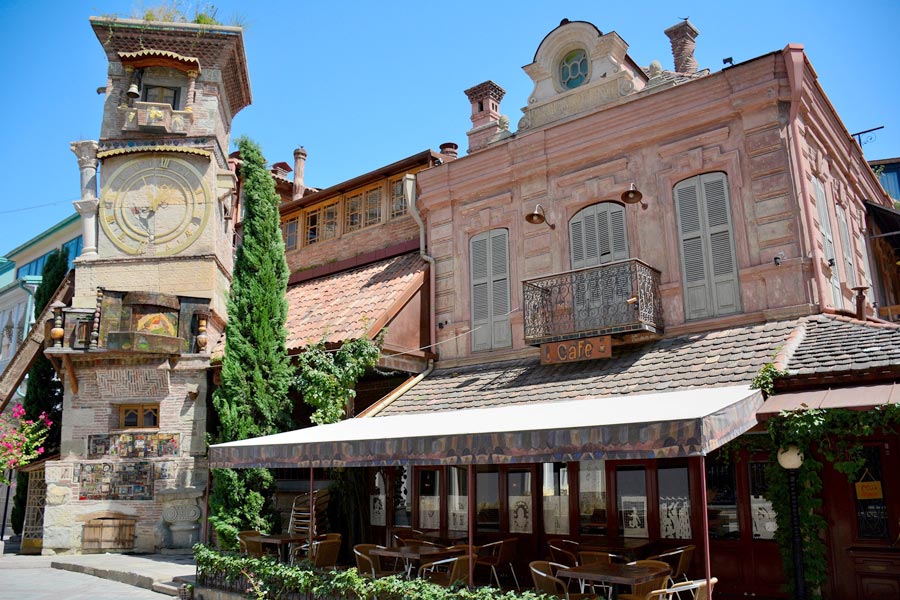 Georgia's love of the arts is not confined to museums, as is clear from Tbilisi's many theatres and concert halls. While too numerous to name here, we recommend you check out at least one of the following during your Tbilisi travels:
Shota Rustaveli Theatre, housed in a late 19th-century building, is worth a visit simply to admire its stately façade and evocative murals, and is known for its passionate performances by many of Georgia's greatest actors.
The Georgia National Opera and Ballet Theatre offers world-famous international and Georgian plays in English, Russian and Georgian.
Rezo Gabriadze Puppet Theatre was founded by Georgia's beloved screenwriter and puppeteer Rezo Gabriadze in 1981. Apart from watching a stellar puppet performance, you can enjoy its cartoonish clocktower and aromatic coffee house.
Tbilisi Concert Hall is easily recognized for its round, glass frame. With seating for well over two thousand people, it hosts most of the city's cultural events, including folk and dance concerts. Fountains and the famous Muse statue attract people to its premises.
Tbilisi Parks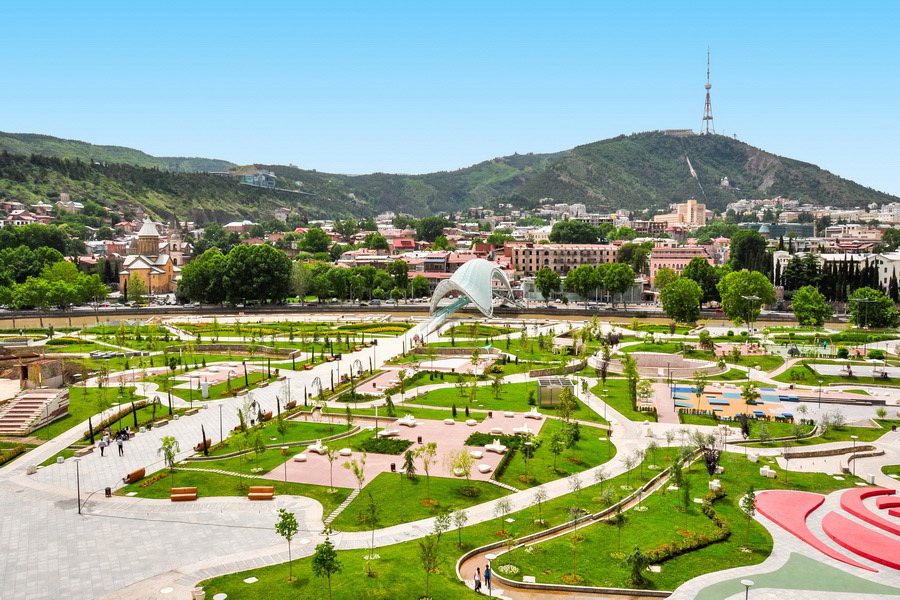 Tbilisi weather is pleasant for much of the year, and thankfully Georgia's capital offers plenty of outdoor activities, most notably a smattering of lovely parks.
Turtle Lake remains a local favorite. Relax under leafy green canopies, ponder life as you swim and sunbathe on its beaches, or stretch your legs with a walk or jog around the lake. Amenities include cafes, playgrounds and sports facilities.
The spacious Vake Park is another beloved spot, perfect for families with children or those seeking some peace and quiet. Within the park lie the Open Air Museum of Ethnography, World War II Memorial, a mini-carnival and abundant greenery.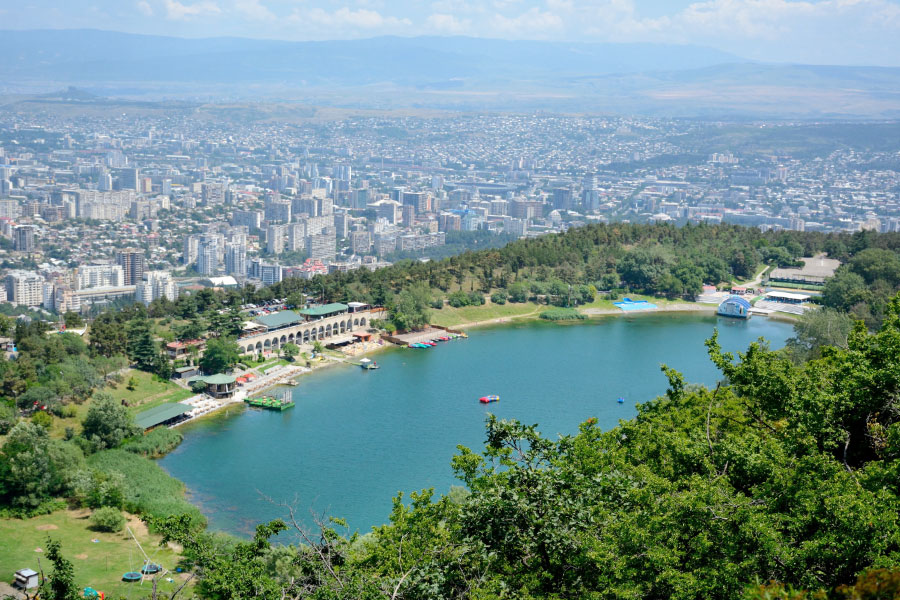 Mtatsminda Park is another well-known recreation and entertainment park. You can drive there or, better yet, take a funicular! Relax and enjoy the panoramic views while creating memories with family and friends.
Rike Park is one of the city's most popular tourist destinations, thanks in large part to the Bridge of Peace, a snazzy new glass-and-steel crossing that lights up in Morse Code at night, and to the cable cars that connect it to Narikala Fortress.
Nearby Rike Park is Tbilisi Botanical Garden, a color-laced, tempting destination for nature and picnic lovers. Be sure to dip your feet in the refreshing waterfall!
A short drive outside the city will land you among forests, charming villages and lush green nature.
Shopping in Tbilisi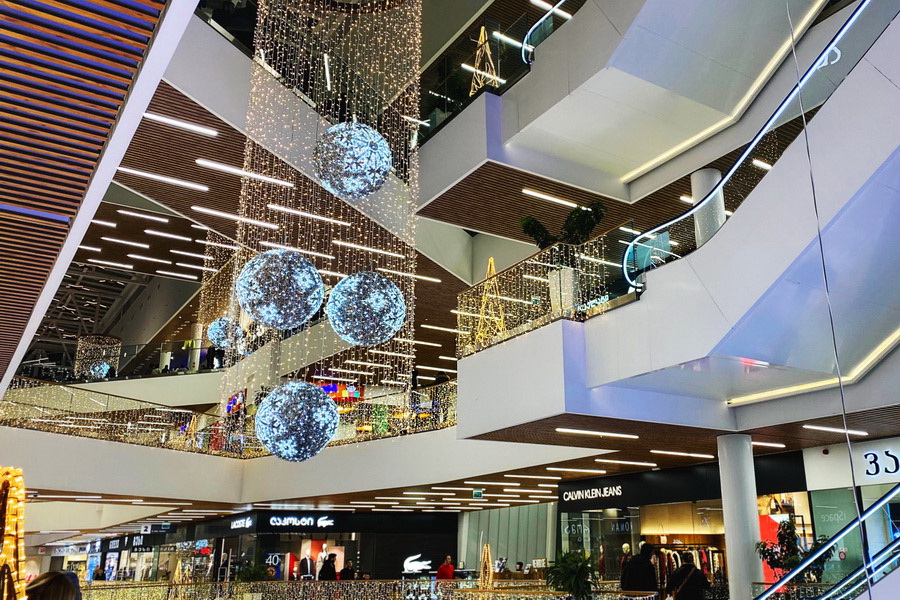 Tbilisi has everything from trading centers to shopping malls and famous designers' boutiques. In recent years, Georgian designers have grown in fame and worldwide demand, particularly Anouk and Avtandil. If you're looking to buy some gifts for friends and family, we suggest Tbilisi Mall or East Point Mall. Both centers include a wide selection of shops, restaurants, cafes, bowling and billiard centers, a cinema and more, and are conveniently situated near many Tbilisi hotels.
The flea market at Dry Bridge is a hodge-podge collection of individuals selling everything from traditional souvenirs and handicrafts to Soviet memorabilia and original works of art. More than just a shopping trip, the Dry Bridge Market is an experience in itself, an up-close glimpse of authentic, present-day Tbilisi.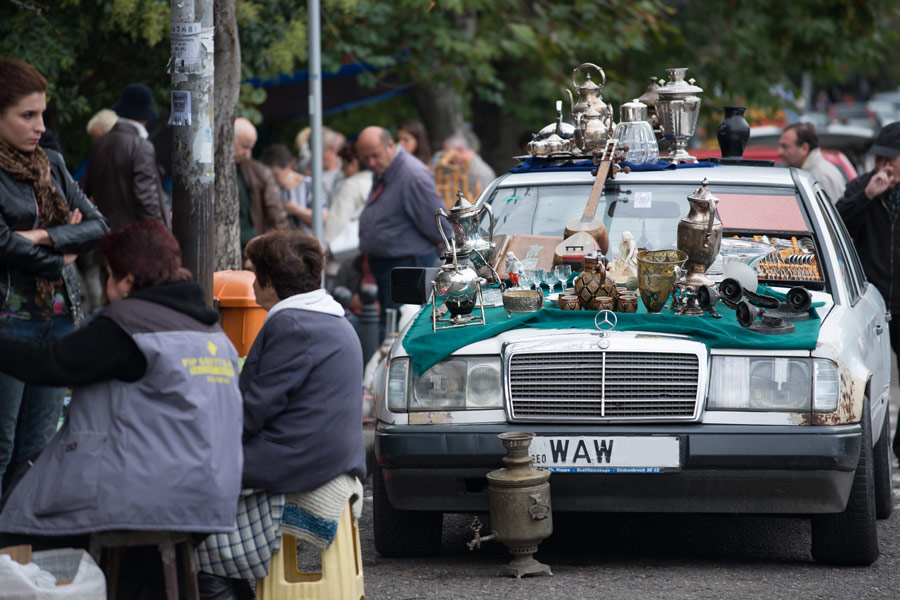 Nightlife
Tbilisi has become known among tourists as an up and coming destination for nightlife and entertainment. In fact, the city is rumored to host two of the most exclusive dance clubs in Eastern Europe. Akhvlediani Street and Chardin area are notable for bars which cater to tourists, many of which feature live music.
Tbilisi Cuisine
Georgian Food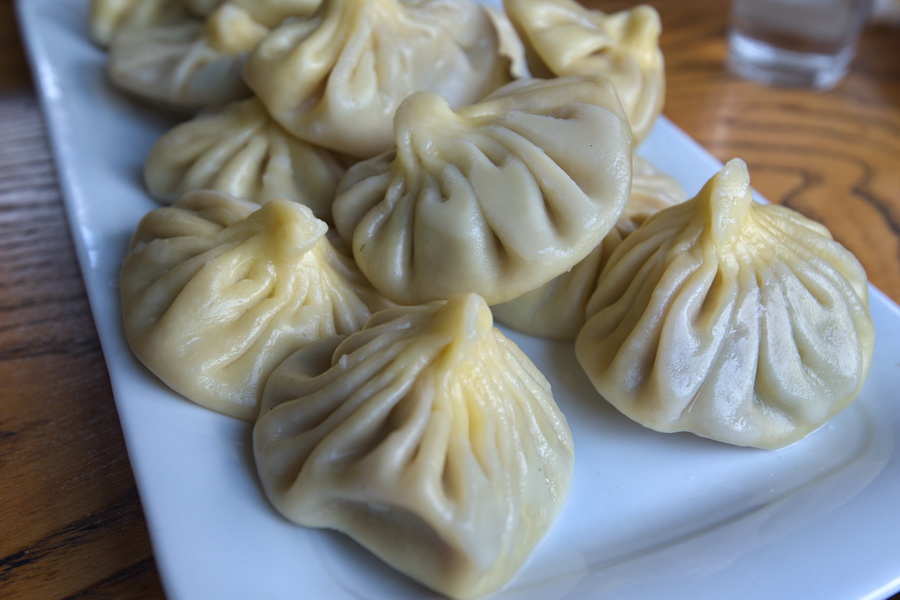 If you plan to diet in Georgia, you will fail, for the best way to travel to Georgia is with a large appetite! The aromas of Georgia's famous khachapuri cheese pies, tender mtsvadi kebabs, juicy khinkali dumplings and freshly baked breads will chase you down and lure you into Georgia's first-class restaurants and cafes. Heavenly stews such as chaqapuli and chanakhi are hearty and satisfying, while succulent tolma grape leaves are well-flavored delights.
In Tbilisi you can find many restaurants that offer the full variety of Georgian dishes, as well as small bakeries selling sweet and savory pastries at very affordable prices. To really embrace Georgia's culinary scene, consider attending a culinary masterclass, where you'll learn how Georgian food varies from region to region and discover the secrets behind some of the country's most beloved dishes.
Vegetarian Restaurants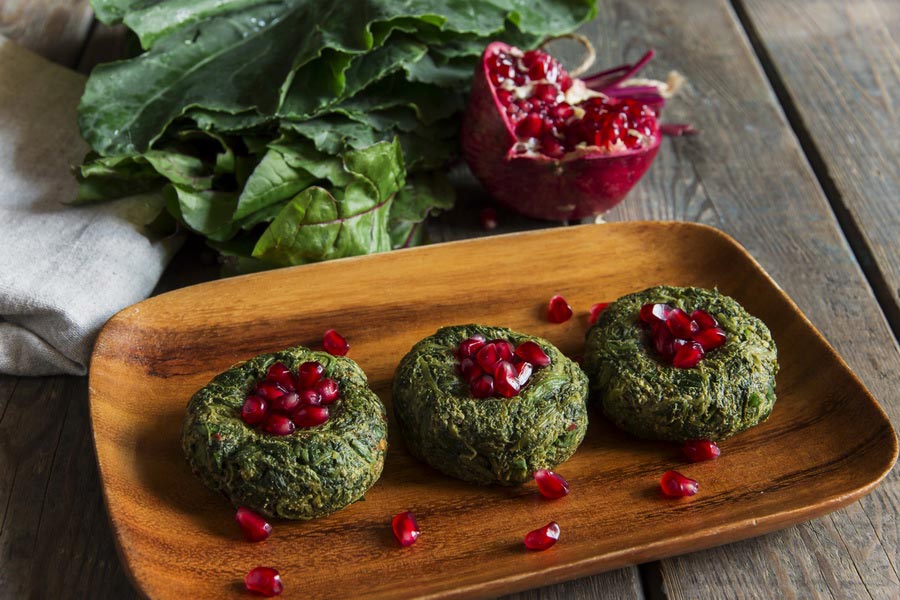 You can order vegetarian or vegan dishes in almost every restaurant in Tbilisi. Georgians love vegetables and pride themselves on their many salads and liberal use of greens. Vegetarian guests will especially appreciate pkhali (cold appetizers comprised of spices, nuts and vegetables), shetchmandy (vegetarian soup made with nuts and grains) and lobio (bean soup served with corn bread). Exclusively vegan cafes, including both Georgian and international restaurants, can now be found in Tbilisi.
Coffee Shops
Cafes with elegant retro décor, old Tbilisi apartments converted into tea houses, small corner teashops and basement bistros offering to paint your portrait on a mug are just a few of the gems you can expect to find in Tbilisi, each one sure to make your stay even more enjoyable. Whether you're a devoted fan of a worldwide chain or looking to try something local, Tbilisi has a delicious and cozy option waiting for you.
Public Transport in Tbilisi
Thanks to a well-developed public transportation system, intercity Tbilisi travel is a cheap and comfortable way to explore the city while allowing you to interact with locals and observe their lifestyle in the process.
Buses
Tbilisi's bus system is intricate and well-organized. The city hall purchased new and modern buses, equipped with air-conditioning and wheelchair lifts, in 2019. For a quicker alternative, the city is also well-serviced by minibuses. The cost of each ride for buses and minibuses is 1 lari (approximately 0.38 USD). You can pay in cash or with a plastic transport card.
Metro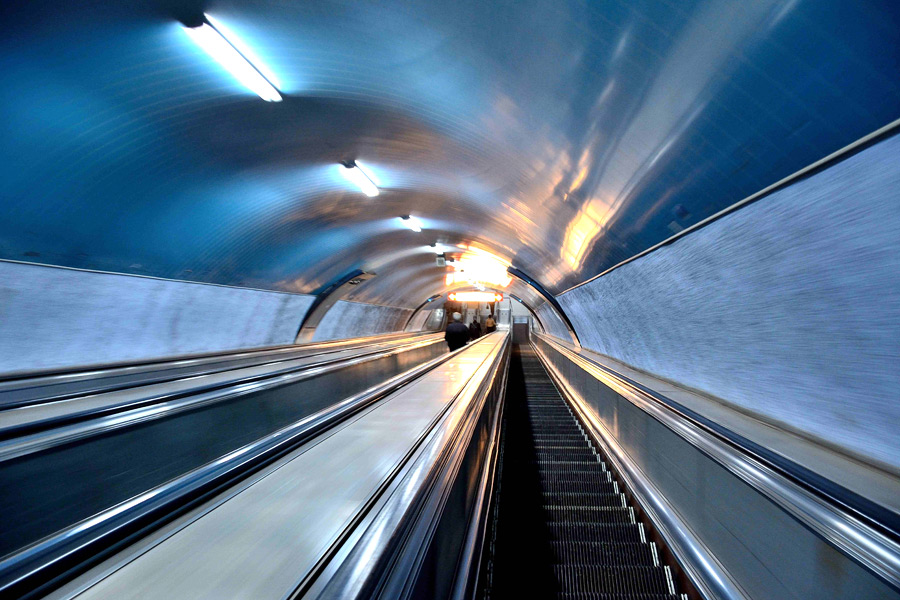 Tbilisi's metro system has 2 lines that service most of the city. Train cars were recently upgraded, and the metro now provides a fast, inexpensive and comfortable ride for tourists.
The cost of each ride is 1 lari and you must pay with a transport card, which may be purchased at every metro station. Tbilisi is considered a very safe city, and so long as you observe normal precautions, taking the metro even during rush hour is a safe, if not crowded, option.
Taxis
Several well-known taxi companies operate in Tbilisi. You can order a taxi via an app on your phone or through a call center. Every major company offers services in English. You'll usually be given the option of choosing a regular or premium service, and taxi fares will differ accordingly. Generally, taxis in Tbilisi are quite affordable and one of the most convenient ways to explore the city. We do advise you to use an app rather than stopping a taxi on the street, so as to avoid language barriers, being overcharged or difficulties in finding the address.
Car Rental
Renting a car is a very simple task in Tbilisi, provided you have a valid driver's license, a passport and are at least 21 years of age. There are several car rental companies that offer vehicles of every type and class, starting from affordable sedans to SUVs and Bentleys. Tbilisi traffic regulations are pretty standard, but it's still advisable to familiarize yourself with local laws before driving independently.
Other Types of Public Transport:
Looking for something a little out of the ordinary? Why not explore the city in a cable car or a funicular, both of which offer quick uphill rides and panoramic city views. The funicular will take you to Mount Mtatsminda, and the cable cars to Narikala Fortress and the observation platform next to the Mother of Georgia monument. You will need a transport card, which can be purchased at the station on the spot.
While city bike rentals are currently not available in Tbilisi, bike paths are regularly being added and expanded in the city and may be enjoyed by those in ownership of a private bicycle.
How to Get to Tbilisi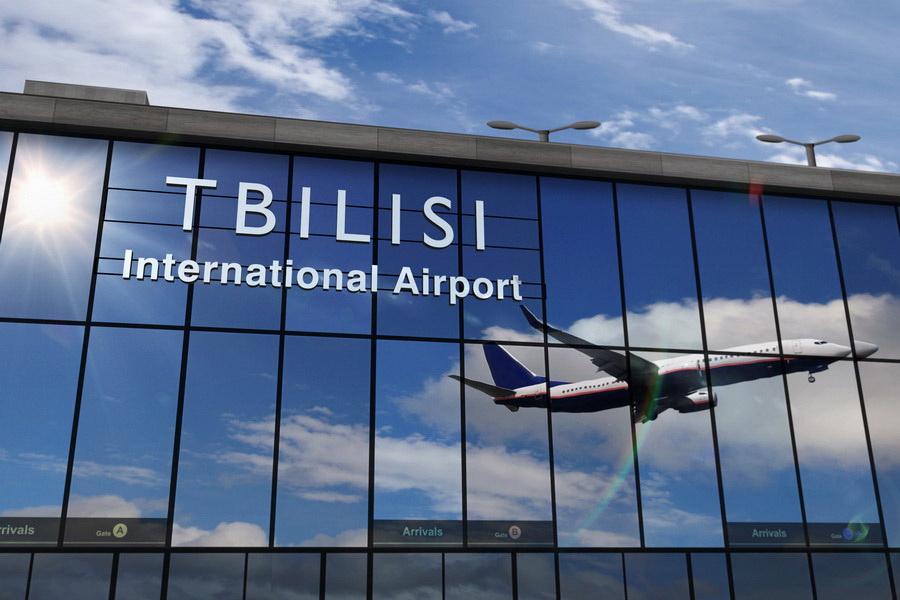 The fastest and most convenient way to travel to Tbilisi is by plane. Tbilisi International Airport regularly receives aircrafts from all over the world, including from Turkey and many European and Asian nations, meaning that you're likely just hours away from this dream destination! The airport is clean, comfortable and equipped with everything you could hope to find at a mid-size international airport, including a Tbilisi tourist office.
If you have the time, the best way to travel to Georgia from neighbouring Turkey, Azerbaijan, Armenia and Russia is by private vehicle or train. For a true cultural experience, take a train from Baku (13 hours) or Yerevan (5.5 hours).
Travellers up for a real adventure can take a ferry from Sochi, Russia to Georgia's seaside city Batumi, and from there arrive in Tbilisi via train, plane or vehicle. We advise taking the 2-storey Batumi-Tbilisi train, complete with Wi-Fi, new wagons and free drinking water. You'll enjoy the calming scenery as you interact with friendly locals who can entertain you with endless stories about their beloved country.
Spoken Languages in Tbilisi
The state language of Georgia is Georgian, considered to be one of the oldest languages in the world. Its original script, consonant-heavy words and status as one of the most unique languages on earth further add to its beauty and mystique.
Georgian is widely spoken on the streets of Tbilisi. Pronunciation of this language is a challenge (thanks to those consonant-heavy words), but many young people can speak English very well, while older generations can freely communicate in Russian. Tbilisi is a multinational and multilingual city – home to many expats, you can easily find foreign language clubs and meetings for language exchange. If you wish to feel like a local and endear yourself to the Georgian people, we advise you to learn several words in Georgian, such as gamarjoba (hello) and madloba (thank you).
Tbilisi Currency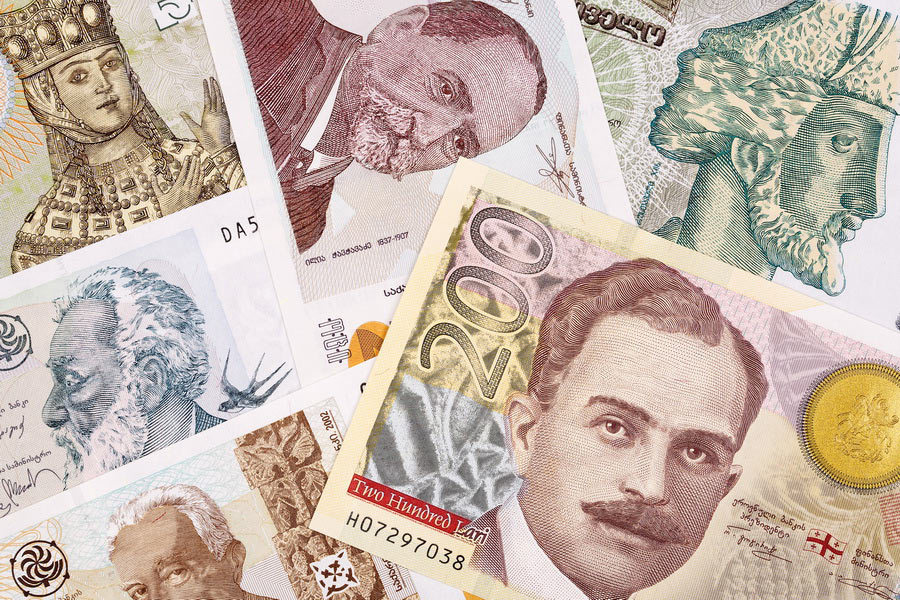 The Georgian Lari (GEL) has been the national currency since 1995. Both paper bills and coins of various denominations are in circulation. Each domination of bill portrays a famous Georgian public figure. You can easily exchange money at the airport or in the city. In Tbilisi, most restaurants and shops accept credit cards, but we still advise you to have cash for smaller cafes and souvenir shops. ATM machines are also widely available throughout Tbilisi.
Is Tbilisi Safe?
Tbilisi is a warm and welcoming city, and visitors overwhelmingly report feeling safe on its streets. You can freely explore the city any time of day or evening. Tbilisi is equally safe at night, as police patrol the streets 24/7. Night owls will appreciate the illuminated Bridge of Peace, a wide choice of cosy cafes that operate well into the evening and the lively Tbilisi nightlife found at countless bars and clubs.
Not only is it safe to travel to Tbilisi, you'll be greeted by some of the most kind-hearted people you've met. Once you've visited, you'll understand why Georgians are renowned for their hospitality. Citizens welcome you with a warm smile, are quick to offer help and will often even accompany lost travellers to the right destination. Whether traveling alone or with your family and friends, you can be confident that peace, friendship and safety await you in Georgia's warm and welcoming capital.
If the Tbilisi Travel Guide has piqued your interest in Georgia, keep reading to get tips for planning your upcoming vacation or check out our most popular Georgia tours.