Georgia Trip Planner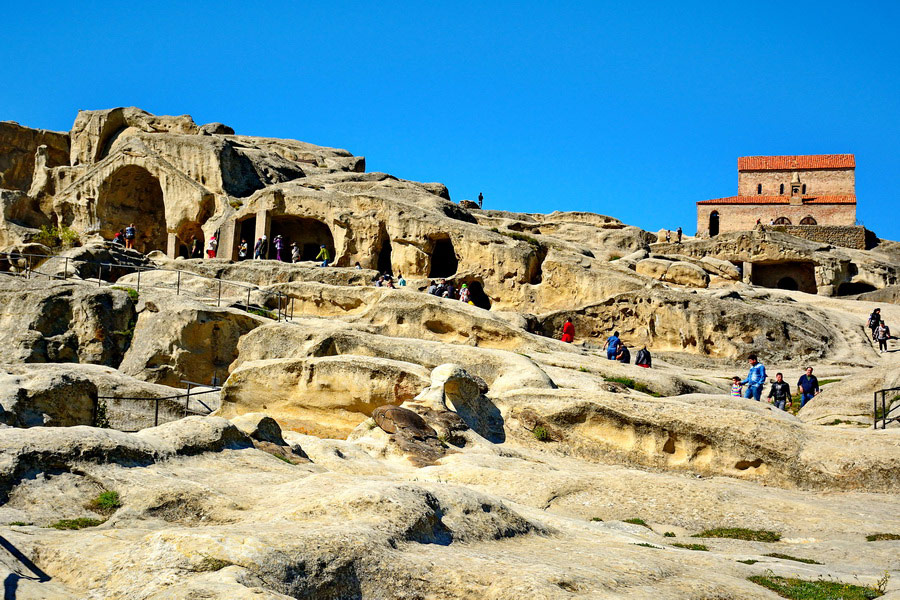 Georgia Trip Planner | Uplistsikhe - Fortress of God
What do you need to know before your trip to Georgia
Georgia is a country of hospitality, long toasts (speeches over raised glass) and ancient churches that are famous for their beauty. Travelers go there in order to try Georgian cuisine in taverns of old Tbilisi, sip a well-known Georgian wine and healing mineral water "Borjomi", indulge in the eternal beauty of Caucasian mountains and paintings of Niko Pirosmani, see the dance of Lezginka, swim in the warm waters of the Black Sea. The following useful tips have been collected to make your journey planning easy and discovering this amazing country smoothly.
How to get to Georgia
The most convenient way to plan your trip to Georgia is by taking a flight. The choice of airlines operating direct flights to Georgia from different countries of the world is diverse. The train is more convenient for those traveling from countries neighboring with Georgia – Azerbaijan and Armenia.
IMPORTANT: Entry to the territory of Abkhazia from Georgia and vice versa is extremely complicated.
Traveling by plane
The main international airport of Georgia is located 17km from Tbilisi (code IATA-TBS). Also, there are an international airport of Batumi in Georgia (IATA-BUS), international airport of Kutaisi (KUT) and regional airport Mtskheta.
Air companies operating regular flights to Georgia and back:
from Russia: Aeroflot, Ural Airlines, S7 Airlines, Georgian Airways;
from Azerbaijan, Belarus, Kazakhstan, Latvia and Ukraine: Azerbaijan Airlines, Air Astana, SCAT, airBaltic, Belavia, Georgian Airways, Ukraine International Airlines, Wizz Air, Yanair;
from countries of Asia, Europe, Middle East: Arkia, Czech Airlines, Etihad Airways, flydubai, Lufthansa, Qatar Airways, Turkish Airlines and etc.
More information about flights is available here.
Traveling by train
It is possible to get to Georgia by train from Azerbaijan and Armenia. Trains go to Tbilisi, the capital of Georgia, and Batumi, a resort city on the Black Sea coast.
Click here to learn more about trains schedules and book a ticket.
Traveling by ferry
You can get to Georgia on the ships of the UkFerry company from the Ukrainian port Ilichevsk and Bulgarian port Varna, they provide transportation until the Georgian port Batumi.
From Russian port Sochi there is a vessel "Kometa" that goes to port Batumi.
Visit Georgia Ferry Services for sailing schedules and contacts.
Arrival in Georgia
Customs regulations
Upon entry and departure it is necessary to declare imported cash if the amount exceeds the equivalent of 30,000 lari.
Customs free applies on declared jewelry, items and goods for personal hygiene in considerate amount, as well as no more than 200 cigarettes, no more than 3 liters of wine and 10 liters of beer.
It is prohibited to import explosives, drugs and medicine containing narcotic essences, pornography and literature that communicates false information on the political system. It is also prohibited to export from Georgia items that are of cultural and historical value, except the cases when a passenger has a certificate permitting the export from the Ministry of Culture of Georgia. In case the luggage exceeds 20 kilos, it is imposed to an additional tax: 1 GEL (lari) for 1 kg.
Personal Medication
Like any other country, Georgia imposes restrictions on medications import into the country. Please click here to check it out.
Money
Official currency of Georgia is lari (GEL). 1 lari equals to 100 tetri. It is preferable to take to Georgia USD or euros.
Banks and currency exchange
Georgian banks work from 10.00 to 17.30-19.00. Currency is exchanged in banks and currency exchange offices.
Payment with credit card is possible in most of the big supermarkets as well as some restaurants (mainly "Visa" and "Master Card" are accepted; "American Express" is rarely accepted). Travelers' checks are not usually in use.
Tourist tips
When to travel to Georgia
Traditionally Georgia is considered a country of summer and winter holidays, thanks to its numerous resorts, however this country has what to offer to tourists at any time of the year due to its climatic diversity.
For example, traveling to Georgia in spring is also great, with renewal of nature when everything around is in bloom and is diving in green colors. It is not too hot, the temperature is about 20-24 degrees (Celsius), with seldom rains. It is also good to travel to Georgia in the beginning of autumn, when the summer heat has waned but it is still good for swimming, along with the high time for different agricultural holidays such as vine harvest festival of Rtveli. It is to note though that possibility of rain in this time of the year is higher especially in the mountainous regions.
The best time for traveling to Georgia is the beginning of May to the mid of October. But bear in mind, that it is quite hot in the city in the midsummer.
For visiting seaside and thermal resorts of Georgia, it is best to travel from the end of May to the end of September. It is a swimming season on the Black Sea shores.
There are numerous mountain resorts welcoming tourists in winter. It snows a lot, the temperature falls not more than 6 degrees (Celsius) below zero (it may feel colder due to strong winds).
It is not recommended to travel to Georgia in the late autumn (November-beginning of December), the end of winter and early spring (February-March).