Tusheti, Georgia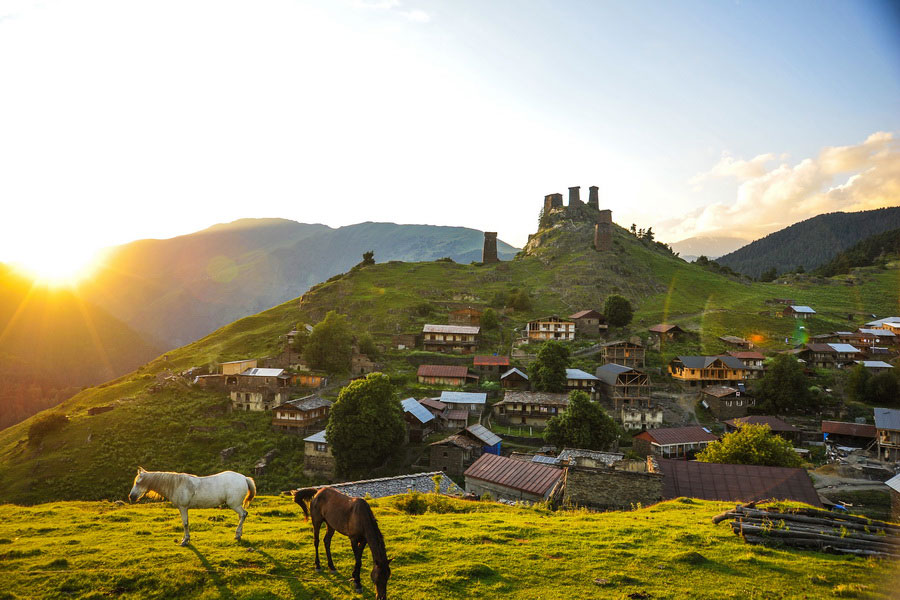 Tours, Attractions and Things To Do in Tusheti
If you have come to Georgia to feel the real magic of highlands face to face with nature, to walk on the edge of Christianity and paganism, and conquer narrow mountain trails over steep cliffs, then your way should lead straight to Tusheti. Amazing mountainous region in northeastern Georgia, bordering the historic region of Khevsureti, as well as Russia's Chechnya and Dagestan, is a real treasure of the Georgian part of the Caucasus. It's not an easy drive to the region: the road to Tusheti is mostly open from June to late September-early October. One would need a 4WD and a local guide to lead you to Tusheti. There is no public transport to Tusheti yet. Thus, the region is cut off from the rest of the country for seven-eight months. Local shepherds spend winter in lower villages with herds of cattle.
Tusheti authenticity, amazing nature, breathtaking views, unique architecture, specific traditions, and delicious local beer is why Tusheti should be on the visit list in Georgia. Just imagine, you can conquer Abano, the highest pass in the country (2950 m), to witness the whole complex of defense towers in the villages of Omalo and Dartlo at an altitude of over 2,000 meters above sea level, ride horses along the unbeaten paths, learn about ancient traditions of making local cheese and beer.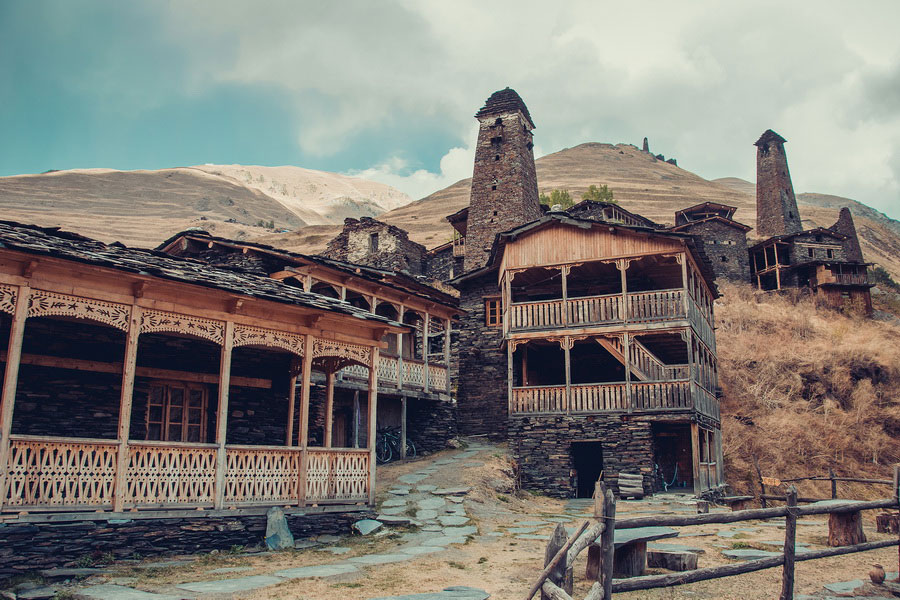 Tusheti is a Protected Area with total area of 122,050 hectares. About a quarter of this is protected landscape, and more than 83 hectares belong to the National park. Don't be surprised that local traditions are still quite conservative, and can seem a little strange to urban people. You do not want to bring pork or products with pork to Tusheti. So be careful if you think of taking a sandwich with you. Another strange taboo is women are not allowed to come to sacred places such as churches or shrines called "nishi" in the local dialect.
Many religious rituals exclude participation of women: that harsh are patriarchal traditions in those places. For example brewing beer for festive Atnigenoba days is a purely male event. Atnigenoba starts in 100 days after Easter and lasts for a couple of weeks. Although holiday date is related to Easter, the celebrations include pagan elements like sacrificing a ram, strength horseback riding, and in endless feasts. This incredible mix of traditions is noticeable in Tushetian handcraft too: both solar symbols and crosses are used in clothes and jewelry design.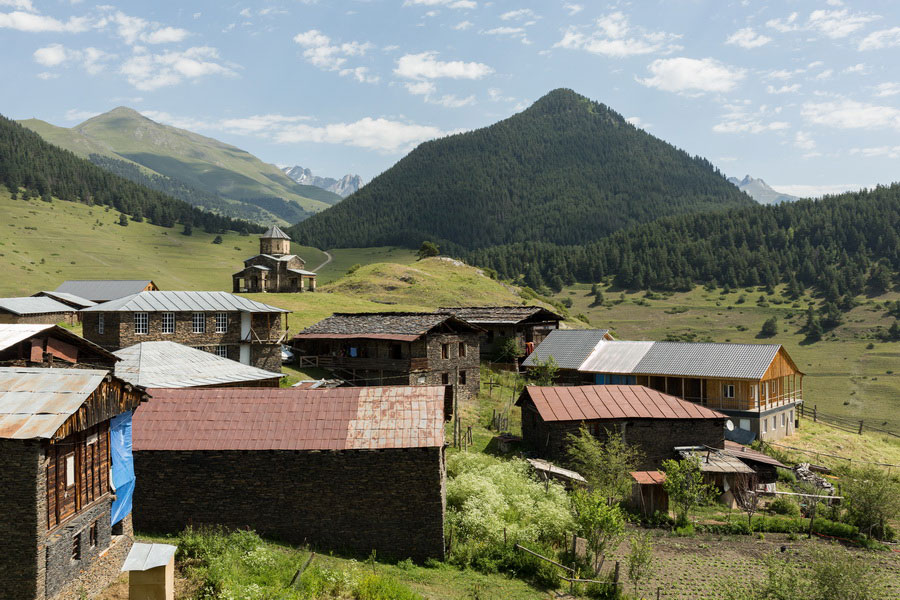 A world-recognized part of Tushetian culture is rare cheeses. One of them is dambal khacho, a very spicy cheese. UNESCO included technology of making dambal khacho to the Intangible Cultural Heritage List of Humanity. Tushetians roll cottage cheese into balls, wrap them in cloth, and hang in chimney to smoke during a week. Then the cheese is dried in the sun for another week, and stored for ripening in a cool, dry place. Dambal khacho is very nutritious. One small piece is quite a good lunch for shepherds in the mountains.
Another kind of cheese typical to this region of Georgia is guda. It is prepared in a special bag of sheepskin, which is actually called "guda". This cheese is very salty and fragrant.
To take an insight to Tushetian culture, one should visit at least three major settlements which are a perfect match for hiking, horseback riding, and further trekking along the Great Caucasus.
Omalo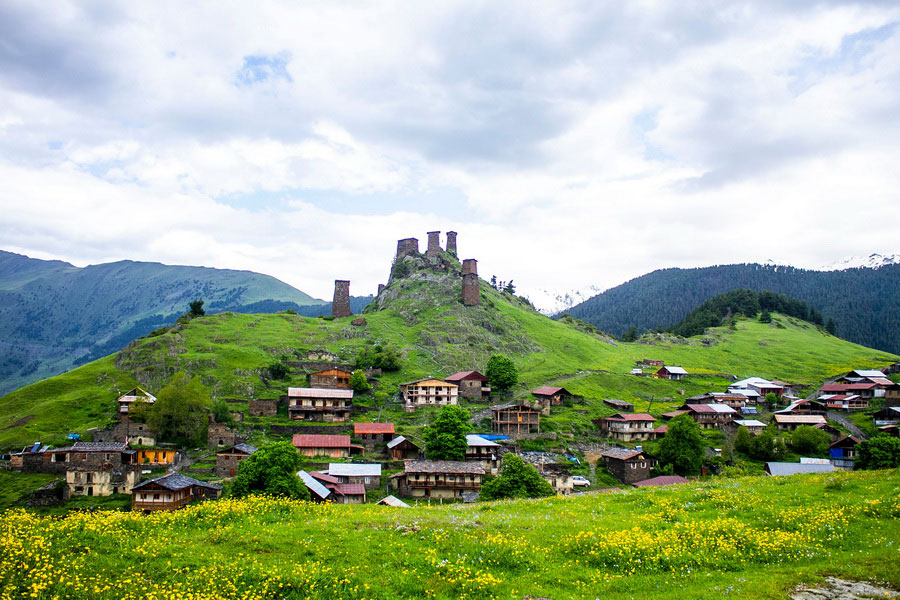 Omalo is the central village of the region, and the first you see coming to Tusheti. Several Tushetian families even stay there for the winter while other locals go down to the valleys. The most important and impressive historical object here is the complex of watch towers called Keselo epically set on a high cliff. There is a small ethnographic museum inside one of the towers.
Dartlo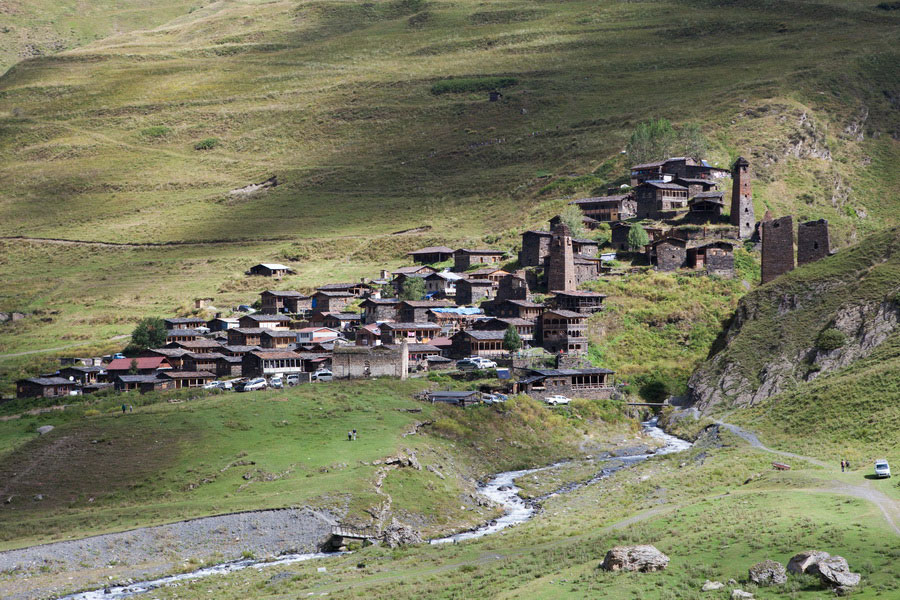 A hike from Omalo to Dartlo will take about 3-4 hours. Houses and towers of Dartlo were recently restored and now included on the list of protected cultural heritage of the country. Dartlo is only inhabited in the summer. But until last year one local person spent the long Tushetian winter in the village.
Dartlo is also a starting point to a spectacular five-day trekking path to Khevsureti. The trek begins with Dartlo to Andaki pass, covering difficult 14 kilometers, and continues with hike or horseback ride along the uninhabited mountains towards Shatili village.
Shenako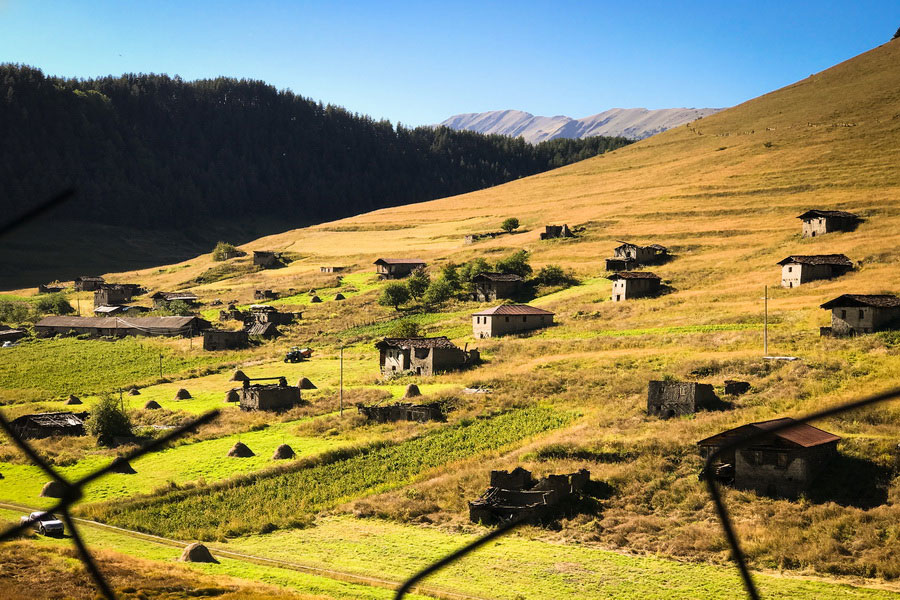 This small picturesque village is located at the same altitude as Omalo but separated by a big mountain gorge from Omalo.
The only Orthodox church in the region (Sameba church, XIX c.) is located in Shenako. Its frescoes have been restored at the beginning of our century. Just next to the church you can see one of above mentioned sacred places, "nishi". Here, again, one can witness how paganism and Christianity are intertwined in this wonderful place.
Diklo
In Shenako, you can start your hike to Diklo, a place famous for its fortress. The local says that once in the XIX century sixteen brave warriors were defending it against the North-Caucasian army of thousands. The battle for the fortress lasted for more than two weeks!