Big Almaty Lake near Almaty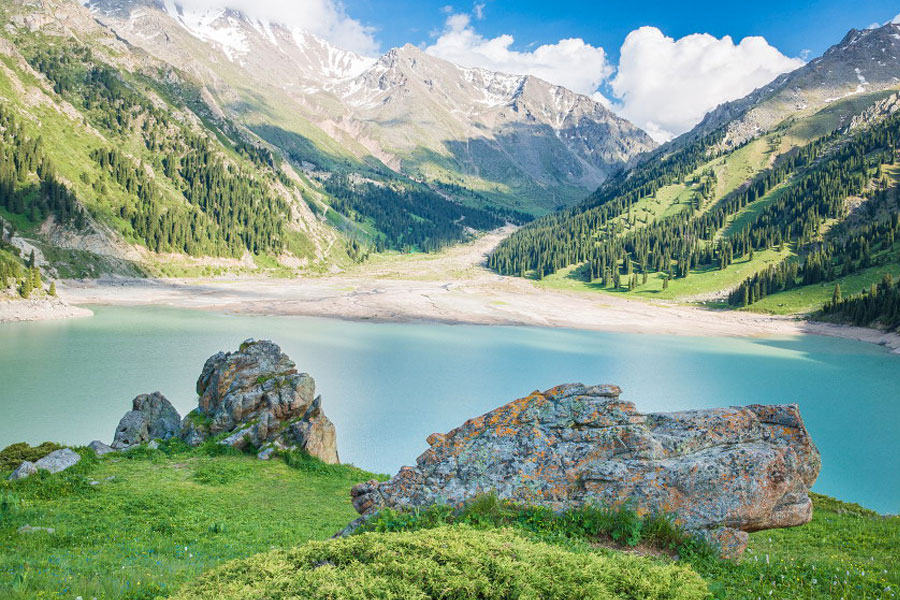 Big Almaty Lake is set high up in a gorge of the Bolshaya Almatinka River, 2,511 meters above sea level and 28,5 km south of Almaty. It lies in a hollow like a gleaming mirror, surrounded on all sides by majestic peaks. Three main peaks tower above the lake and can be seen from the northern end of the dam: Sovetov (4,317 m) to the south-east, Ozyorny (4,110 m) to the south, further up the river valley, and the forested slopes of Turist (3,954 m) to the south-west.
West of Turist is the crest of Bolshoi Almaty Peak, a 3,681meters high pyramid, which is visible from the city center. Fed by glacier water, the lake is 1,6 km long, almost a kilometer wide and 40 m deep. Higher up above the pale blue chalice of the lake is the domed Tien-Shan Astronomical Observatory, in a very ancient glacier valley 2 km from the lake and at an altitude of 2,700 m. Walk another 8 km and you will reach the Cosmic Rays Research Station at 3,300 m, near the Zhosylkezen pass.
Attention! Due to a major landslide, the road to the lake is closed for all cars and backpackers. Reconstruction of the road is currently underway. This information is current as of November 2022.