Almaty, Kazakhstan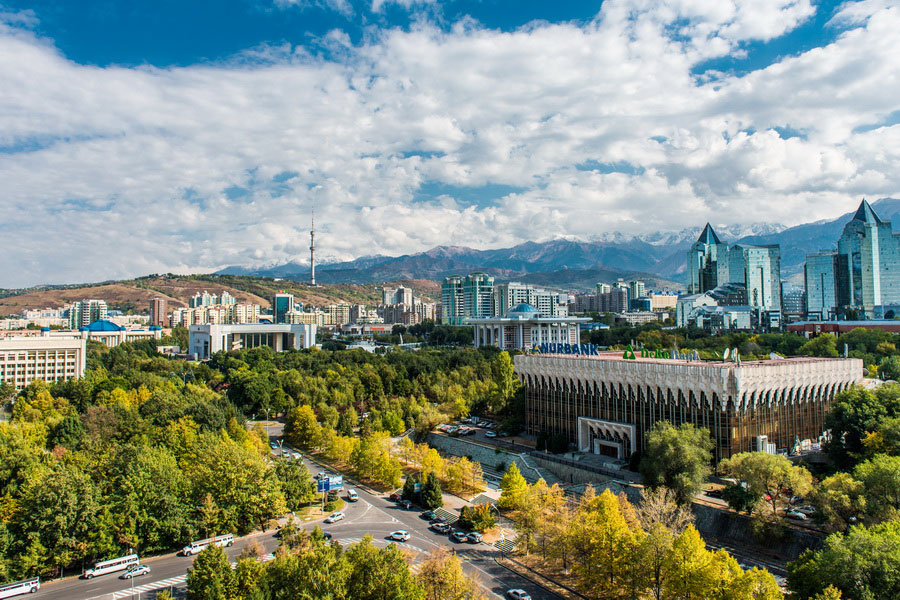 Tours, Attractions and Things To Do in Almaty
Almaty Travel Guide
Almaty is the former capital of Kazakhstan and its current financial, scientific, cultural, historical and industrial center. With nearly 2 million inhabitants, it is also Kazakhstan's largest city and the one most visited by tourists. Whether you plan to spend a long layover or an extended time in the area, this Almaty travel guide is designed to help you make the most of your time in this wonderfully unique city.
Located in southeast Kazakhstan at the foot of the Zailiyskiy Alatau branch of the Tian Shan Mountains, the city is naturally divided into upper and lower sections. There is a joke that every citizen of Almaty can travel to any city in the world and divide it into "upper and lower", and there is some truth to this claim.
Few people in Almaty use landmarks when giving directions, for the city was designed in squares which make it easy to use intersections as references. So, someone might guide you to Seifullin / Kazybek Bi or to Abai / Shevchenko. If you really want to pass for an Almaty native, learn the old street names!
Almaty is a very green city, with more than eight thousand hectares of parks, gardens and squares. Modern Almaty is also an international sporting center which has hosted the prestigious 2011 Asian Winter Games, the 2013 World Boxing Championship, portions of the World Judo Championships, FIS Ski Jumping World Cup, portions of the 2013 Volleyball Grand Prix, the professional cycling race Tour of Almaty and Winter Universiade. Annual marathons held in Almaty likewise attract participants from around the world.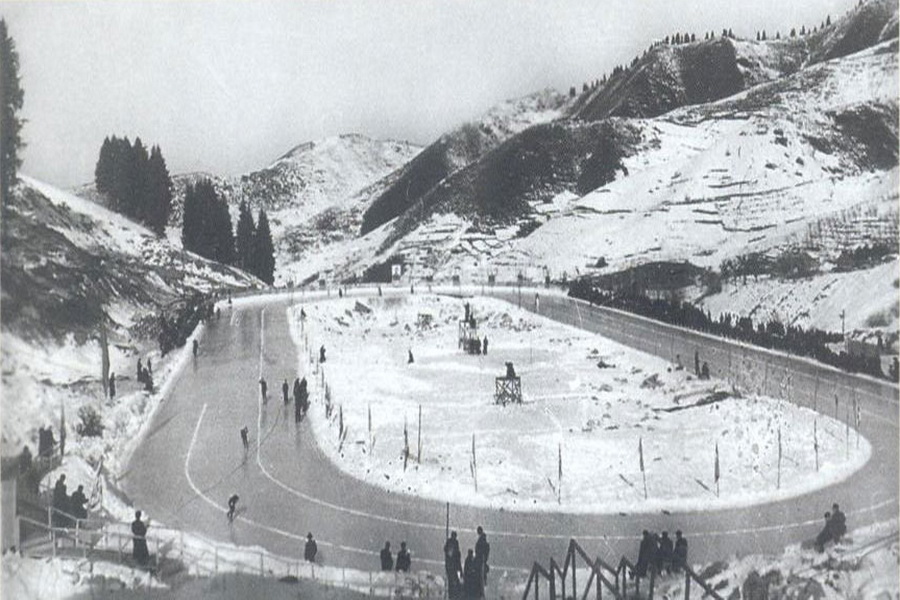 The earliest settlements predating Almaty were founded in the 6th-3rd centuries BC. In the 8th-9th centuries a small Silk Road settlement here was already called Almatu (Almaty). In the 13th century Almatu was conquered by the Mongols, an event recorded by Zahir-ad-Din Muhammad Babur, founder of the Mughal Dynasty. A century later the city appeared in written sources as Almalyk, but by the end of the 16th century only a remnant of the original Almatu remained.
Modern Almaty was founded in the mid-19th century when the Russian government built a military fortification here. The outpost, called Vernoye (Verny), began to attract Russian settlers. By 1897 nearly 23 thousand people lived in Verny, of which about 60 percent were Russians. By 1913 the population had already reached 41,000.
Old Verny was located in the neighborhood of Malaya Stanitsa, where Rakhat Candy Factory and Iversko-Serafimovsky Convent are now located. (Incidentally, the convent was built on site of the city's first Orthodox church). On February 5, 1921, Verny was renamed Alma-Ata in honor of its historic name. Six years later Alma-Ata became the capital of the Kazakh ASSR. In 1993, shortly after Kazakhstan gained independence, the city was renamed Almaty.
In 1997 Kazakhstan transferred its capital from Almaty to Astana. The following year Almaty was given official status as a special city and continues to hold the unofficial title of Southern Capital of Kazakhstan. Today Almaty covers an area of 682 square kilometers and is divided into 8 districts. As of summer 2021 it had a population of over 2 million.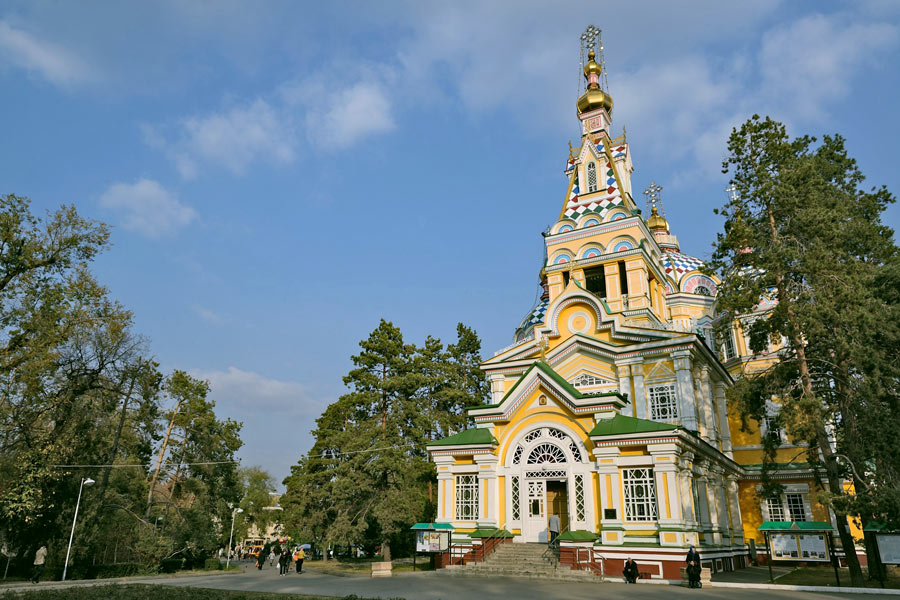 The top attractions of Almaty are not confined to one neighborhood but rather are scattered throughout the city. To see unusual sculptures, murals and pre-revolutionary or early 20th- century buildings, head to Astana Square in the old center, whose key landmark is the Kazakh-British Technical University.
The pearl of Kazakhstan and one of the main symbols of Almaty is Ascension Cathedral, one of the tallest wooden churches in the world. It was built at the beginning of the 20th century and survived the devastating earthquake of 1911. Although many Kazakhstan travel guides claim that Ascension Cathedral was built without a single nail, this is not true. In 1927 the cathedral was converted into a museum and was only converted back into a church in 1995. From 2017-2020 it underwent restoration work based on old drawings by its architect, Andrei Zenkov. Today Ascension Cathedral looks much as it did 110 years ago, both inside and out.
While in Almaty you should see at least one mid-19th to early 20th-century building. We recommend House of Golovizna (located at Nazarbaev / Kurmangazy), State House of the Orphanage Director (Bogenbai Batyr / Seifullin), Gabdulvaliev Mansion (Tulebaev / Makataev), Fidler's House (Kazybek Bi / Kaldayakov), House of Pugasov (Bogenbai Batyr / Karmysov), Pink House (Tole bi/Valikhanov), House of Filippov (Makataev/Zhetysuyskaya) and House of the Cossack Ataman (Ashimbaev/Kuratov).
Almaty's main pedestrian streets are Panfilova and Arbat, both of which have many benches, trees, cafes and fountains. In warm weather talented musicians arrange free concerts here, and in the evening the streets twinkle with thousands of lights. A monument to famous Soviet rock star Viktor Tsoi is located near the benches on nearby Tolabaev Alley. The memorial includes quotes by the singer and attracts both tourists and residents.
There are many murals painted across the walls and apartment blocks of Almaty. You can even arrange a quest tour to find as many murals as you can in a day. The most famous ones include Gogol (located at Gogol/Panfilov), Almaty Tram (Shevchenko/Tulebaeva), Snow Leopard (Zhibek Zholy/Abylay Khan), Kabanbai Batyr (Kabanbai batyr/Nazarbaeva), Father of Apples (Kurmangazy/Nazarbaeva) and the Kitten Gav (Kunaeva /Makataeva).
If visiting Almaty for the first time, be sure to ride the Ferris wheel located near Mega Center. A visit to Medeu (Medeo), the largest high-altitude sports complex in the world, is also a must. Located at 1691 meters above sea level, its biggest attraction is the ice skating rink. The rink covers an area of 10.5 thousand square meters and operates from late November until March. First-time visitors to Medeu should also climb the health ladder, which has more than 842 steps and is located just above the ice rink.
Museums in Almaty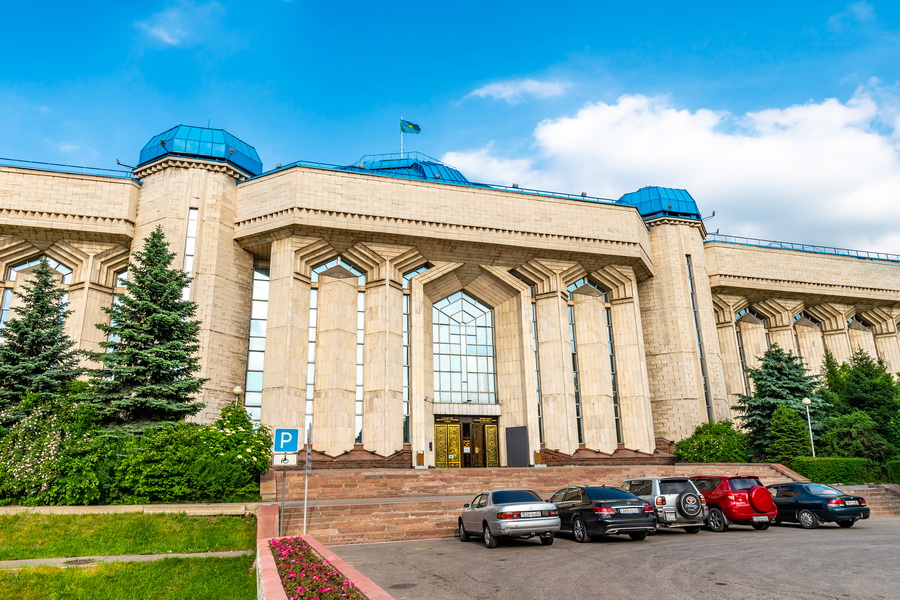 The historical center of Kazakhstan, Almaty is worth visiting just for its 33 museums whose unique expositions are sure to include items of interest for every type of traveler. Central State Museum of Kazakhstan, Kasteev Museum of Art, Kunaev's Apartment-Museum and Museum of Almaty are the most frequently visited, yet the Archeology Museum, Museum of Folk Musical Instruments, Nature Museum, Museum of Rare Books, the relatively new Museum of Kazakh Cinema and others are also worth seeing. Almaty also has many house museums dedicated to famous city figures.
Almaty Theaters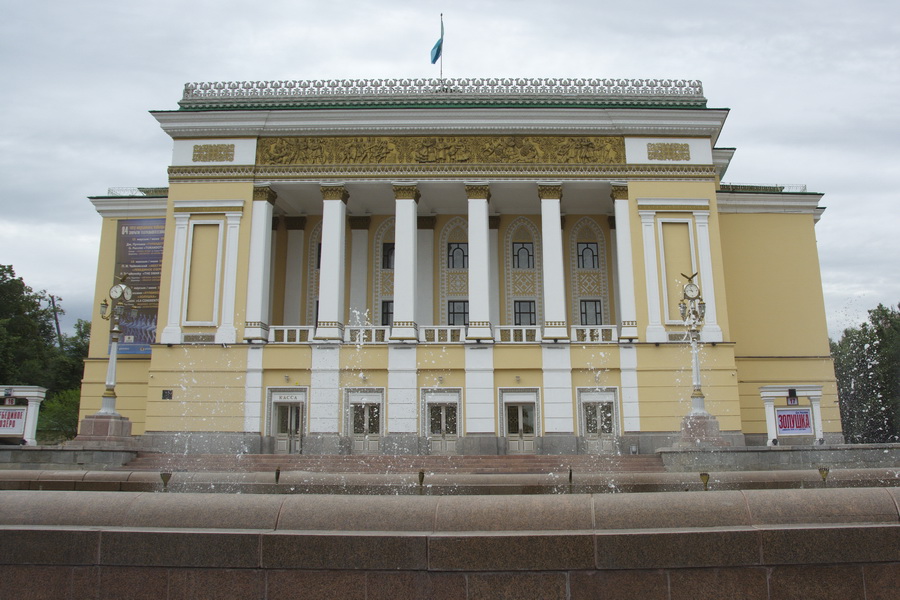 To fly to Almaty and not visit any of its 21 theaters is simply a crime. Abay State Academic Opera and Ballet Theater holds performances of world classics, while Lermontov State Academic Russian Drama Theater attracts even young people with its productions. For many years the famous Kazakhstan-born actor Vladimir Tolokonnikov served at this theater, which continues to employ many esteemed Kazakh artists.
Auezov Kazakh Drama Theater, Kuzhamyarov Uyghur Theatre of Musical Comedy, Musrepov Youth Theatre and State Puppet Theatre all stage classical performances, while various chamber theaters can also be found. At ARTiSHOCK, a revolutionary endeavor for Kazakhsan's theatrical arts, directors stage fascinating plays where the plots are often not what they originally seem.
Entertainment, Parks and Shopping in Almaty
Almaty is ranked by many as the leading city in Central Asia for entertainment, parks and shopping.
Almaty Parks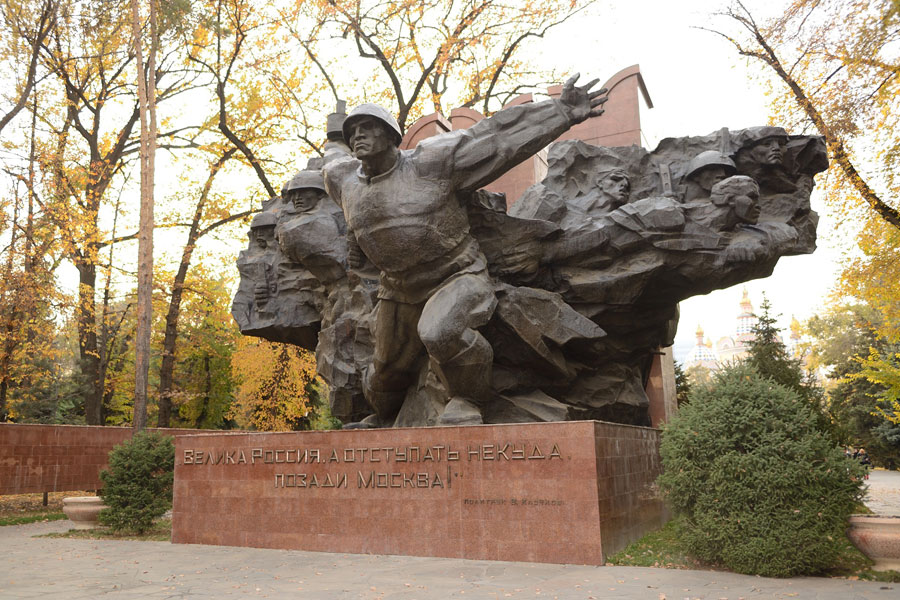 Almaty is a green city, with each district having its own squares and parks. It is difficult to name the most popular, for each one has something unique to offer.
First President's Park occupies almost 61.5 thousand hectares. Almaty residents come here to inhale the clean air, ride bicycles and simply relax. There are no rides in this park, but there are many trees and shrubs - more than 11 thousand, to be exact. If Almaty had lungs, they would be found in First President's Park!
Central Park of Culture and Leisure (and the nearby zoo) has many trees, benches and rides and is one of the top things to do in Almaty for families with children.
Kok-Tobe, the highest park in Almaty, overlooks the city from the mountainside and has been visited by many celebrities over the years. You can reach Kok-Tobe by car, but we recommend riding the cable car for a more picturesque and memorable journey.
Park of 28 Panfilov Guardsmen is one of the oldest in Almaty. It is lined with dozens of ancient oaks and other trees but is best known for Ascension Cathedral, which stands in the center of the park. Panfilov Park is also famous for its thousands of pigeons which are well-fed by city residents.
Almaty Botanical Garden has sadly lost much of its originality after large-scale reconstruction but is still very beautiful, with thousands of unique plants. It is now best to visit the park with a guide.
Terrenkur is not a park per se but a health path which winds for 4.5 kilometers. The path is shaded by trees, making Terrenkur a pleasant walk even during the heat of summer.
Anyone looking for silence and solitude should visit First President's Park, Esentai Park, Ile-Alatau National Park and Butakovsky Gorge. The latter two are located on the quiet outskirts of town.
Almaty Shopping
There could be a separate Almaty travel guide focused on shopping alone, but suffice it to say that you can find a variety of clothes at Mega Center, Mega Park, Esentai Mall, Dostyk Plaza, Moskva Metropolitan, Forum, TSUM, Asia Park, Moll Aport, Atakent Mall, Maxima and ADK shopping centers. Each of these malls also has cinemas, food courts and playgrounds.
For a more traditional shopping experience, head to Green Bazaar to barter for goods and taste national foods. On weekends Arbat Walking Street is turned into an artisan fair with national clothes, dishes and other souvenirs for sale.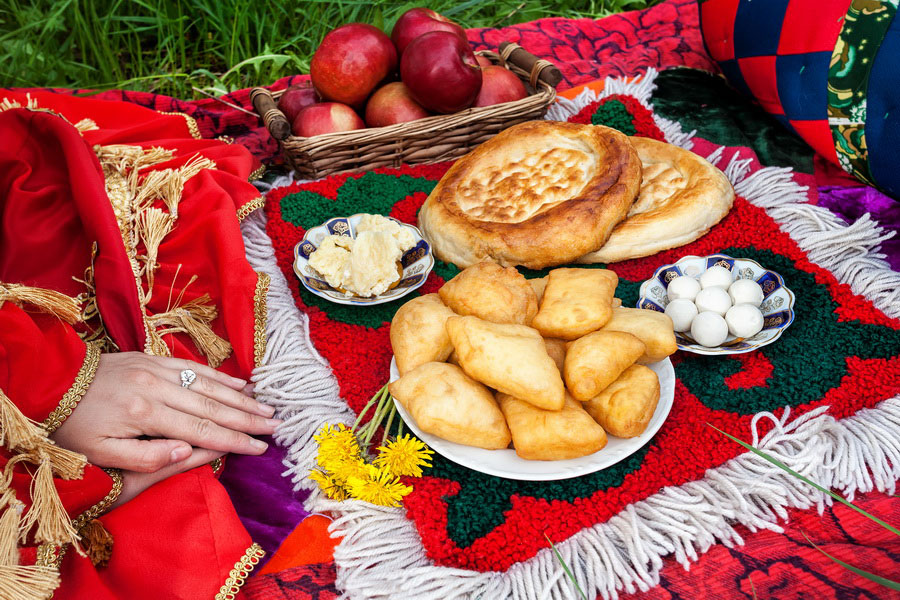 The streets of Almaty are lined with cafes offering cuisines ranging from Kazakh and Uzbek fare to Italian, Georgian, French, Russian, Turkish, Asian and Pan-Asian dishes. Price ranges are just as drastic, so you can choose an expensive restaurant one day and a well-known cafeteria chain the next. Both types of establishments generally offer fresh and delicious food, so you will not go hungry when visiting Almaty!
Kazakh Food - Those wishing to try Kazakh food should taste the national dish besbarmak. It is usually only offered in restaurants specializing in traditional Kazakh cuisine and is especially delicious at Navat Teahouse and Shafran Café, both of which are popular with locals. A wide variety of Kazakh food can also be tasted at Abay Restaurant at Kok-Tobe and at Qaimaq Restaurant and Tubeteika Restaurant.
Vegetarian Food – Vegetarian cafes in Almaty include Govinda's, Golden Food, the live food bar Green House and Jai Ho, which serves vegetarian street food. You can also try vegetarian food in Indian and Japanese restaurants.
Coffee Shops and Bakeries - Coffee is loved in Almaty and coffee shops are seemingly everywhere. To help you choose among all the options, we advise you to check out establishments which have more than one branch. There are also several French bakeries in Almaty where you can buy fresh croissants, baguettes and other pastries, as well as many local bakeries which offer beautiful cakes and sweet rolls.
Almaty City Transport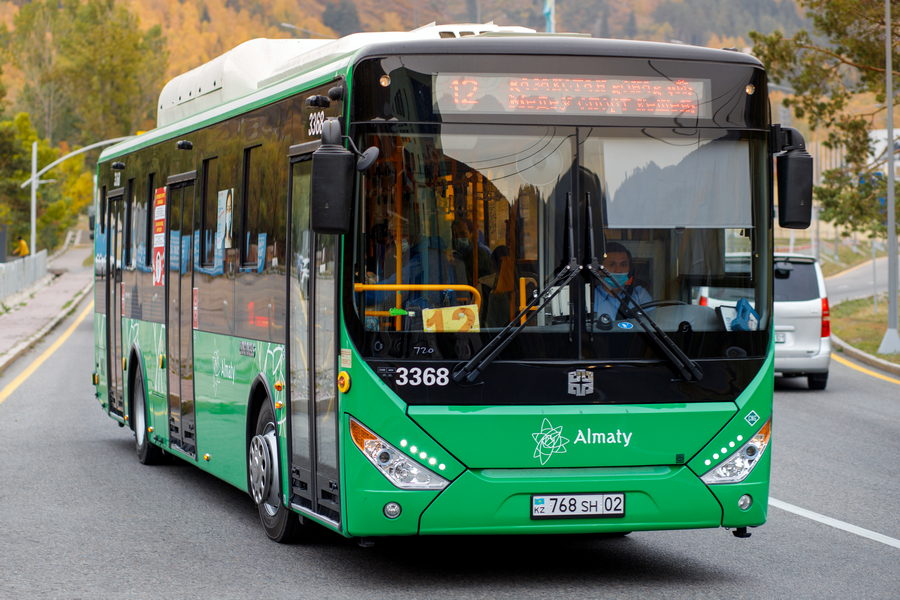 Public transport in Almaty can be paid for in cash or with Onay transport cards, which can be bought at any kiosk in the city. The cost is 80 tenge when paying with a transport card and 150 tenge if paying in cash, so if you will be in Almaty for any length of time you will want to buy an Onay Card.
Buses and Trolleybuses - About 150 bus and 9 trolleybus routes allow you to get anywhere in Almaty by public transport. The arrival times of all buses and trolleybuses can be tracked through the CityBus app, which is available for both IOS and Android. Ground public transport operates daily from 6am to 10pm. Each route has its own schedule, but on average you will wait 10-15 minutes. The waiting schedule for trolleybuses is usually 5-8 minutes.
Metro - Almaty Metro is the youngest in the CIS, with the first station opened at the end of 2011. Currently Almaty has only one metro line and 9 functioning stations (2 more opened in December 2021 but are not yet in use). You can pay for the metro with the Onay transport card, with a Visa or MasterCard or in cash (with the cost almost twice as expensive in cash). The metro operates daily from 6am to midnight. Depending on the day of the week, the interval of the trains varies from 8 to 15 minutes.
Taxis - Taxis are one of the most popular modes of transport in Almaty. A couple of years ago it was still popular to hail a taxi from the street by holding out your hand and then agreeing on the cost with almost any driver who stopped. Now Almaty residents prefer to order taxis from reputed companies through several mobile apps.
Car Rental - There are many car rental services in Almaty which offer standard class and luxury cars. Due to steep competition the cars are usually available to drive immediately after registration and can be a great option for travel in Almaty.
Other Modes of Transport - Almaty has bike paths weaving throughout the city and a well-developed system for renting bicycles and electric scooters, with rental points located on every major street. To use a bike or scooter you need to register in the rental system via phone, enter your credit card info, wait to receive a code by SMS and remove the bike or scooter from its lock. Another fun option in Almaty is to take a cable car from the center of Almaty to Mount Kok-Tobe.
Getting There and Away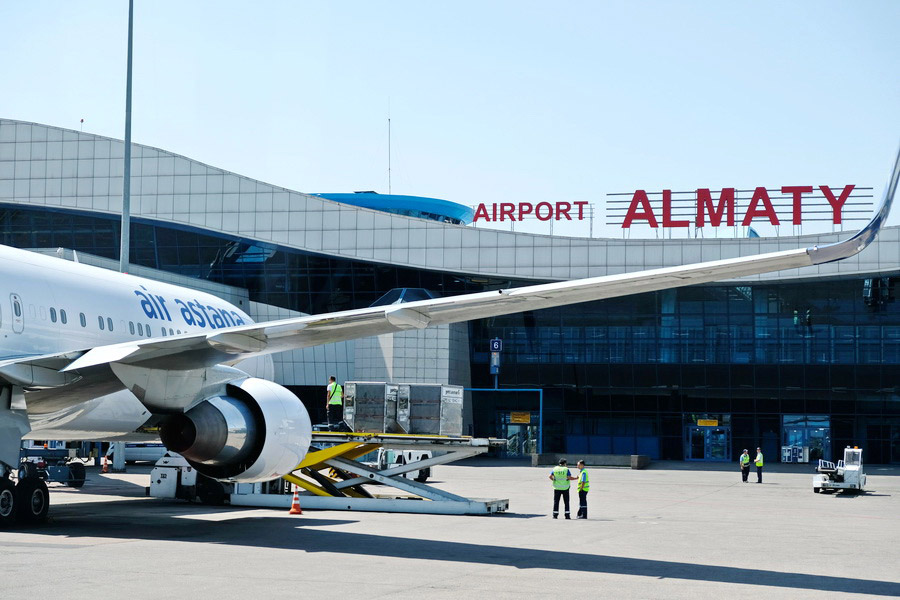 The easiest way to reach Almaty is by plane. Almaty International Airport is connected to many countries by flights operated by Air Arabia, Asiana Airlines, Belavia, Egypt Air, Emirates, Etihad Airways, Flydubai, Flyvista, International Ukrainian Airlines (UIA), Lufthansa, Pegasus Airlines, Qatar Airways, S7, SkyUp Airlines, Somon Air, Transaero, Turkish Airlines, Ural Airlines, Uzbekistan Airways and Wizz Air Abu Dhabi.
National air carrier Air Astana operates regular flights to Almaty from Amsterdam, Antalya, Beijing, Delhi, Dubai, Ho Chi Minh City, Hong Kong, Istanbul, Kiev, Kuala Lumpur, Seoul, Tehran, Tbilisi and Urumqi. Both Air Astana and the Kazakh airline Scat fly to many CIS countries and within Kazakhstan itself.
Once quarantine restrictions have lifted you can reach Almaty by road from Bishkek and by train from Russia and Uzbekistan. Trains also connect Almaty with many cities in Kazakhstan, including Astana.
Languages in Almaty
The state language of Kazakhstan is Kazakh. The language of interethnic communication is Russian, which is known by most residents of Almaty. In tourist places you can easily find someone who speaks English.
All payments in Almaty are made in tenge, the national currency. You can also pay with an international Visa or MasterCard card at most cinemas, supermarkets, clothing stores, restaurants, gas stations, beauty salons and even small convenience stores.
The most popular foreign currency in Almaty is the US dollar, followed by the Russian ruble and then the euro. Money can be exchanged in almost all banks and at the many private exchange offices in the city.
Security in Almaty
Generally speaking, Almaty is a safe and calm city, with many police and patrol cars in public places such as parks, shopping centers and the metro. While it is safe to walk around the city during the day and in the evening, it is better not to leave personal belongings unattended or to ignore basic safety protocols.
While this Almaty travel guide has only covered sites within the city limits, there is also much to be explored in the greater Almaty Region. Anyone wishing to experience Almaty and its surroundings in a group or with a guide can check out Advantour's many tours of Almaty.
Additional information about Almaty, Kazakhstan
Almaty, Kazakhstan - Pictures
Links Related to Almaty
Almaty Hotels - Review and reserve hotels in Almaty, Kazakhstan
Almaty International Airport - Information for passengers and businesses. On-line timetable, FIDS.