Issyk Lake, Kazakhstan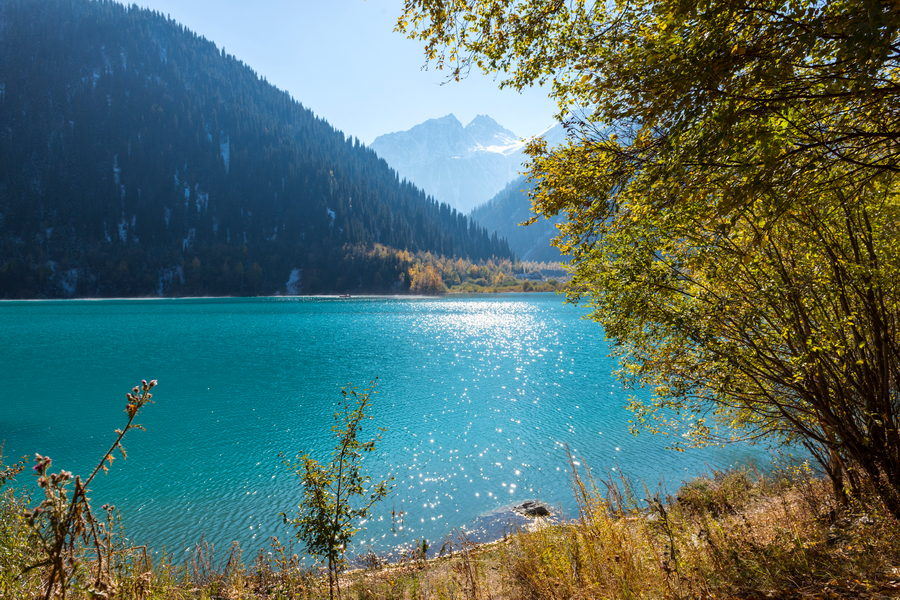 Issyk - popular mountain lake amongs residents and guests of Almaty
Issyk (or Isik- another name for the lake, translated as "a door" from Kazakh) is a picturesque, alpine lake surrounded by unusually beautiful nature of thick forests and spacious flower fields. The lake is located at an altitude of 1760 meters above sea level, in the Issyk gorge of Trans-Ili Alatau, about 70 km east of Almaty.
Geologically, the lake was formed 8000 years ago as a result of a powerful rock avalanche, which later created a natural 300 m-high dam. The year of 1939 saw the beginning of active development of the lake territory, when a tarmac road, tourist center and bus station were quickly built. Dozens of thousands of Almaty residents and guests come there year round to relax in natural surroundings. The lake was so popular that even its photograph was printed in USSR's tourist postcards and brochures.
However, in 1963, everything changed in a matter of hours. The glacial zone in the upper reaches of the Issyk River broke with a powerful mudflow whose huge waves destroyed the natural dam and emptied the lake for four hours. The official statistics claimed over a hundred people as a result of this tragedy.
A cross on a hillside near the lake was erected to commemorate the victims. The memory of the tragedy still makes the heart shrink even now. The young trees sprouted in the place once used to be the lake bottom, the ruins on the lower lakeside and huge boulders serve as a constant reminder of what has happened.
Today, the lake is restored, but its size is twice smaller than the previous one. The lake territory is very suitable for lovers of active mountain tourism, and everybody who wants to have a picnic in the weekends. The first can make a fascinating trek to the beautiful cliffs, named "the Kremlin walls", while the latter may camp on the lakeside, enjoying the beauty, which opens before their eyes, and breathing the fresh mountain air.
This place is also interesting for history lovers: there, you can visit Issyk barrow of the IV-V centuries BC and the place where a Saka warrior, dressed in armor and gold clothing was found. This warrior became a symbol of Kazakhstan. It will be also very interesting to visit an ostrich farm found near the lake, to take pictures with these birds, exotic for the region, as well as have food cooked from ostrich meat and eggs.