Republic Square, Almaty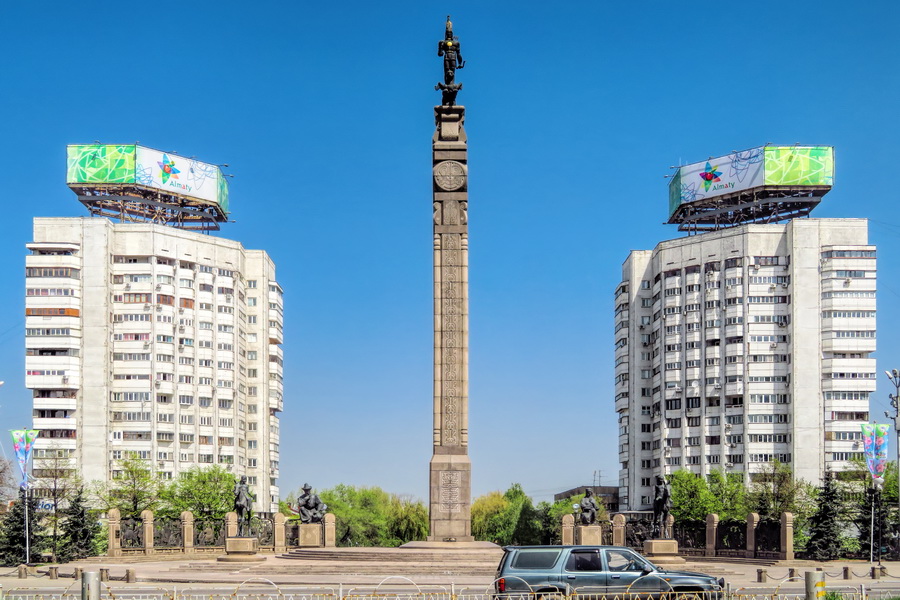 Every large city has its center, and the Republic square is the center of Almaty. It is the biggest square in the city: its size is almost as two stadiums with 580m in length and 210m in width. National festivities, parades, official and sports events are held there. The name of the square has been changed, buildings have been erected, parks, fountains and pools appeared, but the square always remained there.
The Republic Square was opened in 1980. There was the Central Committee of the Communist Party of Kazakhstan located on the hill on the southern part of the square until 1991, and today there is a building of the city akimat (mayor's office). The building itself is an architectural monument and was included in the list of the state values. On the northern side of the Republican square, there are 7-storey administrative buildings and 16-storey residential houses. The eastern part of the square has the State Museum, which is one of the largest museums in Central Asia with around 300 000 exhibits of history and culture. There are also ultra-modern erections on the square. The most popular is the Almaly Trade Center located underground, with glittering glass domes on the surface.
The main attraction of the Republic Square is the Monument of Independence created by a group of authors under the supervision of Shota Valikhanov. This monument, like Bayterek in Astana, is a symbol of modern Kazakhstan. There is a 28-m stela in the center of the Independence Monument, adorned with a figure of the legendary Goldman and a flying winged leopard underneath it. Goldman is the remnant of the Saks warrior in golden armor. The archaeological finding was dag out in 1969 during the excavations of the Issyk kurgan. The monument includes other interesting elements: two children on colts symbolizing youth and hopes for the great future of the Kazakh state; as well as symbolical figures of Father and Mother. Apart from that, there are ten bas-reliefs around the stela, where main milestones of the history of Kazakhstan are briefly written.
Republic Square is surrounded with nice alleys and flower gardens. Picturesque well-equipped square is a beloved place for walks among locals and guests of the city.